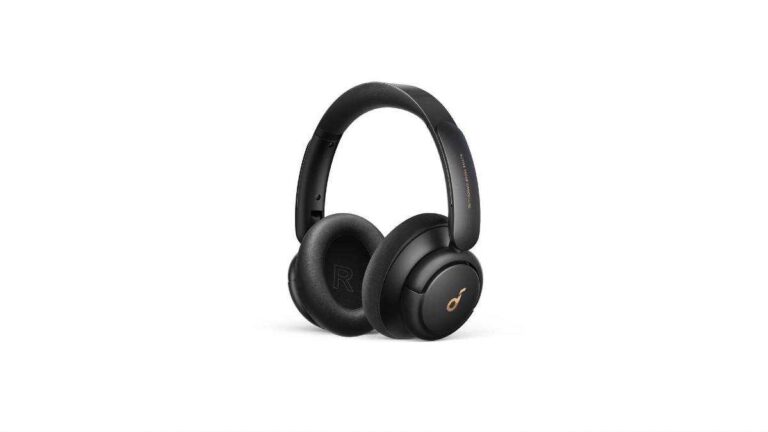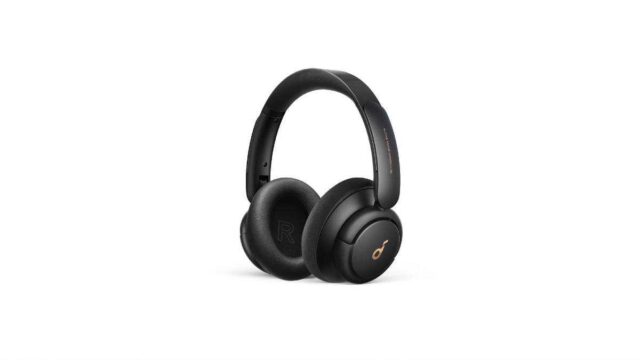 The Anker Soundcore Life Q30 are over-ear headphones that offer excellent noise cancellation. They include three different noise isolation levels, so you may choose the one that best suits your surroundings. They also offer an energising, v-shaped sound profile with a lot of thud and boom. If that doesn't appeal to you, their companion app includes a visual EQ and presets to let you tailor your listening experience. They have a continuous playing length of over 44 hours, so lengthy commutes or back-to-back days at the workplace should be no problem.
Soundcore by Anker Life Q30 Hybrid Active Noise Cancelling Headphones with Multiple Modes, Hi-Res Sound, Custom EQ via App, 40H Playtime, Comfortable Fit, Bluetooth Headphones, Connect to 2 Devices
1 used from $70.39
Free shipping
as of November 28, 2023 1:25 pm ⓘ
Features
Hi-Res Certified Music: Hear every detail of your favorite songs thanks to Life Q30's 40mm drivers. The highly-flexible silk diaphragms reproduce thumping bass and crisp treble that extends up to 40kHz for improved clarity.
Advanced Noise Cancellation Technology: Maintain your focus with Life Q30's hybrid active noise cancellation. Dual noise-detecting microphones pick up and filter out up to 95% of low-frequency ambient sound to ensure nothing distracts you from your music.
Ultimate Noise Cancellation Experience: Customize Life Q30's noise cancellation with 3 modes—Transport minimizes airplane engine noise, Outdoor reduces traffic and wind, and Indoor dampens the sound of busy offices with people talking in the background.
40-Hour Playtime: Life Q30 active noise cancelling headphones play up to 40 hours of music in noise cancelling mode. Standard mode extends the playtime to 60 hours, while a short 5-minute charge gives you 4 hours of listening.
Pressure-Free Comfort: Life Q30 active noise cancelling headphones have ultra-soft protein leather earcups with memory foam padding to fit snugly over your ears. The lightweight build also ensures they're comfortable for long listening sessions.
Style
The Anker Q30 appear quite similar to the Anker Soundcore Life Q20 Wireless. They have a basic design with a black satin finish. A little gold logo may be found on both earcups with this edition, giving it a more sophisticated appearance. If you want a more colourful aesthetic, they also available in 'Midnight Blue' and 'Sakura Pink.'
Comfort
The Anker Q30 headphones are lightweight and comfy. They're lightweight and don't grip too hard on the head, like the Wyze Noise-Canceling Headphones Wireless. However, the headband cushioning is thin and may become unpleasant if used for lengthy periods of time.
Controls
The control method on these headphones is excellent. Only the right ear cup has a touch-sensitive surface, however the majority of the controls are positioned on the bottom of both ear cups as physical buttons. You can play/pause audio, control volume, and cycle through three noise cancelling settings with the physical buttons: ANC, Transparency (which allows you to listen to audio while being aware of what's going on around you), and Normal (which is the off option). You may also skip to the next or previous track by pressing the volume up or down buttons simultaneously.You may also skip to the next or previous track by pressing the volume up or down buttons simultaneously. Hold the touch-sensitive surface for two seconds to activate 'Transparency' mode, or hold the play/pause button for two seconds to activate voice assistance. While the buttons are clicky and there are audio prompts for the various ANC settings, most of the other instructions do not have beeps.
Breathability
The Anker Soundcore Life Q30's breathability is poor. They can trap heat and make your ears feel heated since they cover the entire ear. If you wear them for lengthy periods of time or during strenuous activity, you may sweat more.
Portability
The Anker Q30 has terrible portability because it's big and tough to take with you while you're on the road. Despite the fact that the ear cups may rotate to rest flat and come with a protective case to secure them, they nevertheless take up space in a suitcase or backpack.
Build Quality
The Anker Soundcore Life Q30 is constructed well. They're mostly comprised of plastic and silicone-like materials, giving them a solid feel. The headband and cups include faux-leather cushioning, and the headband has a metal plate. They appear dense enough to withstand a few drips without being harmed. They don't have an IP rating for dust or water resistance, which we don't currently test for.
Stability
The Anker Soundcore Life Q30 is a solid performer. They shouldn't move while you're at your desk, but they can fall off your head if you make more vigorous head motions. On the plus side, the headphones' wireless design avoids the chance of a cord tangling with something and yanking them off your head.
Noise Isolation
The noise isolation of the Anker Life Q30 is excellent. They outperform the Anker Soundcore Life Q20 Wireless when the active noise cancellation (ANC) function is set to 'Transport' mode. They may significantly reduce bass-range noise, such as that produced by bus or plane engines. They also reduced a lot of mid-range noise, such as office talk, as well as higher-pitched noises, such as an air conditioner's hum. Two different types of ANC are available with these headphones, but we haven't tested them yet. The 'Outdoor' mode is designed to reduce traffic and wind noise, whilst the 'Indoor' mode is designed to reduce mid- and treble-range noise such as office chatter and fan hum.
Battery
The battery life is exceptional. They have nearly 44 hours of continuous playback time with their ANC on. They're billed as lasting up to 60 hours with their ANC turned off if you require even more playback time, but we don't presently test battery performance this way. You can use them passively as well, owing to the TRS audio cable, but not while they're charging.
Pros and Cons
Verdict
The Anker Life Q30 is suitable for a variety of uses. They offer an excellent active noise cancellation (ANC) function that helps to lessen the rumbling of bus and airline engines, as well as ambient noise. They can survive for a few workdays or a lengthy vacation before needing to be recharged because they have a continuous battery life of over 44 hours. Their accompanying app also has an EQ with presets that you may tailor to your preferences. They're not particularly portable, and they can slip off your head when exercising.