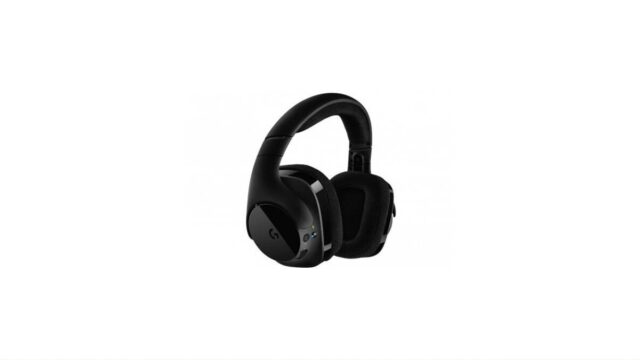 The Logitech G533 Wireless Gaming Headset are stylish, well-made, and comfy gaming headphones. They work with Logitech G HUB software, which includes a graphic EQ and other customization options. They feature a low enough latency for gaming and watching videos thanks to their non-BT wireless USB transmitter. However, they're not very suited or practical for more casual or outdoor use, as are most gaming headphones. Nonetheless, they provide a customisable and wireless gaming experience that PC and PS4 gamers should like.
Logitech G533 Wireless Gaming Headset – DTS 7.1 Surround Sound – Pro-G Audio Drivers
12 new from $72.99
9 used from $53.98
Free shipping
as of November 28, 2023 1:36 pm ⓘ
Features
Logitech G gaming headset for Windows 7 and later delivers the advanced audio performance normally found in high end audiophile headphones, Custom Sound Profiles settings require Logitech Gaming Software
Patent pending Pro G drivers and DTS Headphone: X 7.1 Surround Sound accurately recreate the in game environmental effects and positional audio that game designers intended you to hear
Pro grade wireless audio with advanced lossless digital audio transmission gives you incredible high fidelity sound and connection strength with up to 15 meters range
High performance PC gaming headset made with the latest materials and manufacturing techniques is designed to be a durable yet lightweight headset you can wear for hours
Rechargeable, replaceable battery with 15 hour battery life provides extended power you can rely on for non- stop gaming sessions
Check Out: Best Gaming Headphones
Style
The Logitech G533 headphones appear to be standard gaming headphones. With large, square ear cups, a large headband, and a two-tone matte and glossy finish, they offer a pretty fashionable design. They are, however, a little bulkier than the HyperX Cloud Flight. The microphone is not detachable, however it does fold into a specific indentation on the left ear cup.
Comfort
These headphones are comfy to use, though they are a little tight around the ears. They have spacious, well-padded earcups that don't put too much strain on your head, even though they're a little snug. Unfortunately, they're a little weighty, and the ear cups aren't really deep. Although breathable, the cloth cushioning isn't the softest on the skin, which can be tiring during long gaming sessions.
Controls
They have underwhelming controls. They simply have a simple volume dial and a clicky and quick mute-mic button. The Logitech G HUB software can also be used to configure the mute-mic button as a multi-function button. You may still turn the mic to mute it if you want to modify the function of the button. Unfortunately, there are no controls for mobile support or simply changing tracks while these headphones are directly connected to your PC, which is a little frustrating.
Breathability
The breathability of these headphones is adequate. If you're gaming for several hours at a period, the ear pads might trap heat, which can be uncomfortable.
Portability
The Logitech G533, like other gaming headphones, isn't the most convenient to tote around without a bag. They're huge, bulky, and don't fold up into a smaller package. To utilise them, you'll also need their wireless USB transmitter, which is a limitation. They also don't include a carrying bag or pouch.
Build Quality
The Logitech G533 is made of high-quality materials. The headband is flexible, well-padded, and supported by a thin metal frame. The ear cups are also reasonably dense, so they shouldn't break if dropped once or twice. Unfortunately, the hinges are a little loose and don't seem very sturdy right out of the package. The hinge, however, is the most vulnerable weak point of their design in contrast due to the big ear cups and relatively small headband.
Stability
The Logitech G533 isn't the most stable of keyboards. They're bulky, and if you lean your head back too far, they may fall out of your ears, even during casual listening sessions. They aren't designed for sports or strenuous physical activities. On the plus side, the wireless design eliminates the chance of them being ripped from your ears due to a tangled audio cable.
Battery
The Logitech G533 has excellent battery life. They have a 17-hour battery life and an auto-off timer when no audio is playing to assist save battery life. They take a long time to charge, but if you're in a hurry, you can use them while they charge, which is convenient.
Wired
These headphones cannot be used with a cable connection. They come with a wireless USB transmitter and a USB charging cable.
Pros and Cons
Verdict
For mixed use, the Logitech G533 is mediocre. They have a v-shaped sound profile, are pleasant to wear, and have a minimal latency. As a result, they're ideal for gaming or neutral sound. They don't have an adaptable or outdoor-friendly design, unfortunately. For sports, they're too large and inconvenient, and they don't isolate well enough for commuting.