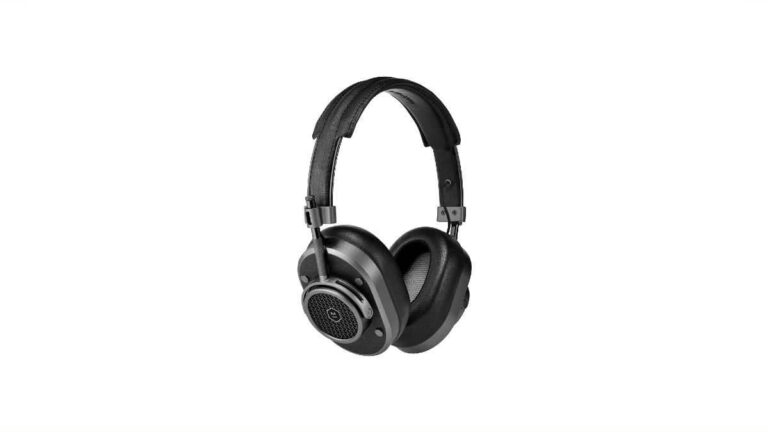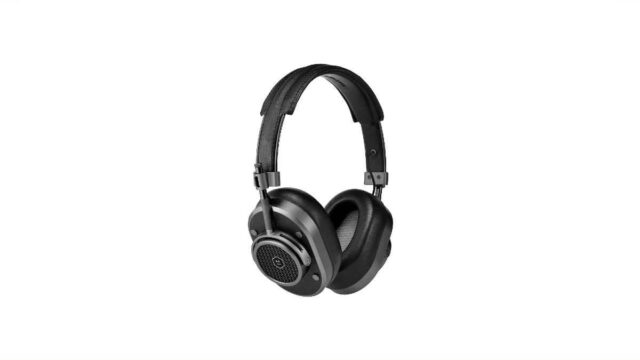 With the MH40 Wireless, Master & Dynamic gives their flagship headphones the cordless treatment, several years after their critically praised debut. Minor updates, like as Bluetooth 5.0, updated controls, and a somewhat lighter frame, are included in these superbly constructed, retro-looking headphones. The drivers have also been replaced, resulting in a cleaner, more full-bodied sound.
While these improvements are nice, the MH40 Wireless suffers in other areas, making it a difficult sale at $249. The bass isn't as strong as its predecessor, and the lack of noise cancellation and mobile app connectivity makes these headphones feel a little antiquated in comparison to more recent offerings.
We highly recommend the Sony WH-1000xM3, which we frequently see cheap, if you're seeking for sleek wireless headphones with excellent audio that fall into the luxury range. Otherwise, if you appreciate exquisite sound and comfort in a smart design, M&D's latest product is worth considering.
Master & Dynamic MW60 Wireless Bluetooth Headphones
4 new from $149.00
Free shipping
as of November 28, 2023 1:34 pm ⓘ
Design
The MH40 Wireless headphones include circumaural (over-ear) cups that hug the ear tightly and are available in all-black, black and gunmetal, or brown and silver. Although the fit is comfortable, you may find the overall feel to be a touch thick. With details like a defined headband adjustor for a perfect ear-to-ear fit and a mix of materials, from metal to lambskin leather to coated canvas, the style is a distinctive Master & Dynamic blend of classic and modern.
The power/pairing button, as well as a USB-C port and the built-in microphone, are all located on the right earcup's exterior side panel. A small status LED near the port reveals whether you're connected and also tells you how much battery life you have left. The controls are located on the exterior panel; a central multifunction button controls playing, track navigation, and call management, depending on how many taps are given. A long hold activates the voice assistant on your mobile device. On either side of the multifunction button are dedicated volume up/down controls.
The circumaural earcups passively block out a fair amount of noise. Although there is no noise cancellation technology, most active noise-cancelling models rely on large, well-sealed earcups to block out much of the higher frequencies, which is what is happening here. You won't mistake these for a Bose model, but the earcups can reduce ambient noise to some extent.
The audio is delivered by a 40mm Neodymium driver housed inside each ear's housing. The headphones support Bluetooth 5.0 and AptX and SBC Bluetooth codecs, but not AAC. There is no associated app, unlike many of the new wireless models we examine, thus no EQ tweaks are possible without utilising third-party apps.
The headphones come packaged in a stylish canvas carrying pouch with an exterior zipper pocket for the accompanying accessories, which include a USB-C charging cable and a USB-C-to-3.5mm audio cable. Both cables are cloth-lined.
Battery life is estimated to last up to 18 hours by Master & Dynamic, although your mileage may vary depending on your volume levels.
Performance
The headphones give outstanding low-frequency depth on tracks with heavy sub-bass content, such as The Knife's "Silent Shout." Nothing is overstated, and everything is spoken clearly, but there is true depth here, and the audio is never weak or brittle. The drivers achieve a reasonable level of accuracy while without sounding utterly flat.
"Drover" by Bill Callahan, music with significantly less deep bass in the mix, gives us a clearer idea of the MH40 Wireless' overall sound signature. The drivers' precision is on display here, as the drums receive an almost little bass boost. On bass-forward headphones, these identical drums can sound thunderous, yet they just sound somewhat more powerful than insistent tapping here. This accuracy won't appeal to everyone, but this sound signature can be thought of as accurate and intended for individuals looking for reference-style flat responses.
Those looking for genuine bass depth will only hear it when it's actually powerful in the mix, and in this case, Callahan's baritone vocals are the track's most apparent bass presence. The highs of the acoustic strums and higher-register percussive impacts are bright and precise.
Comfort and Fit
Sturdy components frequently add to the overall weight. The MH40 Wireless weighs 9.7 ounces, which is less than the original but more than other noise-canceling headphones. The MH40 Wireless, on the other hand, has a very light feel to it and won't weigh you down when worn around your neck.
The headband does press against the skull, however, this is only an issue when the headphones are used at their shortest setting: zero. The extenders should be set to 2 or 3 to give you plenty of breathing room and to keep the MH40 Wireless firmly atop your head. Others will remark how lose the headphones become, causing them to slip about, while those with larger heads may find the maximum setting (4) restrictive.
For a relaxing and comfortable fit, the earpad padding presses lightly on the ears. The on-ear design also provides excellent ventilation, allowing enough air to pass through your ears to minimise moisture buildup. The earcups may be too small for your ear size, which can create a confined situation for larger ears. I had no problems with this and wore the headphones for two hours every day without tiredness or slippage.
Controls and Feature
The controls and I formed a love-hate relationship. The buttons are well-integrated into the design and have excellent tactility, ensuring that the required commands are carried out. At the same time, they're too small and often difficult to find; splaying them behind the right earcup's cylindrical barrel is an unpleasant decision. The power/pairing button is flush with the USB-C connector on the bottom of the earcup.
The good news is that the controls, particularly the multipurpose button in the middle, are snappy and intuitively programmed. M&D's basic control system makes managing calls and playback a breeze: 1x push (play/pause music or answer/end call), 2x press (skip track), 3x press (previous track), and long press (next track) (enable digital assistant). The volume is controlled by the top and bottom buttons.
While the digital assistant works well for handling hands-free instructions through Google Assistant and Siri, I had several problems with it. When Siri answered to questions, whatever I was listening to on Apple Music would still be playing in the background. Google Assistant also had problems understanding basic questions; when I asked it, "When is my birthday?" it responded, "It's my Birthday!" and began a singalong.
Performance
The Master & Dynamic MH40 Wireless headphones use Bluetooth 5.0 to connect to your listening device, and we noticed that the headphones stayed connected during our listening.
The headphones have an 18-hour battery life, which is adequate but not exceptional. We would have preferred a slightly longer battery life on the headphones, but for the most part, 18 hours would suffice.
Battery Life
Battery life is rated at 18 hours by M&D, but in my tests, it was closer to 15.5 hours due to extensive streaming, Skype conversations, and loud volume. That's slightly more than the GW100, but still far less than noise-canceling headphones with poor battery life ratings like the Bose QC35 II (20 hours) and Sennheiser HD 4.50 BTNC (19 hours) — with ANC turned on.
M&D designed a power-off feature that automatically switches off the cans after 10 minutes of inactivity to assist preserve battery life. The MH40 Wireless enables quick charging, which gets you roughly 9 hours in 30 minutes and a full battery in 80 minutes, which is ideal for weekly commutes; however, if you're planning a vacation around the world, you'll need to bring a USB-C portable charger with you.
Call Connectivity and Quality
The MH40 Wireless is good for doing conference calls at home, but it isn't meant to be taken outside. During many supermarket runs, I spoke with my fiancée, and while she was able to hear me for the most part, she was also aware of the background noise. This featured an irate couple walking past me, dump trucks, and wind, all of which demonstrated how sensitive the microphones were to background noise. It was more suitable for doing Skype calls in my living room, with many of my coworkers reporting that they could clearly hear me.
M&D has never been known for its connectivity, but it has recently made progress with their wireless earbuds, which appears to have carried over to the MH40 Wireless. Bluetooth 5.0 operates admirably, providing a robust connection with a rather long wireless range of up to 40 feet before dropping out. The headphones also instantly link (and re-pair) with known devices. Multipoint technology extends the headphones' wireless capabilities by allowing you to connect to two devices at once. It works, but there is one drawback: lag. When switching from Apple Music on my MacBook Pro to Spotify on my Pixel 3XL, I observed a 2- to 3-second delay.
Verdict
The Master & Dynamic MH40 Wireless is a believable revival of the company's original headphone, combining signature workmanship with powerful wireless capability. The sound is light and airy, allowing you to hear the finer details in symphonic recordings. When streaming media, Bluetooth is more powerful than on some of the brand's prior releases, ensuring reliable connectivity across many devices. What's not to admire about the elegant, steampunk-inspired design?
The MH40 Wireless, on the other hand, isn't a full-fledged enhancement in our opinion. Certain shortcomings, like the lackluster bass, short battery life, and lack of functionality, may leave you wanting more. For a little more, models like the WH-1000xM3 offer customizable sound and noise cancellation, but the MH40 Wireless might be worth a look if you want wireless headphones with a unique appearance and spacious sound.