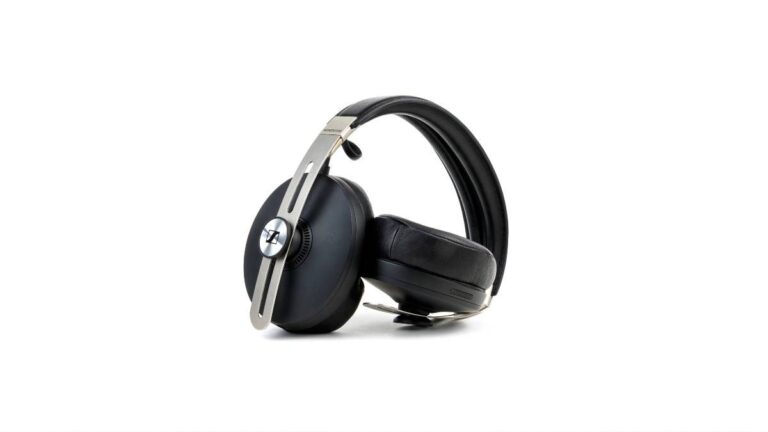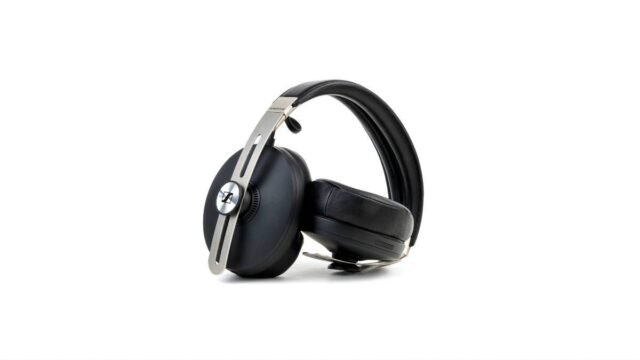 The Sennheiser Momentum 3 Wireless are noise-canceling headphones with good audio quality and a stylish retro design. They're a step up from the Sennheiser Momentum 2.0 Wireless, with greater sound quality, a more comfortable design, and a better microphone. They're able to isolate a lot of noise around you thanks to their ANC. They are, however, much leakier than their predecessors, making them unsuitable for quiet areas. The Momentum 3 are, nonetheless, quite adaptable headphones with a good overall performance.
SENNHEISER Momentum 3 Wireless Noise Cancelling Headphones with Alexa, Auto On/Off, Smart Pause Functionality and Smart Control App, Black
26 new from $279.00
5 used from $249.95
Free shipping
as of November 30, 2023 10:02 am ⓘ
Features
Auto on/off and smart pause never miss a beat with seamless on/off and pause functionality; Plays your music faster than any other headphone
Active noise cancellation and transparent hearing Momentum 3 wireless adapts to your environment wherever you find yourself
Exceptional comfort soft ear pads and headband crafted from genuine leather insure exceptional wearing comfort during long listening sessions
Three button interface provides easy operation without having to read a manual
Automatic pairing mode makes setting up Momentum 3 wireless easy on the first activation
Style
The Sennheiser Momentum 3 Wireless has the same retro-sleek style as the Sennheiser Momentum 2 Wireless, but is somewhat larger. The huge oval cups are padded with leather. The headband is simple and looks very similar to the previous generation.
Comfort
The Sennheiser Momentum 3 is a comfy headset with an improved design over the previous model. The padding is softer and cushier, and the cups are larger. In addition, the headband is more comfortable and evenly distributes the weight of the headphones. For most people, wearing these headphones for an extended period of time will not be an issue.
Controls
The Sennheiser Momentum 3 has a good control scheme. With the middle button, you can simply play/pause music or answer/end calls. The top and bottom buttons are also used for volume control, and the middle button is used for track skipping. It's a little difficult to tell which button you're pressing, but they provide adequate physical and aural feedback. There is also a button on these headphones that controls the level of ANC and talk-through. When you push the extra button, it activates your voice assistant, but when you hold it, it puts the headphones in Bluetooth pairing mode. Consider the Shure AONIC 50 Wireless if you prefer physical control schemes and want something even easier to use.
Breathability
The Sennheiser Momentum 3 headphones, like most over-ear closed-back headphones, aren't the most breathable. With the leather padding, they trap heat inside the cups and don't allow much airflow. These headphones aren't ideal for working out because they cause you to sweat more than usual.
Portability
These headphones are a little more bulky than the previous model, and they aren't the most portable alternative. On the plus side, they fold into a more compact configuration, making them easier to slip into a bag or into their case.
Case
The Sennheiser Momentum 3 headphones come with a good soft case that protects them from scratches and moderate water exposure. The headphones are not completely secured against physical harm from falls due to the soft sides of the case.
Build Quality
The Sennheiser Momentum 3 headphones are really well-made. Their frame is composed of solid metal, and the padding is leather, giving it a high-end appearance. They're constructed similarly to the previous model and should be able to resist a few drops without sustaining significant damage. Check out the Bowers & Wilkins PX7 Wireless for somewhat better-built headphones with a unique design.
Stability
The Sennheiser Momentum 3 wireless headphones are reasonably stable. They stay on your head without swaying during casual listening, but they aren't ideal for sports because head movement causes them to waver. On the plus side, their wireless design eliminates the possibility of a cord becoming tangled and pulling the headphones off your head.
Bass Accuracy
The Sennheiser Momentum 3 has excellent bass performance. It's well-balanced and well-extended. This implies that these headphones can reproduce the deep thump and rumble of bass, which is prevalent in bass-heavy music genres such as EDM. The reaction, however, is over our goal curve, resulting in some extra thump. This may appeal to some, particularly those who enjoy bass-heavy music.
Mid Accuracy
The Sennheiser Momentum 3 Wireless excels in the mid-range. The response is well-balanced and follows our target curve closely, resulting in accurate vocal and lead instrument reproduction. Because the response is slightly lower than expected, vocalists may sound veiled and pushed to the back of the mix, however this is scarcely audible.
Treble Accuracy
These headphones have a wonderful treble range as well. It's quite precise and well-balanced. The detail and brightness of the vocals and leads are just right, and they don't sound too harsh, which is fantastic.
Imaging
Despite the fact that these headphones were converted to test bench 1.4 utilising our new approach, the review content was not updated. As a result, the wording in this box no longer corresponded to the new outcomes. This box has been updated to increase accuracy.
The Sennheiser Momentum 3 Wireless has excellent stereo imaging. Although the modest peak in the bass region may cause a slightly loose bass, the weighted group delay is typically below the audibility threshold. The treble, on the other hand, is translucent. While there is a tiny amplitude mismatch, it may not be visible. The frequency and phase response of the left and right drivers are well-matched, which aids in the correct positioning and localization of items (such as voices, instruments, or footsteps) in the stereo image. These results, however, are solely applicable to our unit; yours may perform differently.
Passive Soundstage
These headphones have a poor soundstage. Despite the fact that there is a lot of pinna interaction, it isn't entirely realistic. This creates a vast soundstage, but it should feel unnatural and like it's inside the listener's brain. These are closed-back headphones, thus the sound will not be open.
Noise Isolation
Sennheiser's firmware update 4.0.8, according to some users, considerably increased the ANC's noise isolation effectiveness. After re-testing these headphones, the ANC now performs somewhat better at 2.4 kHz and slightly worse at 7 kHz. The rest of the noise isolation graph, on the other hand, appears the same. A graph depicting these discrepancies may be seen here. As a result, the text of this box has been modified, but the scoring has remained unchanged.
The Sennheiser Momentum 3 Wireless has excellent noise isolation. Their ANC can filter out a lot of low-frequency noise, such as bus and jet engines, as well as ambient noise. It also reduces high-pitched noises such as the hum of an air conditioner.
Leakage
The Sennheiser Momentum 3 has an average leaking performance. At high volumes, these closed-back headphones leak quite a bit, therefore they shouldn't be worn in very quiet places with people around, as they may be disturbed by your audio leaking out.
Recording Quality
The Sennheiser Momentum 3 Wireless has a decent built-in microphone that is an improvement over the Sennheiser Momentum 2.0 Wireless. In a quiet area, it sounds a little crisper and fuller than other Bluetooth headphones, so folks on the other end of the line won't have trouble understanding you.
Noise Handling
The Sennheiser Momentum 3's inbuilt microphone handles noise well. It works well in quiet and moderately loud areas, but in loud ones, it may fail to fully differentiate speech from ambient noise.
Battery
These headphones were wrongly described as having passive playback when they don't because of an error with how we evaluated passive playback on headphones without a dedicated power button. These revisions have been reflected in this review.
The battery life on the Sennheiser Momentum 3 is excellent. With the ANC feature turned on, it should last a full workday with slightly over 17 hours of continuous playback. They also contain a clever pause feature that puts the headphones into standby mode as soon as you remove them from your head. The USB-C cable and USB converter can also be used to charge them. If you use the headphones with a USB-C phone, they will charge as well. You may fold them to turn them off automatically when you take them off.
Bluetooth
We were unable to measure the Default SBC latency with these headphones due to a problem with our dongle. The content and review have both been updated.
The Sennheiser Momentum 3 is Bluetooth 5.0 compliant and can connect to two devices at once, which is ideal at work if you frequently swap between your computer and phone. They also have NFC support for a faster and easier pairing process.
Over the SBC codec, the Sennheiser Momentum 3 has a respectable latency that is slightly lower than typical Bluetooth headphones. On the plus side, they support aptX and aptX-LL, both of which have extremely low latency. When utilising such headphones to watch video content, there should be no noticeable delay. The AAC codec is also supported.
Wired
You can get sounds from almost any device with a 1/8″ audio connection, but the built-in microphone isn't functional. You can also get audio from a PC using a USB adaptor. The USB-C to USB-C cable can also be used to get audio on phones.
Verdict
These headphones offer a wonderful ANC feature as well as good music reproduction. They're great for travelling or using at the office, and they'll let you listen to your favourite music in high fidelity. They aren't built for sports or games, but if you have a low-latency dongle, you can use them to watch TV.