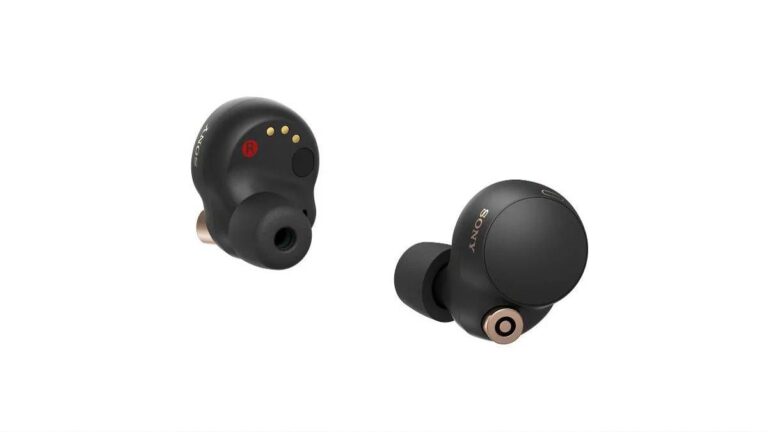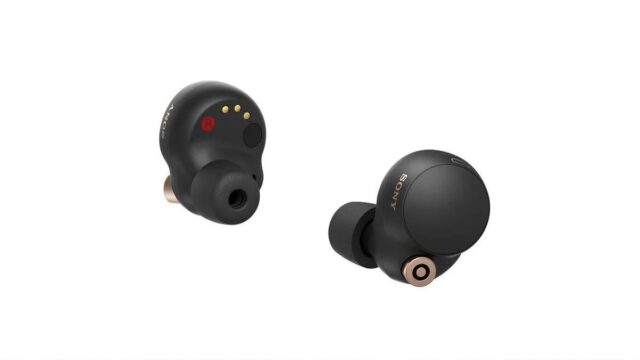 Sony has been the undisputed champion of noise-canceling headphones and earbuds for quite some time, and it shows no signs of slowing down. The Sony WF-1000XM4 boasts enhanced noise cancellation, longer battery life, and handy software functions. The Sony WF-1000XM4 was designed with durability in mind. With an IPX4 rating, these 'buds can withstand even the most strenuous workouts, making them an excellent everyday headset for a wide range of music fans.
The WF-1000XM4 is the first device to feature Sony's new Integrated Processor V1. This, together with the dual-noise sensor microphones, reduces low-frequency sounds like a plane or vehicle engine's drum. An assortment of memory foam ear tips is included in the package. Anyone who is having trouble finding the right tips can use the Sony Headphones Connect app (available for free on iOS and Android) to perform an ear tip fittest. It provides instant feedback on your choice and guarantees that the earbuds block out as much background noise as possible.
The world of truly wireless earphones is difficult to navigate, especially with Apple's AirPods and AirPods Pro enjoying such widespread appeal. There are so many options out there claiming to be "AirPods killers" that identifying one when you see one might be difficult. If there was ever an "AirPods killer," it's the Sony WF-1000XM4.
Let's Know More About…
Who are Sony WF-1000XM4s For & Who Should Buy it?
Those looking for cutting-edge audio technology should have a look at them, as they're currently unique in their industry.
These earphones will be a reliable friend for real wireless enthusiasts with deep pockets.
Not only will Wall Street gym rats be among the few who can buy these, but the sweat resistance means they'll really work.
User Experience of Sony WF-1000XM4
The Sony WF-1000XM4 is one of the best true wireless earphones on the market, and the sound quality is among the best in the industry. Sony has taken a significant interest in enhancing the things that could potentially make customers' lives better, such as noise attenuation, sound quality, and user experience.
The charging case, three sizes of polyurethane foam ear tips, your earphones, and a charging cord are all included in the Sony WF-1000XM4's recycled paper box. As they are smart products like any other, there's a lot to learn about how to connect your voice assistant and other integrations, and there's a lot to learn. To be honest, the setup is very straightforward, though you'll need the Sony Headphones Connect app to get the most out of your earbuds. The app includes a variety of features, including the ability to change your control scheme, update your virtual assistant, adjust the sound of your earbuds, and more.
The Sony WF-1000XM4 is a lot of fun to use, especially because the earbuds are substantially smaller than their predecessors and so fit much better. You won't struggle to operate your earphones thanks to capacitive touch controls, and perspiration resistance means you won't ruin them when working out.
Sony's V1 processor helps the Sony WF-1000XM4 use less energy for its major tasks, so noise cancellation and high-resolution playback won't drain your battery as much as in the past. The case has also been changed, and it can now charge wirelessly using Qi-compatible pads. It's also significantly smaller than the Sony WF-1000XM3's casing. If you don't have a wireless charging pad, you can use any old USB-C charging device to charge the case.
Design & Controls
We had lots of reasons to suggest the WF-1000XM3 before it, but discretion was not one of them. The earphones and charging case were both large, and Sony correctly elected to attempt and remove some of this heft in the latest generation.
The charging case is 40 percent smaller, and the earphones are 10% smaller. The fact that they're still among the heaviest examples of this type just goes to show how enormous the WF-1000XM3 were – but at least the new charging case could fit into a trouser pocket, and the earphones don't protrude from the wearer's head like a prop from a science fiction film.
(Sony has also removed a significant portion of the packaging.) The WF-1000XM4 comes in a 40% smaller box than the WF-1000XM3, and it's made entirely of paper, recyclable, and environmentally friendly.)
The WF-1000XM4 incorporate some of the features first seen on the WH-1000XM4 over-ears last year, including active noise-cancellation that can detect what you're doing and where you're doing it in order to adapt to your surroundings; fast pairing for Android and Windows devices; and'speak to chat,' which simply requires you to make a noise to pause your music and have a brief conversation. New polyurethane eartips (small, medium, and large sizes) are included with the noise cancelling headphones to enable greater passive noise reduction.
Sony's fully featured, fully stable Headphones app is your one-stop shop for operating the WF-1000XM4. Here you can play around with all of the functions (both big and tiny) that are partially reproduced on each earbud's capacitive touch surface. You may choose whether the left and right earphones should control volume, play/pause/skip forwards/skip backwards/summon voice assistant, active noise-cancelling on/off/adaptive, or the less useful 'nothing assigned' via the app.
There's also EQ tuning (several presets, including one dubbed racily 'Excited'), space for a custom preset or two, and the ability to switch auto-pause and DSEE Extreme on and off. You can also upload photos of your ears to help Sony optimise music streaming apps that support 360 Reality Audio or Dolby Atmos, as well as choose whether you want your Bluetooth connection to prioritise sound quality or connection stability.
The top three voice assistants – Siri, Google Assistant, and Alexa – may also be summoned by using their pre-programmed 'wake' words. Even in unfavourably noisy surroundings, the WF-1000XM4 proves sharp-eared and alert to directions, regardless of your assistant of choice.
Each earbud has three microphones for active noise cancellation, call quality, and interaction with voice assistants. When adverse conditions (most likely wind noise) are identified, a mix of feed-forward and feed-back mics collect the wearer's voice directionally (from the mouth), albeit the feed-forward mics will automatically mute.
Connectivity
Unlike most headphones, the Sony WF-1000XM4 connects to your phone by Bluetooth 5.2, which may sound mundane—trust me, it isn't. If you have a smartphone with a CPU that supports this version of Bluetooth, you should notice a boost in battery life, and it's possible that these headphones will support all of the 5.2 stack's necessary codecs, including LE audio. We contacted Sony about this, but have yet to receive a response.
The Sony WF-1000XM4 supports SBC, AAC, and LDAC codecs, just like the Sony WH-1000XM4. You'll need to activate developer options in your Android settings panel if you want the high-bitrate flavour of LDAC. Select a codec from the choices under "Bluetooth Audio LDAC codec Selection: Playback quality." We feel that 660kbps will provide you the best results, however your results may vary.
Waterproofing
Although the Sony WF-1000XM4 is not waterproof, it does offer an IPX4 moisture resistance rating. That means if you opt to use these headphones in the gym rather than the pool, they'll fit right in. However, take the fit test before doing cardio because you don't want an insecure fit when you're going to go hard.
Audio Performance and Connectivity
Even within the WF-1000XM4's new and smaller physical dimensions, there's a lot more going on than before. Connectivity is now via Bluetooth 5.2, which allows for simultaneous transmission to both the left and right earbuds as well as Hi-Res Audio Wireless certification (when utilising Sony's proprietary LDAC codec).
In theory, Bluetooth 5.2 should imply longer battery life, but the best-case real-world scenario of 24 hours (eight to twelve hours in the earbuds, depending on whether active noise cancelling is on or off, plus a couple of more charges in the case) isn't particularly impressive.
Still, the WF-1000XM4 is compatible with Qi charging pads, and five minutes plugged into an outlet will give you another hour of use.
The WF-1000XM4 supports LDAC as well as SBC and AAC codecs, but there's no mention of aptX in any of its guises. They also have DSEE Extreme support, if you believe in a method that claims to be capable of extracting high-resolution sound from a standard-definition digital audio file (we're not convinced).
Noise Cancelling
The Sony WF-1000XM4 performs a wonderful job of isolating you from the outside world. Not only are these earbuds superb for active noise cancellation (ANC), but the memory foam tips also seal incredibly well to irregularly shaped ear canals, providing plenty of isolation. You'll have a greater chance of shutting out background noise like coworker banter and the clatter of a subway platform or city street if you have good isolation.
The foam tips will have stopped at least some of the sound reaching your eardrum before the Sony WF-1000XM4's ANC unit can even try to cancel noise in your ear canal. That's quite good—that indicates street noise will be half to one-quarter as loud as it would be if the isolation was poor or nonexistent.
When you use the ANC, droning noises from 50Hz and up will sound around a quarter to a sixteenth as loud as they would if you didn't have anything in your ears. That's incredible, and while it's not the finest ANC performance we've ever seen, it's certainly up there. Because good isolation is the best approach to protect your hearing and prevent noise from degrading the perceived quality of your music, the result above is exceptional.
If the thought of not being able to hear what's going on around you makes you uncomfortable, you can use the ANC function of the earbuds to let some sound through. To cycle through these settings, tap the left earbud and keep tapping until you hear "ambient sound" whispered in your ear. Once you're there, you should be able to hear the environment a lot better. In addition, the Sony WF-1000XM4 has a "talk to chat" feature that enables audio passthrough when you start chatting with someone so you can communicate with them. It's a wonderful quality of life feature that lets you leave your earbuds in for a fast discussion, which should be beneficial for in-flight service or short conversations in the real world as that functionality becomes more widely available.
Battery Life
Don't be concerned about the battery. The Sony WF-1000XM4 lasts for around 7 hours and 43 minutes on a single charge, and the case can charge the buds at least two more times for a total of little over 24 hours. Even if you commute every day, you'll probably just have to charge your case on weekends. Sure, the battery life isn't the best we've ever seen in true wireless headphones, but there's a lot going on here.
Microphone
The Sony WF-1000XM4 has a good microphone, however it struggles a little with AAC. However, it is totally acceptable for phone calls. There's also a feature that detects when you speak, allowing the mic to figure out which noises you want to amplify and which are just background noise. It's a valuable feature that you might not be aware of. But that's the point: Sony doesn't want you to think about this; all it wants is for your audio to sound good.
Buy Sony WF-1000XM4 Only If…
You need the best all-round true wireless earbuds
You know a great control app when you use one
You love life's little conveniences
Don't Buy If…
Noise-canceling is more important than sound quality
You're absent from a power source for an extended period of time.
You think aptX is the pinnacle of wireless sound quality
Buy Them at Amazon
Sony WF-1000XM4 Industry Leading Noise Canceling Truly Wireless Headphones with Alexa Built-in, Silver
1 used from $349.00
Free shipping
as of November 29, 2023 9:27 pm ⓘ
Verdict
So, should you invest in the Sony WF-1000XM4 cameras? It's a resounding yes as long as you can afford them! We haven't heard any earbuds with a better sound quality or better noise cancellation in a TWS form factor. We could even go so far as to say that the audio quality and noise cancellation are on par with larger headphones. The WF-1000XM4s are the best of the best.
But, though we think they're worth it, at €280, they're among the most expensive in their class. The Apple AirPods Pro is currently on sale for €195, but we wouldn't recommend them over the Sonys unless they suit your ears better.
This is the headphones to get if you're serious about music on the go or want the best noise cancellation in a portable compact. Just make sure it's within your budget and that it doesn't hurt your ears.