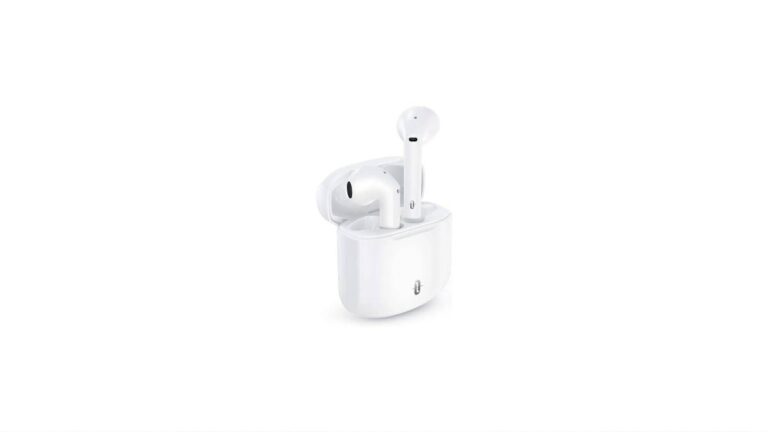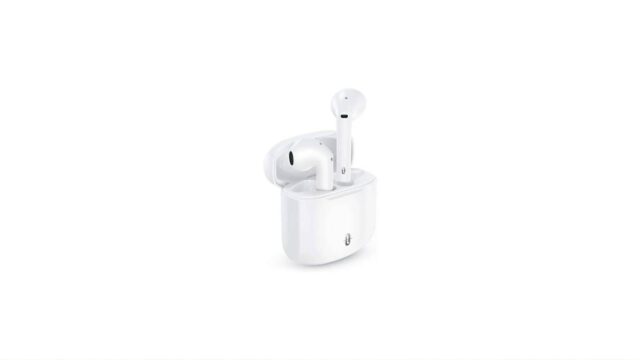 The TaoTronics SoundLiberty 95 Truly Wireless are truly wireless headphones with a low price tag. These well-made earphones offer a shiny stem shape and a simple style. They are, however, prone to inconsistency in audio transmission and lack some low-bass. They also have a treble that is dark and understated. They also passively isolate against very little ambient noise, and their one-size-fits-all design may be uncomfortable for some users. On the plus side, while their 5.2-hour battery life may not be enough to get you through your workday, their charging case provides an additional three charges.
Style
The TaoTronics SoundLiberty 95 resembles the Apple AirPods 2 Truly Wireless 2019 in appearance. They have a shiny plastic case and a lengthy stalk design. They are available in two colors: black and white.
Comfort
The TaoTronics SoundLiberty 95 is a comfy headset. Because they are one-size-fits-all, their comfort may vary based on the shape and size of your ears. They're constructed of hard plastic, which isn't the most comfy material for your ear. They have the sensation of falling out of your ear and can be exhausting if worn for an extended period of time.
Controls
The control scheme on these headphones is terrible. While they provide adequate response, the touch area is somewhat small, so it may take a few tries to get the right command. Voice controls are activated by tapping twice on the left earbud, while play/pause is activated by tapping twice on the right earpiece. However, if only the right earbud is attached, the play/pause command will not work. Instead, voice control is activated. You can also answer or end a call by tapping twice on either earpiece. You can also return to a previous track or skip to the next one by triple-tapping the left or right earpiece, respectively. A call is also declined by triple-tapping on each bud.
Portability
The TaoTronics SoundLiberty 95 is a very portable device. They're small, light, and convenient to take with you when you're on the road. They also include a protective case that should fit comfortably into a tiny pocket or backpack.
Case
These headphones come with a sturdy carrying case. It's composed entirely of matte plastic and features a light towards the bottom that indicates whether or not your headphones are charging. Inside the cover, there's also a reset button for the buds.
Build Quality
The build quality of the TaoTronics SoundLiberty 95 is excellent. Both the headphones and the casing are composed of glossy plastic, which gives them a solid feel. They are, however, extremely susceptible to fingerprints. In addition, they lack an IP designation for dust and water protection.
You May Like: Best Wireless Headphones
Stability
The TaoTronics SoundLiberty 95 is stable enough. Because they are one-size-fits-all, their stability is mostly determined by the shape and size of your ear. You should be able to wear them during light physical activity without them slipping out of your ears if you have a good fit.
Sound Profile
The sound profile of the TaoTronics SoundLiberty 95 is dark and warm. Instruments sound harsh and lack definition and brightness, and they struggle to capture a thumpy, rumbly bass. They don't have an EQ or presets, unfortunately. Their audio quality varies slightly, and you may hear bass and treble differences.
Bass Accuracy
The bass accuracy of the TaoTronics SoundLiberty 95 is adequate. They have a hard time delivering a thumping low bass and are still a little overemphasised in the mid-bass area, resulting in a lack of punch and body. They're overemphasised in the high-bass, lending warmth to the instruments. It's worth noting that their bass delivery varies significantly amongst users and is highly dependent on fit and seal. The response shown here is an average bass response; your results may vary.
Mid Accuracy
The mid-accuracy of these headphones is excellent. The bass and mid-mids are very neutral, resulting in vocalists and lead instruments that are present and true. However, there is a high-mids spike that makes vocalists and lead instruments seem honky and harsh.
Treble Accuracy
The treble precision of the TaoTronics SoundLiberty 95 is weak. It's underplayed throughout the range, leading to veiled vocals and lead instruments. Cymbals and other sibilants sound dull and lispy. However, because the treble delivery on these headphones is unpredictable, your actual experience may differ.
Peaks/Dips
The TaoTronics SoundLiberty 95 has acceptable peaks and troughs. The bass has a sustained peak that adds power and boom to your mix. The high-mids also have a significant peak, making vocalists and lead instruments sound harsh and honky. The decrease in the low treble, on the other hand, obscures the top harmonics of vocalists and lead instruments.
Imaging
The picture quality of these earbuds is outstanding. Their weighted group delay is completely below audible levels, giving in a tight bass and clean treble reproduction. Its L/R drivers are also extremely well-matched in terms of amplitude, frequency, and phase response. This implies that objects and instruments in the stereo image, such as voices and footfall, are correctly located, giving in a more immersive listening experience. These results, however, are solely applicable to our unit; yours may perform differently.
Passive Soundstage
The soundscape on these earbuds is awful. The interaction of sound with the outer ear is crucial in achieving a big and genuine soundscape. These in-ears, on the other hand, completely skip the outer ear, resulting in audio that sounds like it's coming from inside your head rather than all around you. It also has a less open and spacious sound than open-back headphones.
Noise Isolation
The noise isolation capability of the TaoTronics SoundLiberty 95 is poor. Despite their closed-back design, they allow all bass and mid-range noise, such as bus and plane engines or ambient chatter, to pass through. While they can reduce some higher-pitched noises like the hum of an air conditioner, it's not a considerable reduction. Consider the noise-canceling TaoTronics SoundLiberty 94 Truly Wireless if you're seeking similarly priced truly wireless headphones that do a better job of blocking out background noise.
Leakage
The TaoTronics SoundLiberty 95 has a satisfactory leakage performance. Because its leakage is typically focused in the mid-to-high frequency range, exiting audio sounds thin. Even in a somewhat noisy area, individuals around you can hear bits of your audio if you listen to it at a high volume.
Recording Quality
The TaoTronics SoundLiberty 95's microphone has adequate recording quality. Your voice has a genuine, full-bodied tone to it. You should have no trouble communicating with whoever is on the other end of the telephone.
Noise Handling
The mic's noise cancellation is poor. Even in a relatively loud situation, it has trouble distinguishing your speech from the background noise.
Battery
The battery life of the TaoTronics SoundLiberty 95 is only adequate. We measured little over five hours of continuous playback duration, despite the fact that they are touted to deliver seven hours of continuous playback time. Fortunately, their charging case includes three extra charges. You can also use one earbud while the other charges, which comes in useful when you're in a hurry.
Bluetooth
The Bluetooth connectivity of the TaoTronics SoundLiberty 95 is adequate. They do not, however, support multi-device or NFC pairing. Even when utilising aptX, they have a high audio delay on PC. On iOS and Android, however, their latency is far lower, especially when compared to alternatives like the JBL Tune 225TWS True Wireless, which is perfect for watching movies. However, because different apps and devices compensate for latency in different ways, your experience may differ.
Pros and Cons
Verdict
For mixed use, the TaoTronics SoundLiberty 95 falls short. They're well-made, as well as comfortable and stable, however modest exercise may cause them to fall out of your ears. They also offer a pleasant sound profile that lacks low bass and are prone to uneven bass and treble delivery. They also don't block out any bass or mid-range noise, so you can hear bus and train engines on your commute or workplace noise. They're also Bluetooth-only and have a lot of audio latency on PC, so they might not be the best choice for gaming.