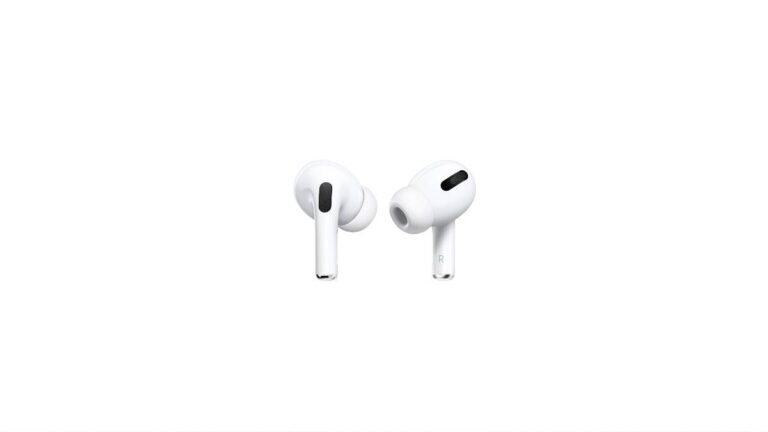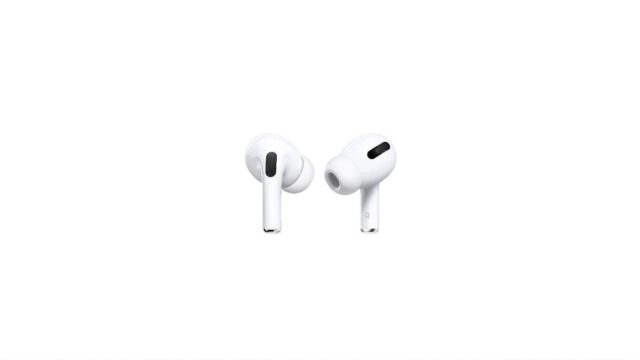 The Apple AirPods Pro is an improvement over the Apple AirPods 2 Truly Wireless 2019. Their in-ear fit makes them considerably more stable, and their audio transmission has significantly improved, albeit some may find this design uncomfortable. Their active noise cancellation feature also performs admirably, making them ideal for commuting or use at the business. They're smaller than earlier generations due to shorter stems, but they have longer battery life and a more user-friendly touch control mechanism. Overall, they're superior to Apple's prior models and are far more adaptable for regular use.
Style
The Apple AirPods Pro are equally as slim and unobtrusive as their predecessors. The stems have been made shorter, and the white silicone tips give them a more premium appearance.
Comfort
For in-ear headphones, the Apple AirPods Pro are extremely comfy. They have three silicone tip sizes and don't go too far into the ear canal. They're really light and don't exert any strain on your ears, so they're almost undetectable.
Controls
The controls on the Apple AirPods Pro are subpar. Instead of real buttons, each stem has an indentation 'force sensor.' The earbuds play a sound when a command is registered, however there is no tactile feedback when pressing the sensor. One tap to play/pause or answer phone calls, two taps to skip a track ahead, and three taps to skip a track backward are the only controls. Holding down the controls activates the ANC or Siri, depending on how your settings are configured. However, getting the long press to function can be challenging. On the plus side, all of the controls, including ANC, work on Android devices as well, though you can't customise them to work with other virtual assistants.
Breathability
The Apple AirPods Pro, like other in-ear headphones, don't trap heat within your ears, making them a good choice for athletics. When you wear them, you won't notice a difference in temperature and you won't sweat any more than usual.
Portability
The Apple AirPods Pro are extremely portable, being lighter and smaller than prior generations. Most pockets should be able to accommodate its case.
Case
Their case is exceptional. It's incredibly compact and portable, measuring only a fraction of the size of earlier models. It supports Qi wireless charging as well as charging via the Lightning connection, just like the Apple AirPods 2 Truly Wireless 2019. It should keep the headphones safe from small scratches and falls, but not against water damage.
Build Quality
The Apple AirPods Pro are really well-made. They're made of high-quality plastic, so they should be able to withstand a few drops without too much harm. These headphones, like the Apple AirPods 2 Truly Wireless 2019, are certified IPX4 for water resistance, however we haven't tested them yet.
Stability
These headphones are really stable. They shouldn't move or fall out of your ears during moderate physical activity like running, even if they don't have to stabilize fins.
Sound Profile
The sound profile of the Apple AirPods Pro is generally neutral, making them suited for a wide range of audio sources. They offer less bass than the Apple AirPods 2 Truly Wireless 2019, which feature an open-back design and struggle to produce thump and rumble.
Bass Accuracy
The bass accuracy of the Apple AirPods Pro is outstanding. They don't have low-bass difficulties like the Apple AirPods 1 Truly Wireless 2017 and Apple AirPods 2 Truly Wireless 2019, thanks to their closed-back construction. However, because the response is still below our desired curve, some folks may feel that their low-bass is lacking.
Mid Accuracy
The mid-accuracy of the Apple AirPods Pro is incredible. The vocal and lead instrument reproduction is fairly well-balanced, though slightly over our aim, especially in the low-mid range. This may appear cluttered and forward, but most people will likely overlook it.
Treble Accuracy
The treble precision of the Apple AirPods Pro is outstanding. While it is slightly underemphasized over the spectrum, it is still rather consistent. Vocals and lead instruments, on the other hand, may sound a little less present or detailed. Sibilants like S and T are also a little boring.
Peaks/Dips
The peaks and dips performance of these headphones is outstanding, and they are fairly level and even. There's a minor peak in the low-mids that muddles voices and lead instruments a little. There's also a little dip between the low and mid-treble that dampens sibilants, but most listeners won't notice it.
Imaging
The stereo image on the Apple AirPods Pro is excellent. The group delay graph indicates that it is below the audibility threshold, indicating that the bass and treble reproduction are both tight. The frequency and phase response of our unit's L/R drivers are also well-matched, which is vital for accurate placement and localization of objects and instruments (such as voices and footfall) in the stereo image. While there is a little amplitude mismatch, most people would not detect it in real-life content because it is so minor. Please keep in mind that these results apply exclusively to our unit; yours may perform differently.
Passive Soundstage
The passive soundstage of the Apple AirPods Pro is poor, which is to be anticipated from in-ear headphones. The activation of the outer ear by varied resonances is a crucial aspect in establishing an out-of-head and speaker-like soundscape. In-ears' soundstage is seen as narrow and enclosed in your head since they bypass the outer ear entirely. Try the Samsung Galaxy Buds Live Truly Wireless, which have a semi-open design, if you prefer a somewhat more roomy in-ear experience.
Weighted Harmonic Distortion
The weighted harmonic distortion performance of the Apple AirPods Pro is excellent. This results in a clean and pure audio rendition, and the bump in the treble range shouldn't be heard for most people. There's also no noticeable difference under larger weights, which is a plus.
Noise Isolation
These headphones have great noise isolation. They have similar bass performance as the Bose QuietComfort Earbuds Truly Wireless and are excellent at isolating the low rumble of bus or airline engines, making them ideal for commuting. Their mid-range performance is particularly outstanding, making them ideal for blocking out background noise. Their treble isolation performance is the weakest, but it is the least significant for most scenarios, so they still do a good job. If you're searching for a more noise-isolating pair of headphones, the Apple AirPods Max Wireless is a good option.
It should be noted that the ANC has been reported to behave differently with the 2B588 firmware update. However, there were no discernible test differences. Apple may have modified the ANC, but not enough to make a significant difference in overall performance.
Leakage
Because of their in-ear construction, they have a significantly superior leakage performance than prior generations. The treble range is where they leak the most sound, thus the leaking sounds thin. These headphones are unlikely to irritate anyone around you.
Noise Handling
The microphone on the Apple AirPods Pro does a poor job of handling noise. Even in fairly noisy surroundings, it has trouble distinguishing your speech from the background noise. In a quieter environment, such as at home, you should be fine.
Recording Quality
The microphone on the Apple AirPods Pro has poor recording quality. Though the speech captured is thin, muffled, and distorted, you should still be able to understand what's being said.
Battery
The Apple AirPods Pro has respectable battery life. With their ANC on, they last almost five hours on a single charge, and their case has five extra charges. They charge quickly as well, and a half-hour charge is claimed to provide three to four hours of continuous playback. They even include a standby function that kicks in when they detect they aren't in your ears, saving you battery life. Consider the Samsung Galaxy Buds+ Truly Wireless if you want truly wireless headphones with a longer continuous battery life.
Bluetooth
The Bluetooth compatibility of the Apple AirPods Pro is adequate. Apple products, they use the H1 chip, which aids in pairing, connection strength, and latency. Unfortunately, our testing dongle does not support Bluetooth 5.0 or connect with the H1 chip, thus when coupled with an Apple device, you may have superior overall performance. Check out the Razer Hammerhead True Wireless for non-iOS smartphones if you want more gaming-oriented really wireless headphones.
Pros and Cons
Verdict
The Apple AirPods Pro is suitable for a variety of usage, including music listening and abs workouts (sports). They have a well-made and inviting look. They also feature a somewhat neutral sound profile, making them appropriate for a wide range of audio content. They can assist reduce bus engine noise or office chatter thanks to their superb ANC feature. They're also sturdy enough to be used for vigorous activity. Their latency, on the other hand, maybe too high for gaming, and their microphone picks up thin, garbled voices.