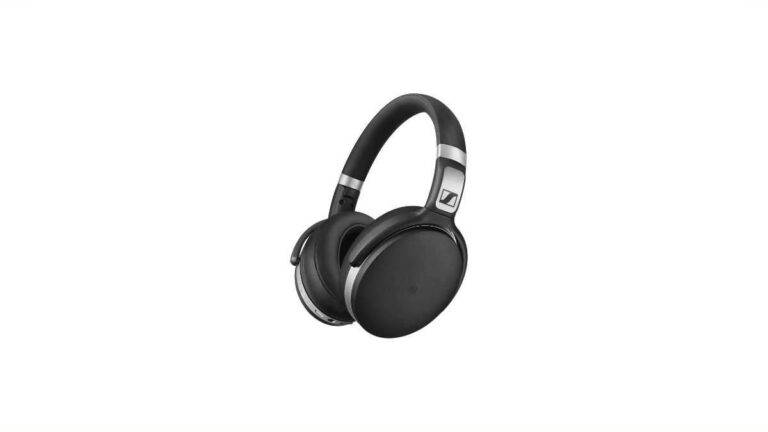 The Sennheiser HD 4.50 Bluetooth over-ear headphones are decent. While its tight fit may create tiredness during longer listening periods, it helps them stay on securely during mild exercises or jogs. They aren't very good at blocking out background noises, especially the low rumbling of bus or plane engines, despite having ANC. On the plus side, their 22-hour battery life is fantastic, and their well-balanced sound profile makes them an excellent fit for most genres, but certain tunes lack detail and brightness.
Sennheiser HD 4.50 BTNC Wireless Bluetooth Noise Cancelling Headphones
2 used from $109.95

as of November 28, 2023 1:34 pm ⓘ
Style
The Sennheiser 4.50 appears to be a lower-cost alternative to the Sennheiser PXC 550. They have different shaped ear cups and a much thinner headband, but the matte color scheme and polished Sennheiser design remain the same. Because there is no branding on the HD 4.50 ear cups, they feel a tad boring compared to the PXC 550. Although they aren't particularly fashionable, their subtle and minimalist over-ear design may appeal to some.
Comfort
The Sennheiser 4.50 headphones are well-padded and comfy, but they are a little tight on the head. They're fairly light, having ear cups that easily suit most people's ears. The ear cups' padding is thick and comfortable, however the headband could use a little more cushion. Unfortunately, these headphones have a strong clamping force on the head, which might be uncomfortable during long listening sessions.
Controls
The control scheme of the Sennheiser HD 4.50 is average. They are cramped and unresponsive, while providing call/music, track skipping, volume controls, and ANC control. Because the LED only gives you visual indication and there's no auditory feedback when they're on your ears, you might not realise you've turned the ANC on or off. The track skipping toggle and play/call button are a little recessed, and the play/call button isn't as responsive as some of the other headphones we've tested with a similar control scheme.
Breathability
These headphones don't have a lot of ventilation. They have a snug fit and an excellent seal around your ears, obstructing a significant amount of airflow. They should be fine for casual listening for most uses, but they will most certainly make your ears sweat during more strenuous activities such as running and exercising.
Portability
The Sennheiser 4.50 BTNC headphones are moderately portable. When you're taking them around in their case, they fold up to save room. However, because to the rather wide ear cups, they're still a bit hard to tote around without a purse.
Case
The Sennheiser HD 4.50 headphones come with a flimsy cover that doesn't do much to protect them from bumps and drops. On the plus side, it's big enough to hold all of your accessories and will protect your headphones from scratches and scuffs while in your bag.
Build Quality
The Sennheiser 4.50 has a good build quality. The ear cups are thick plastic, but the headband is thin and flexible, however it is strengthened by a metal frame. Overall, they should be able to endure a few minor bumps or drops, but they don't feel as tough as headphones made with more metal.
Stability
The Sennheiser HD 4.50 BTNC Wireless headphones provide a sturdy wireless construction that won't slip off your head easily. While they aren't ideal for working out or severe sports (see our suggestions for the best headphones for working out), they should be adequate for light exercises or jobs. The wireless design also eliminates the possibility of the headphones being ripped off your head due to a tangled audio cable.
Sound Profile
These headphones provide a well-balanced sound profile, but they lack definition and brightness. They're not very bass-heavy, though, and should work well with warmer genres like classic blues or hip-hop.
Bass Accuracy
Sennheiser's HD 4.50 BTNC headphones provide great bass accuracy. The entire spectrum is balanced, with only a minor over-emphasis. This gives their bass a little extra thud and kick, but it's not overbearing or boomy.
Mid Accuracy
The accuracy in the mid-range is good. The low-mid and mid-mid frequencies are well-balanced and accurate, which is vital for vocal and lead instrument reproduction. High-mid, on the other hand, is heavily emphasised, giving leads and voices an excessive amount of intensity and roughness.
Treble Accuracy
The Sennheiser 4.50's treble accuracy is mediocre. Low-treble keeps the roughness of the mids while underplaying the rest of the treble range, resulting in a lack of definition and brightness.
Peaks/Dips
The Sennheiser HD 4.50's peaks and dips performance is adequate. Because of the high-mid peak followed by a fast drop in low-treble, singers and instruments sound honky and harsh, lacking nuance and clarity.
Imaging
The Sennheiser HD 4.50 has excellent imaging capabilities. The group delay response is almost totally below the audibility threshold, resulting in a tight bass and transparent treble reproduction, as shown in the GD graph. Furthermore, the frequency, amplitude, and phase response of our test unit's L/R drivers were remarkably well-matched, ensuring accurate placement and localization of objects (voices, instruments, video game effects) in the stereo field. It's important to note that these findings apply just to our unit; yours may perform differently.
Passive Soundstage
The Sennheiser HD 4.50 has a low passive soundstage. The PRTF graph demonstrates insufficient pinna activation and low precision, implying a soundstage that will be regarded as narrow and inside your brain.
Noise Isolation
Isolation performance is satisfactory. While these headphones offer ANC, it doesn't perform as well as some higher-end options, such as the Sennheiser Momentum 3 Wireless. While it effectively blocks out background noise, it falls short of effectively blocking out the deep rumbling of a bus or plane engine.
Leakage
These headphones have excellent leakage resistance. It's notably quieter than a typical office, so you should be able to listen to music at pretty high volumes without disturbing anyone around you.
Recording Quality
The microphone's recording quality is poor. The voices that were transmitted or recorded sounded weak, muted, and lacking in detail.
Noise Handling
The microphone's noise management is adequate. Even in fairly noisy circumstances, your voice is easy to hear, yet it will be lost in extremely noisy situations.
Battery
Overall, the Sennheiser HD 4.50 has a good battery life. While their 22.3-hour battery life is impressive, they lack a power-saving function to help save battery life. On the plus side, they can be used passively by plugging them in with the provided 1/8″ audio connection, which is convenient if they die during a lengthy travel or workday.
Bluetooth
The Sennheiser HD 4.50 BTNC are Bluetooth 4.0 headphones that support NFC for quick and easy connection and can pair with two devices at the same time. Although they enable aptX, their latency is likely to be too high for most users watching movies or playing games. It's worth mentioning that some programmes and devices appear to adjust for latency, so your results may differ in real-world situations.
Wired
These headphones have a 1/8″ TRS audio connection with no in-line microphone, unlike the Sennheiser PXC 550 Wireless, meaning they won't work with the Xbox One, PS4, or PCs.
Verdict
The Sennheiser HD 4.50 are adequate headphones for a variety of applications. Their sound is adaptable to a wide range of genres, yet some may find it lacking in definition and brightness. Though their thick padding isn't particularly comfortable, and they hug the head quite tightly, they nonetheless seem incredibly solid. Their 22-hour battery life is fantastic, and their active noise cancellation (ANC) works admirably, though it isn't much assistance with the deep rumbling of bus or plane engines.