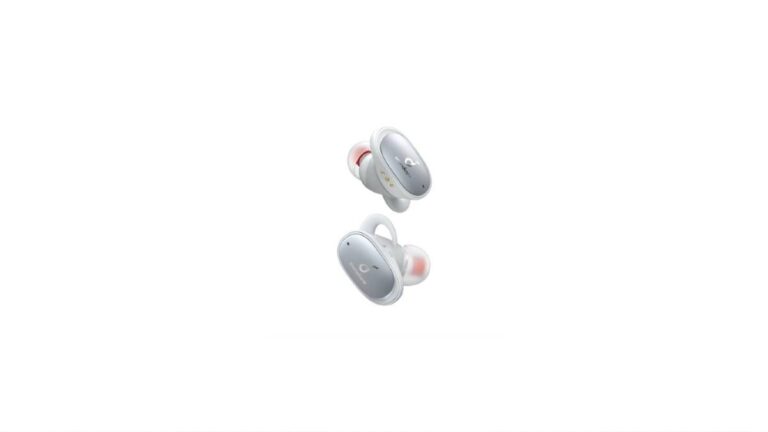 Anker's highest-end truly wireless headphones are the Soundcore Liberty 2 Pro. They have a nearly 7-hour battery life, which is excellent for completely wireless headphones, and they feature a very stable fit that makes them suitable for the gym. They're compatible with the excellent Soundcore software, which has a visual EQ and presets, but their enthralling out-of-the-box sound profile should appeal to listeners of all genres.
Anker Soundcore Liberty 2 Pro True Wireless Earbuds, Bluetooth Earbuds with Astria Coaxial Acoustic Architecture, in-Ear Studio Performance, 8-Hour Playtime, HearID Personalized EQ, Wireless Charging
2 new from $149.99
1 used from $123.51
Free shipping
as of November 28, 2023 1:31 pm ⓘ
Features
Astria Coaxial Acoustic Architecture: A state-of-the-art design which integrates a customized Knowles balanced armature and an 11mm dynamic driver into a single body. Aligned direct-to-ear, Astria completely eliminates interference while producing harmonized treble and bass for jaw-dropping sound.
In-Ear Studio Performance: Liberty 2 Pro is recommended by 10 Grammy Award winning producers. Sound is delivered at stadium-scale with impeccable depth and nuance. Every instrument presented perfectly across an expansive soundstage for a stunning representation of what the sound engineer and artist hoped you would hear.
8-Hour Playtime*: A single charge of the earbuds gives 8 hours of audio, with 4 more full recharges from the charging case. The charging case recharges via fast-charge USB-C or wireless charging, and provides the earbuds with 2 hours of listening from a 10-minute charge.
HearID Custom Sound: To ensure everyone gets a perfect listening experience, HearID intelligently analyses your unique hearing profile and creates a tailor-made sound setup just for your ears. Or take complete control of the sound with an adjustable EQ or 22 preset sound profiles.
Quad-Microphone Calls: With 4 microphones and cVc 8.0 noise reduction, your voice is isolated and transmitted in high-clarity for a seamless hands-free experience.
Style
The Anker Liberty 2 Pro is rather fashionable and appears to be of good quality for a pair of totally wireless headphones in this price range. They have a discreet, sleek black and dark grey matte finish, though they're also available in white. They look similar to the Sony WF-1000XM3 when in the ear, and our unit has a generic, sleek black and dark grey matte finish, but they're also available in white. Unfortunately, they protrude quite a bit out of the ears due to their design.
Comfort
The Anker Soundcore Liberty 2 Pro is a comfy headset. Because the majority of the earbud lies outside of your ear, it shouldn't exert too much pressure on your ear and create tiredness after long durations of listening. To assist you discover the perfect fit, Anker offers seven various size tips as well as three different sizes of stabilising fins.
Controls
The controls on the Anker Liberty 2 Pro aren't up to pace. While the default settings are simple to understand, and the buttons are located on the top of the earbuds in a convenient location that doesn't shove them into your ear canal, they unfortunately provide little feedback. On the plus side, the software allows you to re-program all four available buttons (double-tap and long hold on each ear). While you can map volume control to the buttons, you must either double tap or hold the button for 2 seconds to alter the volume by one level, and you cannot hold to raise or lower the volume constantly.
Breathability
The Soundcore Liberty 2 Pro, like most in-ear headphones, don't retain heat within your ear, therefore you shouldn't notice a difference in temperature while wearing them. As a result, they're an excellent choice for sports because you won't sweat as much as normal.
Portability
The Liberty 2 Pro, like all truly wireless headphones, is small and portable. While their charging case is a little larger than some other options, it should fit into most pockets and bags with ease.
Case
The charging case for the Anker Soundcore Liberty 2 Pro is fantastic. It has a quality feel to it, with a lovely matte surface, and wireless charging features that should work with any Qi-compatible charger. It can also be charged through USB-C, and there's a rubber stopper to keep dust and moisture out of the port. The case has a one-of-a-kind sliding lid that feels sturdy and should keep the case from unintentionally opening.
Build Quality
The build quality of the Anker Soundcore Liberty 2 Pro is excellent. Both the earbuds and the casing are made of solid, high-quality plastic and have a premium feel to them. While the case appears to be extremely durable, the sliding cover is most likely the weak area. While it appears to be sturdy, it could break if dropped at an incorrect angle or with sufficient force, however this is improbable. Water resistance is rated IPX4 on the headphones, though we haven't tested them yet.
Stability
In your ear, these headphones are very stable. They come with a variety of tips and stability fins to assist you get a good fit, and once you do, they should stay in place even while jogging or exercising.
Noise Isolation
The Anker Soundcore Liberty 2 Pro has good noise isolation. They don't have ANC, therefore they can only block noise passively. While they are effective at shutting out conversation and background noise, they are ineffective at blocking out the low engine rumble of a bus or plane. Try the Samsung Galaxy Buds Pro Truly Wireless if you're seeking a pair of truly wireless headphones with ANC.
Battery
Overall, the battery life of these headphones is adequate, but it is exceptional for completely wireless headphones. Their continuous battery life of nearly 7 hours is significantly longer than the Anker Soundcore Liberty Air 2 Pro Truly Wireless, and their case allows for three extra charges, which is a plus. Unfortunately, the headphones connect to your iPhone as soon as the lid is opened, which is usual for fully wireless headphones, but it could drain the power if the case is opened unintentionally.
Bluetooth
The Anker Liberty 2 Pro are genuinely wireless Bluetooth headphones that support aptX, which is a wonderful thing. We were unable to evaluate the SBC latency of these headphones because our Bluetooth dongle was unable to connect to them. Given their high aptX latency, we'd expect their SBC performance to be slightly poorer, and they're probably not a suitable choice for watching video material.
Pros and Cons
Verdict
The Anker Soundcore Liberty 2 Pro is a good choice for a variety of applications. They're perfect for working out in the gym because of their secure fit and IPX4 water-resistant designation, but we haven't tested this yet. They have a battery life of about 7 hours, which should last you almost a whole day, and they do a decent job of blocking out talkative coworkers to help you stay focused at the office.