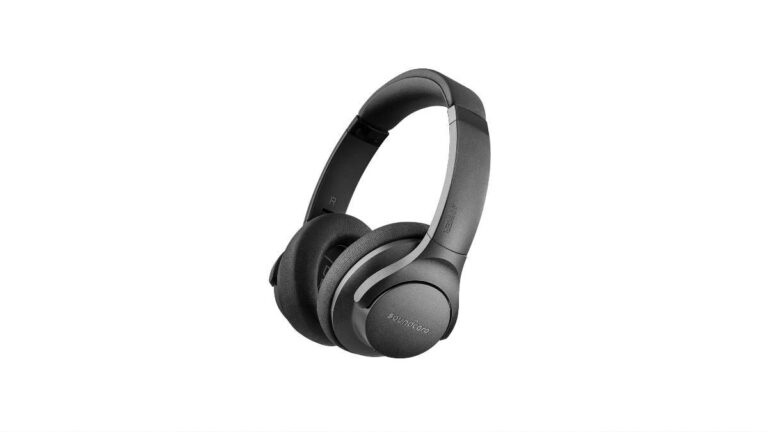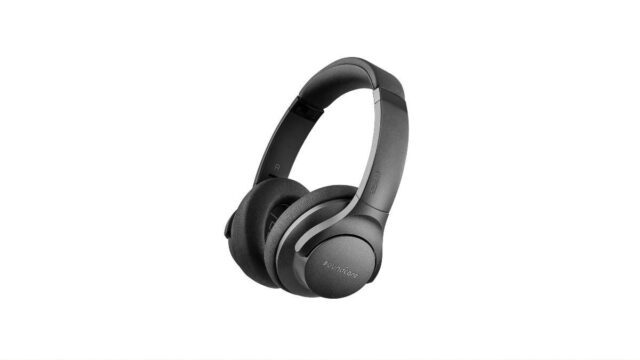 The Anker SoundCore Life 2 are good wireless over-ears for a variety of situations. They are noise canceling, however, their active noise cancellation (ANC) functionality is lacking, especially for commuting. On the plus side, they feature good audio reproduction and are better suited to music with a lot of basses. They also offer an easy-to-use bass boost effect that doesn't tell you whatever preset you're on. Their battery life is incredible, lasting around 28 hours. However, like with most Bluetooth headphones, their latency may be a little high when viewing films, but you can eliminate it by using the provided audio connection, which is helpful. These headphones are rather adaptable, provide decent value, and will satisfy the majority of users.
Soundcore Life 2 Active Noise Cancelling Over-Ear Wireless Headphones, Hi-Res Audio, 30 Hour Playtime, CVC Noise Cancellation, BassUp Technology, Memory-Foam Ear Cushions, and Travel Case [2019 New]
2 new from $63.42

as of November 28, 2023 2:24 am ⓘ
Features
Hi-Res Audio: Enjoy your music with stunning precision and accuracy. Exclusive BassUpTM technology deepens and intensifies bass in real time.
Active Noise Cancellation: Effectively reduces external noises for a purer musical experience when traveling or in loud environments.
Serious Playtime: 30 hours of wireless ANC playtime is extended to 60 hours when you listen in wired mode. For unlimited playtime, deactivate ANC and plug in the AUX cable.
Exceptional Comfort: Memory-foam ear cushions encased in a soft protein leather and an adjustable headband make Life 2 suitable for all head shapes and sizes.
Fold and Go: Store in the protective hard-shell travel case.
Style
The SoundCore Life 2 headphones are attractive, however they have a plasticky feel about them. They feature thick-looking hinges and solid cups. The headband and cups are also well-padded. Because of their all-black design and absence of other colour schemes, they don't stand out too much.
Comfort
The SoundCore Life 2 headphones are lightweight and comfy. The ear cup cushioning is silky and extremely soft. However, larger ears may find the cups to be too tiny. The cushioning on the headband is also pleasant to the touch and efficiently distributes the weight of the headphones. The headband, on the other hand, is rather huge, and these headphones may be too big for persons with tiny heads even with the smallest size adjustment. If the headband on these is too big for you, consider upgrading to the Anker Soundcore Life Q20, which has a smaller headband.
Controls
The SoundCore Life 2 has a simple control system that includes play/pause, managing calls, track skipping, and volume control, among other features. Additionally, there is a separate button for the noise cancellation functionality. You can activate the bass boost on these headphones by double-clicking the center button twice. The buttons are clicky and provide nice feedback, but you have no idea what bass setting you're using.
Breathability
The SoundCore Life 2 are among the least breathable headphones we've ever tried. The soft and pleather ear cushioning forms a tight barrier around your ears, preventing the breeze from cooling them. Heat is trapped under the ear cups, causing you to perspire more than normal. This implies they won't be ideal for sports, and even casual listening will reveal a significant temperature difference.
Portability
The headphones, like the Anker SoundCore Space NC, are extremely big and not the simplest to transport. The cups, on the other hand, rotate to lay flat, making it easy to drape around your neck or slip into a purse. You may also fold them up into a more compact size and store them in their handy carrying bag.
Build Quality
The SoundCore Life 2 is primarily comprised of plastic, and it has a significantly cheaper overall feel than the SoundCore Space NC. The hinges feel hollow and plasticky, which might be a flaw in the overall construction. On the plus side, a metal layer reinforces the headband, and the cushioning on the headphones isn't rigid. The cups are pretty thick, so an inadvertent drop should not do too much harm.
Stability
The SoundCore Life 2 headphones are quite stable, so you could jog while wearing them. They feature a strong gripping force and a comfortable fit on the head, but their design isn't ideal for sports. Also, if you have a smaller head, the headphones may not fit snugly and may easily bounce about, especially during strenuous activity. On the plus side, their wireless design eliminates the possibility of the headphones being ripped off if a cord becomes trapped.
Noise Isolation
The isolation performance of the Anker SoundCore Life 2 is average. They only get around 7dB of isolation in the bass region with the ANC (active noise cancellation) turned on, which is disappointing. As a result, they won't be very effective in filtering out the rumbling of aeroplane and bus engines. They isolate by 15dB in the mid-range, which is useful for filtering out ambient speech. They isolate by 36dB in the treble band, which is populated by sharp sounds like S and Ts and fan noises like A/C systems. Consider the Anker SoundCore Space NC or the TaoTronics TT-BH060 if you want comparable headphones with better isolation.
Battery
The battery in the SoundCore Life 2 is excellent. With a 2-and-a-half-hour charge period, you get nearly 28 hours of continuous playback. They have a longer battery life and charge faster than the Space NC, which is fantastic. Even if the battery is dead, you may use them passively using the provided audio wire. While wired, you can utilise the ANC functionality, but only if the battery is still charged.
Bluetooth
Bluetooth is supported by these headphones. They can only connect to one device at a time, and they don't enable NFC, which would make pairing faster and easier.
The SoundCore Life 2 has 149ms of latency, which is somewhat less than other Bluetooth headphones, which is a nice thing. While viewing TV or other visual content, some people may detect a minor delay between audio and video. On the plus side, certain gadgets and apps appear to compensate for the delay, so you might not notice it as much. To eliminate delay, you can alternatively utilise headphones with an audio connection.
Wired
These headphones may be used with any platform that has a 1/8″ TRRS audio connector, thanks to the accompanying 1/8″ TRRS audio cable. You'll be able to utilise their built-in microphone as well.
Pros and Cons
Verdict
These headphones offer a good sound quality, although they're best for bass-heavy music. They're comfortable enough for lengthy listening sessions, and their active noise cancellation (ANC) function performs a decent job of separating ambient noise when commuting and at work. They have a long battery life and have a great wireless range. However, its latency, like that of other Bluetooth headphones, may be a little too high for gaming and watching video content. Using the provided audio wire, this may be avoided.