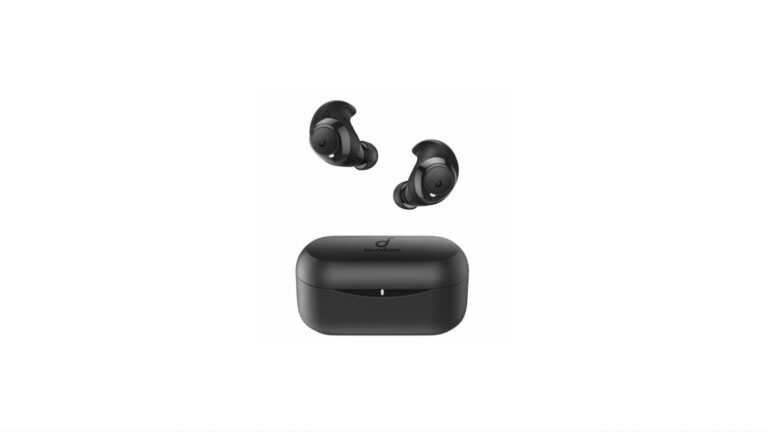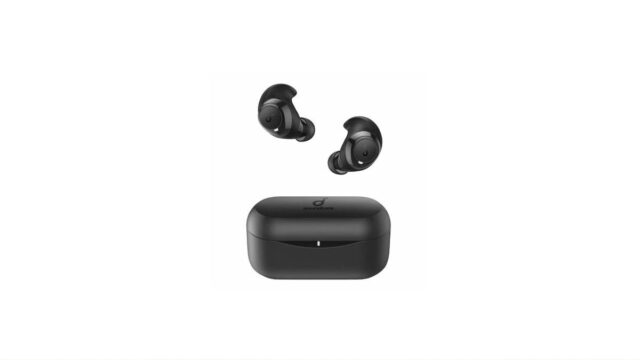 The Anker Soundcore Life Dot 2 completely wireless in-ear headphones are versatile and affordable. They're well-made, comfy, and should stay in your ear while you're moving around. They feature a well-balanced sound profile with a little more bass to keep you revved up, but not to the point of overpowering finer subtleties. Their case is said to carry enough charge for a little under 100 hours of playback, so they should be able to get through the day without dying of exhaustion. Their control method, on the other hand, is fairly limited in usefulness and requires some time to get used to.
Anker Soundcore Life Dot 2 True Wireless Earbuds
2 used from $38.63
Free shipping
as of November 29, 2023 10:36 am ⓘ
Style
The Anker Life Dot 2 truly wireless headphones have a conventional appearance. They're a touch bigger and stick out further beyond the ears than the tiny Samsung Galaxy Buds+ Truly Wireless, but they're far from being unnecessarily thick or clunky. The buds are mostly constructed of glossy plastic, with the exception of the central caps, which are composed of a matte speckled material that adds some contrast.
Comfort
The Anker Life Dot 2 is a reasonably comfortable device. They go rather deep into the ear canal but don't put much pressure on it, so they shouldn't be too uncomfortable to wear for lengthy periods of time. They come with a variety of ear tips and stability sleeves, so finding a comfortable, secure fit shouldn't be too difficult.
Controls
Due to their one-button configuration, they offer a rather frustrating control system that might take some time to get used to. Pausing and playing music, skipping and rewinding tracks, and accepting or rejecting phone calls are all possible with hold or press commands. There are no volume controls, unfortunately. A single tap on either bud pauses and plays music, as well as answering and rejecting calls. A 1s press on the right bud skips ahead, while a 1s press on the left bud rewinds. A fast double-tap on either bud activates the mobile voice assistant. Thankfully, when inputs are registered, a beeping auditory prompt is heard.
Portability
The Anker Life Dot 2 is a very portable device. They're small enough to fit in your pocket and are held together by powerful magnets in each bud. However, the charging case that comes with it is a touch on the large side.
Case
The charging case that comes with these headphones is excellent. With its robust build and glossy plastic interior, it feels sturdy and has a quality appearance. The enormous battery within promises 100 hours of total playback, but this comes at the expense of portability.
Build Quality
The Anker Life Dot 2 appears to be well-made. The buds are composed of high-quality plastic and have an IPX5 rating for water and sweat resistance, though we didn't test them for that. Their charging case appears to be fairly strong, so it should be able to withstand a few drops and bumps without suffering too much harm.
Stability
In the ear, the Anker Life Dot 2 is quite stable. Once you've found the right-sized stability sleeves and ear tips, they'll form a tight seal in your ear and won't slip out, even during intense workouts. Take a look at the SoundPeats TrueFree 2 Wireless if you want fully wireless headphones that are even less likely to slip out of your ears.
Noise Isolation
The Anker Life Dot 2 does a superb job at passive noise cancellation. They outperform the Anker Soundcore Life A2 NC noise-cancelling headphones. You shouldn't have to turn up your music to drown out chatty coworkers or the high-pitched hum of a neighbouring AC unit because it's Truly Wireless in the mid and treble range. However, some bass-heavy sound may intrude, so if you wear them on your commute, you'll almost certainly hear the rumble of bus engines.
Battery
The battery life on these headphones is 7.3 hours. That's significantly shorter than the 13-hour battery life of the Samsung Galaxy Buds+ Truly Wireless, but it's offset by the fact that they come with a case that, according to the maker, gives just under 100 hours of charge, though we didn't test this. Because there is no master bud, one can be utilized while the other charges. They also have a two-minute standby timer that turns off the headphones if they are not used. In their advertising materials, Anker claims that a 10-minute charge will provide 90 minutes of playing, however, we don't test this.
Verdict
The Anker Soundcore Life Dot 2 is suitable for a variety of applications. They're well-made and rather comfortable, so they shouldn't be too exhausting to wear for long amounts of time. While their 7.3-hour battery life isn't the best in the class, it should be adequate to get you through the day if you use their charging case. Overall, they have a rather well-balanced sound profile that can be used for anything from audiobooks to EDM.