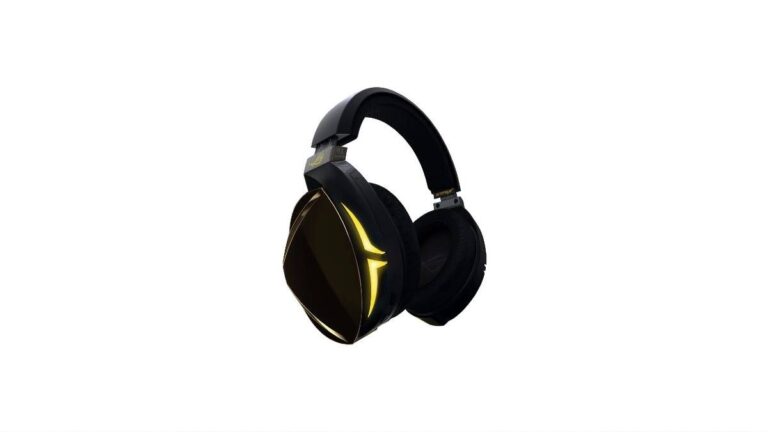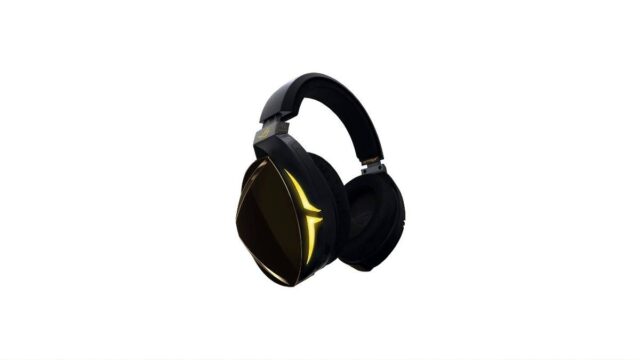 The Asus Republic of Gamers Strix Fusion 700 is a high-end gaming headset by Asus. We have great hopes for these cans because this is a brand that has proven time and time again that it understands what gamers want and need.
The Strix Fusion 700 is primarily intended for immersive gaming when connected via USB to a PC, PlayStation 4, or Nintendo Switch. It also features Bluetooth 4.2 built-in, allowing you to connect it wirelessly to any device that supports it, including smartphones.
It also includes some great extras, such as simulated 7.1 surround sound that can be activated with a single button push, as well as an ESS DAC and amp for powerful sound, all wrapped in Asus' recognised ROG design language.
ROG Strix Fusion 700 Virtual 7.1 LED Bluetooth Gaming Headset
19 new from $245.75
1 used from $543.98
Free shipping
as of November 28, 2023 2:25 am ⓘ
You May Like to Know: What Headphones Pro Gamers Use?
Style, Feature & Design
The Asus ROG Strix Fusion 700 is a stylish gaming headset with a quality design that will appeal to a wide range of players. You may use it for non-gaming purposes as well, such as listening to music on your smartphone, without it being too noticeable.
The Asus ROG Strix Fusion 700 headset boasts a design that is comparable to other ROG Strix headsets, and it has design aspects that we've come to anticipate from Asus' ROG goods. As a result, you get a pair of headphones that are definitely gaming-oriented without being excessive.
The ROG logo is relegated to a little detail above each can, while the Strixs branding is found on a cloth tag on the interior. When the cups are extended (to fit larger heads), the metallic band with markings reminiscent of a circuit board can be seen – a design element we've seen on other ROG Strix products.
The top of the band features a discreet 'Republic of Gamers' inscription, as well as LED lights controlled by Asus' Aura Sync RGB software. If you have other Asus products with Aura RGB lighting, you can sync the lighting and effects with the headset – we had compatible RGB RAM sticks installed in the PC we tested the Asus ROG Strix Fusion 700 with, and syncing those up to the headset produced a rather pleasant effect if you like that sort of thing – of course, you can always turn off the lighting if it isn't to your liking.
The microphone is situated beside the left-hand can and is activated by pulling it down. On the rear of the left-hand can, there are two buttons: one for turning on and off the 7.1 surround sound effect, and another for toggling Bluetooth.
The ability to turn on and off the 7.1 surround effect with a button press is a convenient feature that eliminates the need to fiddle with software. The Asus ROG Strix Fusion 700, like previous Strix Fusion headsets, has a touch-sensitive plate above the left-hand can that lets you to utilise touch gestures to pause and play music, skip tracks, and control volume (as well as synchronise the RGB lighting).
Unfortunately, we found it difficult to use, which was exacerbated by the fact that it worked sometimes and didn't other times.
We occasionally picked up the headphones to discover that music was already playing through them, indicating that we had brushed the touch interface while handling the headset.
Because of its changeable band, the Asus ROG Strix Fusion 700 is quite pleasant to wear. It also includes a second set of ear cushions that can be swapped out for the ones that come with the earpieces out of the box for a better fit. It's also not too hefty, so it shouldn't be too unpleasant if you plan on playing for a long time.
However, there is one major flaw: the Asus ROG Strix Fusion 700 connects to a PC, PS4, or Switch through USB. There's no audio jack, which limits the number of devices you can connect it to – Xbox One owners, for example, are out of luck.
The Asus ROG Strix Fusion 700, at the very least, has Bluetooth connectivity for connecting to cellphones, tablets, and gaming consoles. It's good to be able to use the Asus ROG Strix 700 wirelessly, and the built-in 900mAh battery should last roughly eight hours if you utilize the RGB lighting, and 17 hours if you don't.
You can't swap out the batteries on the Asus ROG Strix 700, unlike the SteelSeries Arctis Pro Wireless, so when it runs out of juice, you'll have to plug it in to charge it, which takes about three hours – not the end of the world, but it does mean you'll want to keep a charging cable with you so your gaming isn't interrupted. The Asus ROG Strix 700, thankfully, uses a regular USB to the micro USB connector.
Performance
Given the ROG Strix Fusion 700's price, it must have truly remarkable audio quality – and on paper, it appears that Asus has spent a lot of care and work into making sure this headset sounds amazing.
It contains an airtight chamber that Asus claims its audio specialists fine-tuned to provide a huge space around the drivers to help deliver crisp and natural-sounding music.
The drivers themselves have a 20-40kHz frequency response, which should give deep bass without obscuring details.
The ROG Strix Fusion 700 also includes an ESS 9018 DAC (digital to analogue converter), which supports 24-bit/96kHz Hi-Res lossless music playing. A built-in ESS 9601 amplifier provides more powerful bass.
So it should be set up to produce some remarkable sounds, and we were impressed during our time with it. While the bass wasn't as powerful as we'd been led to believe, the clarity and detail on offer were outstanding.
Connecting via Bluetooth was likewise straightforward and had no discernible effect on sound quality. We used the headset to listen to Spotify on a smartphone, and the music remained clear and sharp, while calls made using the headset were crisp and clear.
The ROG Strix Fusion 700 performs admirably while gaming, which is most likely why you'd buy it in the first place, with the audio detail in particular impressing us in the games we played while wearing it. However, the bass isn't particularly strong, so you won't get the head-shaking effects that gaming headphones are known for.
The Asus ROG Strix Fusion 700, on the other hand, excels in atmospherics, bringing out sounds like footfall and falling gunshot shells that are typically overlooked or lost in the mix with more bombastic headsets.
Sound Quality
You can definitely hear a difference when using the headphones in 7.1 mode. Sounds appear to be confined to a horizontal plane in stereo mode, but with 7.1 turned on, you can also identify sounds in the vertical plane; for example, if a noise is intended to be above you – such as a passing aircraft – it will sound like it is.
Because it doesn't feel like noises are coming from behind or around you, we don't think the 7.1 mode will give you a competitive advantage in games because you won't be able to tell where footsteps or gunfire are coming from other than your left or right.
This option does a great job at enhancing the atmosphere. While bullets don't appear to fly overhead, enormous, vast buildings appear much larger, and ambient noises add to the immersion of your games.
The 7.1 mode also works with music, and it lends a wonderful effect to some genres. So while it won't replace a physical 7.1 system, it's worth gaming with the option enabled.
Having the 7.1 system incorporated into the headphones without the need for a dongle, as well as the dedicated 7.1 button for turning it on and off while playing, is a lovely touch.
Who are these for?
There's a lot to appreciate about Asus' new headset, thanks to its superb performance and extensive feature set. The audio quality is excellent, and the understated style (barring the adjustable illumination, of course) ensures that you won't stand out on your everyday commute.
The majority of the flaws are minor annoyances at most, such as the Fusion 700's inability to fold properly or a number of minor usability issues. However, the loss of 3.5mm support is a major disappointment, and the deafening battery warning is really annoying.
Verdict
The Asus ROG Strix Fusion 700 gaming headset is expensive, but its build quality, features, and performance more than make up for it. This is a nice-looking piece of equipment, and if you have other Aura-compatible peripherals and components, you'll appreciate how well it works with them.
While the design will appeal to gamers, it isn't over the top or garish, and the performance isn't over the top either – this is a headset that excels in atmospherics rather than bombast. The bass isn't particularly powerful, but the ROG Strix Fusion 700 excels at picking up little nuances.
It sounds fantastic, and while the 7.1 surround sound isn't particularly convincing, it does provide a wide range of ambient sounds that may be extremely immersive.