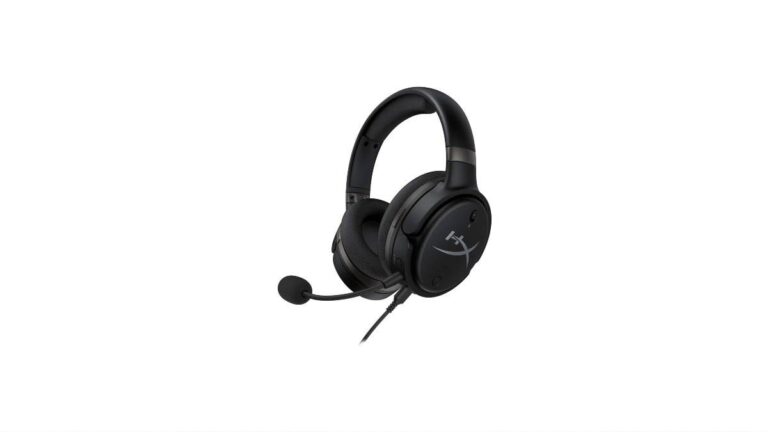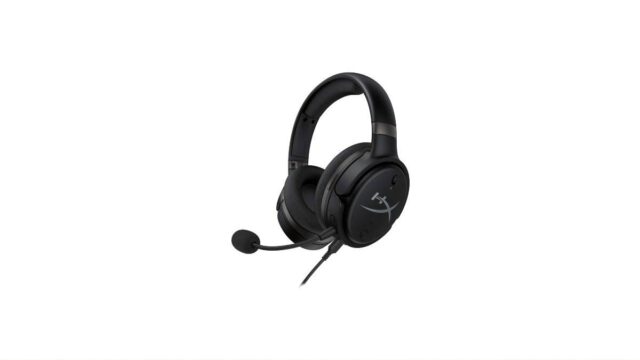 Audeze, a high-end audio manufacturer, released the Mobius gaming headphones last year, which were designed with audiophiles in mind. Now, Audeze has partnered up with HyperX to bring practically all of that technology into the Cloud Orbit S, a similar (and slightly less expensive) gaming headset. All of the fascinating signature characteristics that made the Mobius interesting and enticing are included in the Cloud Orbit S: 3D head-tracking to support digital surround sound and planar magnetic speakers, an older method of transmitting sound that's usually reserved for more expensive audio hardware. This headset is quite promising, with comfortable cushioning on the strap and cans, as well as a removable mic.
The Cloud Orbit S is more expensive than most of HyperX's other headsets, but even before you switch it on, you can tell it's going to be one of the best gaming headsets. The cans and headband are both solid and well-made, with a matte black finish that gives them a traditional, distinctive appearance. Memory foam ear cushions make them comfortable to use for long periods of time when you put them on. You don't get the sensation of having your head swaddled, which is a bummer because I enjoy that sensation, but it's much simpler to forget you're wearing them when you're in the heat of the moment.
HyperX Cloud Orbit S-Gaming Headset,3D Audio,Head Tracking, PC,Xbox One,PS4,Mac,Mobile,Nintendo Switch,Planar Magnetic headphones with Detachable Noise Cancelling Microphone,Pop Filter(HX-HSCOS-GM/WW)
3 new from $300.00
21 used from $154.19
Free shipping
as of November 29, 2023 10:37 pm ⓘ
Style
The Cloud Orbit S's design has a lot to unpack, both physically and analytically. The headset itself weights 12.6 ounces, which is a tad on the heavier side for a gaming headset but not excessive. The Cloud Orbit S is mostly made of tough black plastic, with a few silver highlights and HyperX insignia thrown in for good measure. The headset's design is beautiful enough that it wouldn't look out of place on a city street if you choose to wear it.
The leatherette ear cups, which are beautiful, comfy, and breathable, deserve special notice. Though I prefer foam types, these have a superior look and feel without retaining heat. They're perhaps the best aspect of the headset's physical design — which isn't horrible in the first place. A removable, flexible microphone is also included.
Comfort
The Cloud Orbit S is exceptionally pleasant to use, even for long periods of time, thanks to its big, soft ear cups and padded headband. The headset, on the other hand, is enormous. I have a rather large head, so I didn't have to stretch the steel headband very much to get it around my ears. As a result, you might not be able to obtain a great fit – and even if you do, you'll have to cope with a sloppy notching system.
However, I have some issues with the braided cable. As I previously stated, the braided cable makes a horrible grating sound when it brushes against most objects, particularly wood. Furthermore, the USB-A cable is quite long and cannot be wrapped in a suitable manner. When I tried it with a PC, the cable wound itself around my legs like an overzealous python, and it took some time to untangle myself and my chair.
When I handed the item over to a coworker, he remarked it was pleasant to use and that he had no issues.
Performance
The Cloud Orbit S's extensive compatibility is one of its strongest selling points. It is compatible with five modern gaming systems: PC, PlayStation 4, Xbox One, Nintendo Switch, and Android phones. It also sounds amazing on all of those devices. The Cloud Orbit S delivered crisp, nuanced sound across the board, from fighting trolls in Baldur's Gate: Siege of Dragonspear on PC to recreating Diamond Weapon's attack in Final Fantasy VII on Switch.
I was particularly interested in how well the headgear performed in action and first-person shooter games. This is because to the Waves Nx 3D audio capability. It's a fairly interesting concept for individuals who have never heard 3D sound before. You calibrate the way you're facing as "center" when you turn on 3D sound. The audio source will then "follow" your movements, becoming louder or softer in one ear depending on where your head is tilted. To get a sense of the effect, imagine standing in front of a speaker and turning one ear toward or away from the speaker.
For what it's worth, the 3D sound performed as expected, though I didn't find it to be any more useful than stereo or 7.1 surround sound. Whether or not 3D sound is turned on, the Cloud Orbit S has good directional sound. The problem is that while you're staring at a stationary screen, you don't move your head very much, making 3D sound more like an annoyance than a benefit. I see its promise in VR games, but I've never met a circumstance where it made a game better or more immersive on a conventional console or PC.
That so, thanks to good directional sound and a rich soundscape overall, blasting down adversaries in Overwatch on PC or creeping into an enemy citadel in Assassin's Creed Origins on PS4 felt great. Gamers should be able to use the Cloud Orbit S for both recreational and competitive purposes.
Features
The Cloud Orbit S boasts a plethora of sound settings, to the point that they can get overwhelming at times. By pulling down on the mic volume dial, you can switch between 7.1 surround sound, stereo sound, and high-resolution sound. There are four different options for the 3D sound. Equalization options are also available in the dedicated Orbit software. It can be difficult to keep track of everything, especially while you're in the middle of a game. It was usually easier for me to just set up stereo sound with a flat equalizer and only fiddle with choices if something didn't sound right.
Nonetheless, the Orbit software provides fewer possibilities than I expected. You may adjust the angle of your 3D sound to a great extent, and you can even program commands to be activated when you tilt your head in a specific way. However, you can't build unique EQ choices, modify mic sidetone, or create profiles for different applications. These features are standard on far less expensive headsets like the SteelSeries Arctis and Razer Kraken brands. Even updating firmware is a clumsy process that needs you to download a file separately from the internet, then manually initiate the process using a browser within the Orbit software.
The Cloud Orbit S has a good microphone. The mic volume wheel allows you a lot of control over how loud you want your voice to sound, and it performs a decent job of filtering out background noise. There's a touch too much fuzz to record a podcast or host a high-end broadcast, but it's acceptable for multiplayer and I assume it'd hold up nicely in a tournament.
Even though it's a wired headset, one potentially bothersome feature is that it requires a charge to operate. When you use it in USB mode, this isn't a problem because it charges while you play. In 3.5 mm mode, you get 10 hours of performance, which is more than enough time for all but the most serious binge sessions. However, because the headset does not turn off automatically, you must be careful not to leave it on by accident.
Even though it's a wired headset, one potentially bothersome feature is that it requires a charge to operate. When you use it in USB mode, this isn't a problem because it charges while you play. In 3.5 mm mode, you get 10 hours of performance, which is more than enough time for all but the most serious binge sessions. However, because the headset does not turn off automatically, you must be careful not to leave it on by accident.
Music Performance
On the Cloud Orbit S, music sounds nice in general, especially if you choose the Music equalization option. The high-res audio option, though, is what really sets the headset apart from many of its cheaper counterparts. High-resolution audio support allows you to listen to lossless files, such as FLAC, and hear music in far more detail than with regular headphones. (High-resolution audio isn't usually supported by games, movies, or television.)
It does sound impressive if you can stomach both the costs and file sizes for high-res music (albums cost $25 or more; single tracks take up hundreds of gigabytes). I could hear every note from every musician when I listened to Haydn's String Quartet in D, as well as the faint squeak of bows as they lifted off the violins. I don't think a casual listener would notice the difference, especially if they were on the train or at home reading a book. However, if you prefer to zone out and concentrate solely on music, the Cloud Orbit S may be able to assist you.
It's worth mentioning, though, that the Cloud Orbit S has not yet been formally certified by Japan's Hi-Res Audio association. Although JAS certification isn't the be-all and end-all of a headset's quality, those who don't want to take any chances should probably avoid the Cloud Orbit S for the time being.
Audio Peformance: Mic
The Cloud Orbit S has a detachable microphone for shouting at your virtual rivals, planning with your teams, phoning into a work meeting, or just chatting with Mom (have you called yours lately?). Many gaming headsets have this feature, but the Cloud Orbit S' mic is also unidirectional, meaning it only picks up noise from one side. It also offers noise cancellation and a pop filter, which helps combat the popping sound caused by sounds like b and p. I conducted a video conversation with someone who was wearing the headset, and his voice was very clear. I could still hear his voice over the music while it was playing in the background, and when he was silent, I could hear the music gently as well.
Phrases with a lot of pop potential, such "The bees roasted the peas," came out smooth and clear, with no harsh popping noises or distortion. During a video call with my Tom's Hardware colleagues, voices came in clear and warm. My colleagues' excitedly discussing their day's itinerary had no distortion or popping at maximum volume. Despite being halfway across the country, one colleague editor sounded like he was in the room with me, even at low level. By adjusting the inter-aural arc in the headset's software, I was also able to eliminate echoing from another editor speaking from his living room.
Battery Life
You must connect the HyperX to a PC via a Type-A or Type-C connector, which will also charge the headset (unless you disable this). This implies that the headset charged without my knowledge during normal use, and I never had to go out of my way to charge it.
When linked into a PS4 or Xbox One controller or a smartphone's headphone socket, or simply if you don't want your device to charge the headset, HyperX claims the Cloud Orbit S will last 10 hours at 50% volume. The headset lasted roughly 15.5 hours throughout my time with it, which included using it with a PC (with charge deactivated), controller, and smartphone at various volumes.
Features and Software
HyperX Orbit, the headset's free software, is nearly identical to that of the Audeze Mobius. It has a panel for HRTF (head-related transfer function) changes, allowing you to tailor 3D sound to your preferences. The inter-aural arc is designed to match the distance between one ear canal and the next, starting at the back of the head and ending at the front. In 3D modes, the room ambiance slider controls reverb. As previously said, adjusting the inter-aural arc and room ambiance sliders made a substantial difference, so it's important to get these settings correct; they're not just for show. You can fast switch between 3D modes and re-calibrate for head tracking on the right side.
Unfortunately, the software does not allow you to see or change your audio mode (7.1, hi-res, or 2 channel). This can only be done at the time of writing by holding down the microphone volume wheel. HyperX, on the other hand, told me that a toggle will be added to the software in a future release.
The frightening head in the centre moves in sync with yours to show how head tracking works in real time. Using the pitch, yaw, and roll sensor readings, the software allows you to quickly program head gestures.
You may assign motions to alphanumeric characters, Shift, Alt, Ctrl, F1-F12, and top row digits based on the amount of movement in degrees. You can make a motion for nodding up/down, shaking left/right, or nodding left/right in Twitch mode.
You can also choose from seven sound profiles (Default, Flat, Footsteps, Ballistics, Music, Racing, RPG, and Warm), but you won't be able to change them. Meanwhile, the Device Info section provides an explanation of the headset's layout, as well as a link to the most recent firmware.
Gaming With The Beast
To different degrees of usefulness, the HyperX Cloud Orbit S will operate with just about any modern gaming device, from PC to Nintendo Switch, Xbox One, or Playstation 4.
On consoles such as the Playstation 4, the Cloud Orbit S can be connected by the console's USB port or the DualShock controller's 3.5mm socket. The braided USB connection is long enough, but in a living room setting, it's still an inconvenient option, so the controller is definitely your best bet.
The headset only enables stereo sound on the console, regardless of how you connect. The 3D audio soundscape will be fine, but surround sound will not be available, which is a bummer because you'd think a headset this costly would support it in some way.
On PC, you can use the headset's 7.1 surround sound option and adjust its output via the software, bringing the headset's full feature set to bear. The Cloud Orbit S's 7.1 simulated surround sound is created using the same 3D audio technology as the rest of the device's features, and it works as well as or better than anything else on the market.
When I was playing games like Overwatch or Minecraft, I had no trouble figuring out where the noises of enemy gunfire or creeper moaning came from. Surround sound isn't the be-all-and-end-all of gaming audio, as I've probably mentioned in every gaming headset review I've written, but if you're a lover of games that make heavy use of it, this is a wonderful option.
Verdict
The Cloud Orbit S has a lot to offer. For both games and music, the sound quality is good, if not amazing. It's a pleasant piece to wear. It works with a wide range of devices. The headset, on the other hand, caused me just as much aggravation. In both dedicated PC and living-room setups, it's complex, cluttered, and irritating to use. Despite having so many features, it lacks a few apparent ones, and I'm not convinced that every one of them is worth the money.
I give the Cloud Orbit S a modest, but hesitant, endorsement if you're the type of audiophile gamer who wants to try out all of its features. Otherwise, something simpler and less expensive should serve well.