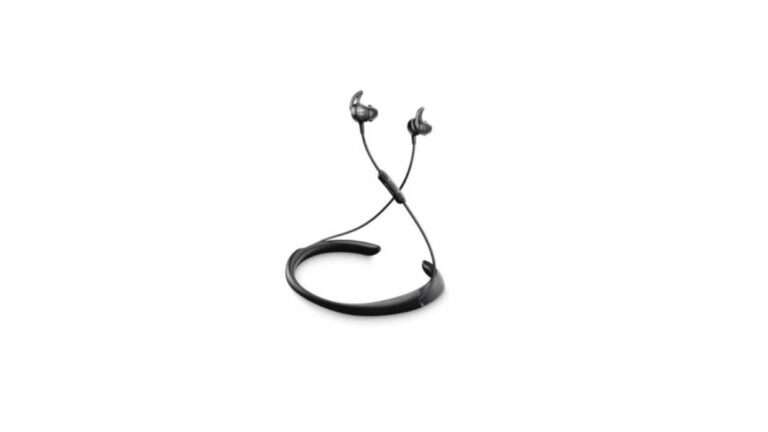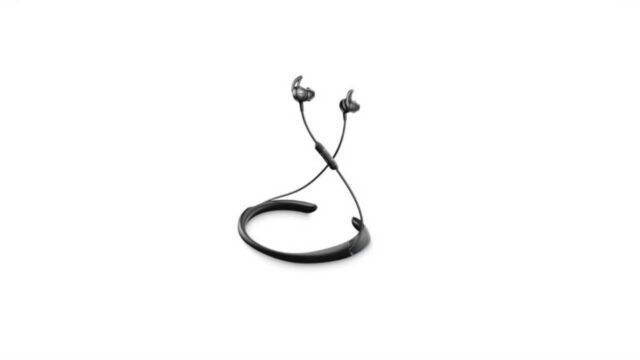 The Bose QuietControl 30 are above-average wireless earbuds that provide satisfying sound quality in most situations. They're lightweight and give you more control over noise cancellation than the other Bose headphones we've tried. The noise cancellation isn't as good as it could be, and while they're stable enough to exercise with, the around-the-neck style isn't for everybody.
Bose Quietcontrol 30 Wireless Headphones, Noise Cancelling - Black
9 used from $179.99

as of November 28, 2023 1:30 pm ⓘ
Features
Breakthrough technology lets you control your own level of noise cancellation throughout your day
Bluetooth and NFC pairing so you can connect to your devices wirelessly. Bluetooth range: 10 m
Noise rejecting dual microphone system helps reduce the noise around you to deliver clearer calls
Lightweight neckband design conforms to your body for all day comfort and wear ability
Lithium ion battery lets you enjoy up to 10 hours of wireless listening per charge
Check Out: Best In-Ear Headphones
Style
Because of the materials used in their construction, the Bose QuietControl 30 has a relatively simple design that feels high-end. They have a more upscale appearance than other styles worn around the neck. They're also available in an understated all-black colour scheme that won't stand out, which is perfect for some but a little boring for others.
Comfort
The StayHear+ earbud tips on the Bose QC30, as on the SoundSport Wireless, are comfortable and fit snugly inside the ear canal. They're lightweight headphones that can be worn for long periods of time without causing fatigue as some other in-ear/earbuds can. The neckband fit, on the other hand, isn't for everybody. They're a little bigger than the Sony WI-C400, but they're still a lot more convenient.
Controls
The control scheme on the Bose QuietControl 30 is fine, but the buttons are stiff and difficult to push. They include standard features such as call/music, track-skipping, and volume controls, as well as two additional buttons on the side of the in-line remote for adjusting the level of noise cancellation. Unfortunately, the inline remote is covered by a thick rubber-like material that makes the buttons difficult to press, particularly the power/Bluetooth sync switch, which is marginally better than on the SoundSport Wireless.
Portability
Since the total surface area of these headphones is relatively small, they do not take up a lot of space, even when they are not in the case. They won't fit into all pockets due to their unusual shape, but they should fit into most bags. If you just let them dangle from your neck, they're also very easy to carry on your person.
Case
They come with a sturdy hard case that protects the headphones from drops, cuts, and slight water damage. It adds some bulk to the overall design and won't fit into most pockets, but it can be easily held in a backpack.
Build Quality
The Bose QuietControl 30 has a solid feel to it. The plastic used for the headband and earbuds feels thick but lightweight enough that they won't be harmed if dropped from about neck height. However, despite being thicker than most in-ear headphones we've tested, the cables sound like the build quality's key flaw. They could snap if they're pulled on too tightly, which might happen if they get stuck on something.
Stability
These earbuds have a variety of stability tips to ensure a secure fit in the ear. This, coupled with the neckband, gives them a lot of stability while running or exercising. However, the cables connecting the neckband and the earbuds can get stuck on clothing on occasion, but this isn't common enough to be a problem.
Noise Cancellation
The isolation of the Bose QC30 is excellent. They reached 18dB isolation in the bass range, which is amazing, where the rumble of aeroplane and bus engines can be heard. They also achieved around 18dB of reduction in the mid-range, which is critical for cancelling out expression. Sharp sounds like S and Ts receive 28dB of isolation in the treble range, which is above average. Because of their in-ear fit, the Sony WI-1000X provides marginally better treble isolation, but they might not be as convenient for all.
Battery
When playing audio continuously at normal levels, these earbuds have a battery life of 11.4 hours. They also have an auto-off timer that can be accessed via the Bose Connect app, which helps them to save some power. They take about 2.5 hours to completely charge, which is about average, but they can't be used once they're plugged in.
Bluetooth
These headphones have a Bluetooth link that supports multi-device pairing as well as NFC. However, due to the stiff feedback, pairing with the power button can be a little troublesome at times, making the hold-to-pair process difficult.
The Bose QC30 has a lot of lag, which isn't good for watching movies or videos with a lot of content. It's not much different than most standard Bluetooth headphones, but it's not designed for gaming or watching movies.
Verdict
The Bose QC30 headphones are suitable for a wide range of applications. They're lightweight, quiet, and well-isolated in noisy environments. They're good commuting headphones that are still stable enough for the gym. They're perfect for use in the workplace or in quieter areas like a library because of their low leakage. They still sound decent enough to satisfy the majority of listeners, but they may not be the best headphones for critical listening.
It's okay to use it for sports. The StayHear+ tips have a comfortable and stable fit, and because of the around-the-neck shape, they seldom fall to the ground, even when exercising vigorously. However, the neckband may get stuck on fabric and pull the earbuds out of your ears, but this is an uncommon occurrence that largely depends on what you're wearing.