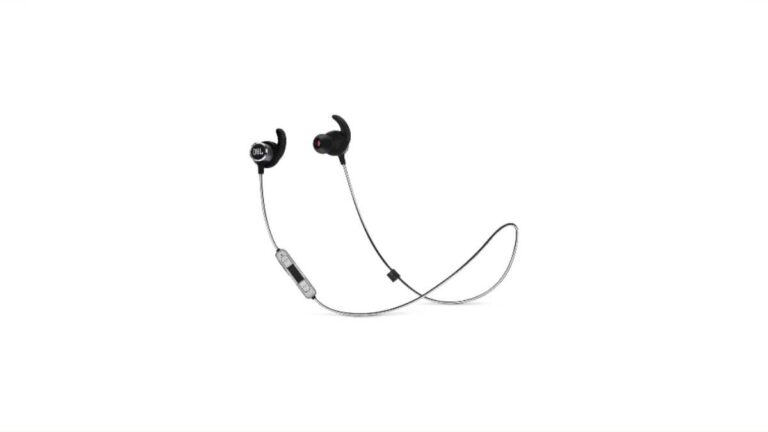 The JBL Reflect Mini 2 are excellent sports headphones that can also be worn casually. These closed-back in-ears have a good sound quality and are comfortable to wear. They have a stable and compact design with stability fins that is ideal for more vigorous physical activity. They do, however, have thin cables that can feel cheap. Their latency is also too high for gaming and viewing videos. On the plus side, they have an excellent wireless range and adequate isolation performance for commuting or office use.
JBL Reflect Mini 2 Wireless in-Ear Sport Headphones with Three-Button Remote and Microphone - Green
3 used from $24.60
Free shipping
as of November 28, 2023 1:36 pm ⓘ
Features
You will Receive 1 JBL Reflect Mini 2 - In-Ear (Green)
Style
Because of their stability fins, these wireless headphones have a sporty appearance. The earbud housing is also very large, with a metallic finish that gives them a premium appearance. The in-line remote, on the other hand, seems to be a little less expensive than the buds. Overall, they look nice but are very low-profile in the all-black version, but you can get them in one of the more colourful colour variants (blue, green, or teal) to match your preferred style. They also have a reflective cable for improved nighttime visibility.
Comfort
The Reflect Mini 2 is a comfortable headset, but the in-ear fit might not be for everyone. They're also incredibly light, and they come with a range of tip and fin choices to help you find the best match. Long listening sessions, on the other hand, can cause exhaustion in some people.
Controls
The Reflect Mini 2's control scheme is similar to that of most in-ears with in-line remotes. It provides basic functions such as music/call management, volume control, and forward and backward track skipping. The buttons have a nice clicky feel to them and provide good feedback. Voice prompts for battery and connection details are also available. The middle power button is also a notch lower than the volume keys, making it simple to use and distinguish the buttons.
Portability
The Reflect Mini 2 headphones, like most in-ears, are extremely compact and can comfortably slip into pockets or a backpack. They also come with a small pouch that adds little bulk and is easily transportable.
Build Quality
The JBL Reflect Mini 2 headphones are reasonably well-made. The earbuds are dense enough to withstand a few drops, but they have a very cheap feel to them. They have thin cables and are made of plastic. They were less costly than they seemed. On the plus side, the cables are reflective, making them suitable for running in the dark. They're also scored IPX5 for sweat and water resistance, but we don't have a test to reliably assess this at the moment.
Stability
The Reflect Mini 2 headphones are extremely stable and do not move during physical exercise. You should be able to run, exercise, and participate in sports with these. The tips and stability fins work together to build a snug fit. Their wireless nature also removes the possibility of a cable being tangled and pulling the headphones out. Consider the V-MODA BassFit Wireless if you prefer sports headphones with an ear-hook feature.
Noise Cancellation
The Reflect Mini 2 performs well in terms of noise isolation. Despite the fact that they lack active noise cancellation, they outperform a few headphones that do. In the bass range, they reach more than 9dB of isolation, which is good and impressive for passive isolation. This will block out a good deal of the rumble from bus and plane engines, making them a good alternative for commuting. They achieved a 20dB isolation in the mid-range, which is very good and useful for the office, and is necessary to block out ambient chatter. They block 36dB in the treble range, which is responsible for sharp sounds like S and Ts and fan noise.
Battery
With 10 hours of continuous playback, these wireless in-ears have a good battery life. Depending on your listening habits, this should be enough for a full day of listening and won't need regular charging. They take around 2 hours to charge, and there is no power saving feature to prolong the battery life. For just 15 minutes of charging, you will get an hour of playback.
Bluetooth
While their latency is too high for watching video content or gaming, they outperform most Bluetooth headphones, which have a latency of about 200-220ms. If you have a Bluetooth dongle that supports AptX or Apt-X LL, the Aukey Latitude is a better choice because it has a lower latency and more codec options.
Pros and Cons
Verdict
They reproduce audio accurately for a wide range of music genres, especially bass-heavy genres. They build a strong seal that is perfect for commuting because it absorbs a lot of noise, and their compact and stable nature makes them ideal for sports. Their isolation performance and 10-hour battery life make them a good option for the workplace, but their latency makes them a poor choice for gaming and watching TV.
These headphones feature stability fins that keep them in place within the ear and prevent them from popping out during strenuous physical activity. They're also small enough to fit in your pocket or bag and don't trap heat inside your ear. They can also be used in crowded gyms because of their strong isolation efficiency.