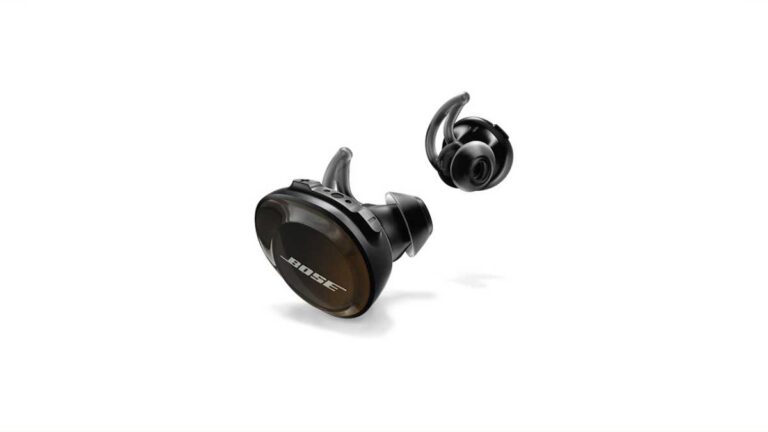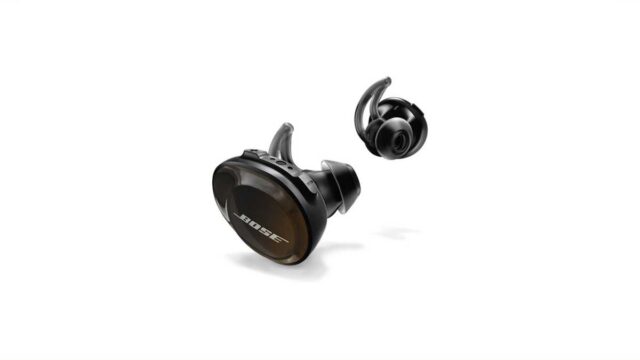 The Bose SoundSport Free earbuds are completely wireless and have a well-balanced sound profile. They have a comfortable earbud fit and a semi-open design that's perfect for outdoor runners, but commuters would be frustrated by the lack of noise isolation. They're also a lot bigger than the other fully wireless headphones we've used so far. They still have a few glitches with their wireless link and their software has no customization options.
Price
Bose SoundSport Free, True Wireless Earbuds, (Sweatproof Bluetooth Headphones for Workouts and Sports), Midnight Blue / Citron
2 new from $298.99
5 used from $164.99
Free shipping
as of November 29, 2023 9:26 pm ⓘ
Features
Truly wireless sport headphones for total freedom of movement, packed full of technology that makes music sound clear and powerful. Charging time 2 hours
Earbuds are sweat and weather resistant (with an IPX4 rating) and come with 3 different pairs of StayHear and Sport tips (in sizes S/M/L) that provide a comfortable and secure fit
Up to 5 hours of play time with each charge and an additional 10 hours with the included charging case
Track lost earbuds with the Bose Connect App's "Find My Buds" feature
SoundSport Free headphones have an integrated dual microphone array located on the right earbud to allow you to use them during calls when connected to a smartphone that supports Bluetooth. Call audio will only be heard in the right ear bud
Style
These headphones seem to be well-made and long-lasting. They're a little bulkier than most genuinely wireless designs, and they're dressed up in a bright yellow and blue color scheme. Other colors, such as black and bright orange, are also available. If you're looking for a limited edition Ultraviolet, Bose has one, but it's only available via Amazon. The buds feel premium and solid in your palm, but the bulky shape sticks out once in your ears; this might not be suitable for everyone. They're not as discreet as the Jaybird Run Truly Wireless or the Samsung Gear IconX Truly Wireless, which is a shame.
Check Out: Best In-Ear Headphones
Comfort
The Bose SoundSport Free earbuds have the same comfortable fit as previous Bose models such as the Bose SoundSport Wireless and Bose SoundTrue Ultra In-Ear. They are, however, large earbuds. Since they're truly wireless, if you don't get the right tip for your ears, the weight of the buds may tug on the stability fins, resulting in a looser or uncomfortable fit that may feel less secure than previous versions.
Controls
The control scheme on the Bose SoundSport Free is disappointing. Physical buttons provide all of the required features, including call/music, track-skipping, volume controls, and a dedicated pairing/Bluetooth button. Unfortunately, the buttons are rigid and difficult to manipulate. We had difficulty turning up the volume and had to manually press on the button by removing the earbud from our ears. When you push the buttons, you'll hear a click, but they're so rigid that it's easier to just turn tracks or adjust the volume on your mobile, which isn't always convenient when working out and may be a deal-breaker for others.
Portability
Despite their bulky size, these headphones are very compact and can comfortably fit into most pockets. If you bring them in their case, though, you'll lose some portability because it's shockingly bulky.
Case
A good hard charging case is included with the Bose SoundSport Free. It will shield them from impacts and drops, but since it is larger than most other fully wireless headphones we've reviewed, it will limit their portability. It bulges most pockets, which seems counter-intuitive for a truly wireless design, particularly because it lacks special features like wireless charging, which are available on the similarly-designed Altec Lansing True Evo Truly Wireless.
Build Quality
The Bose SoundSport Free is constructed well. They appear to be tough, strong, and dense, and they should be able to withstand a few drops. Even the case is very sturdy, though a little heavy and bulky.
Stability
The Bose SoundSport Free earbuds are reasonably secure. Although their heavier and completely wireless nature makes them more likely to slip out of your ears, Bose provides three different sized stability tips to help you find the best match. They'll be less robust than the Bose SoundSport In-Ear, the Bose Sport Earbuds, or the Bose SoundTrue Ultra In-Ear if you don't get the right tip size for your ear.
Noise Cancellation
These earbuds have poor noise isolation. The SoundSport Free won't block out any noise due to their semi-open earbud nature and lack of active noise cancellation. If you want to block out low noises like bus or plane engines, these aren't the headphones for you. They're even terrible at minimising chatter in an office environment. Outdoor joggers, on the other hand, will appreciate the semi-open design because it will allow them to hear and keep them aware of their surroundings. Try the Bose Sport Open Earbuds Truly Wireless, which have an open-ear design, if you want to hear even more ambient noise around you.
Battery
The battery life of the Bose SoundSport Free is average. They have a battery life of just under 5 hours on standby, which might not be enough to get you through your workday. The prosecution does, however, include two additional allegations. They'll go into sleep mode after 20 minutes if you're not using them and they're not in their situation. They don't have a fast charge mode like the Jaybird Run or the Beats BeatsX, unfortunately. Consider the Beats Powerbeats 4 if you're looking for a similar sports-oriented pair of headphones with a longer battery life.
Bluetooth
The SoundSport Free uses Bluetooth to connect to other computers. They also don't have NFC or multi-device pairing capabilities. The PC latency of genuinely wireless earbuds is very high, rendering them unsuitable for playing video games or watching videos. On Android and iOS, their latency isn't as bad, and some apps seem to compensate for it, but your mileage can differ in daily usage.
Pros and Cons
Check Out: Best Earbuds
Verdict
For mixed use, it's fine. The Bose SoundSport Free earbuds are reasonably comfortable. Their semi-open architecture isn't suitable for commuters or the workplace because noises like engine rumbles and chatter aren't reduced. They are, however, best suited to urban runners who want to remain aware of their surroundings. They'll work well with most audio genres thanks to their well-balanced sound profile. However, their microphone, like that of most fully wireless earbuds, muffles and distorts your speech. Since these earbuds aren't built for gaming, you can experience lag that affects your performance.
It's ideal for sports. The Bose SoundSport Free are completely wireless, lightweight earbuds that can be taken to the gym or outdoors. Because of their stability fins, they have a secure fit, and their semi-open fit allows runners to easily track their surroundings. However, since the case is bulky, you can not have much pocket space for it.
$299.99
in stock
2 new from $298.99
5 used from $164.99
Last updated on November 29, 2023 9:26 pm ⓘ