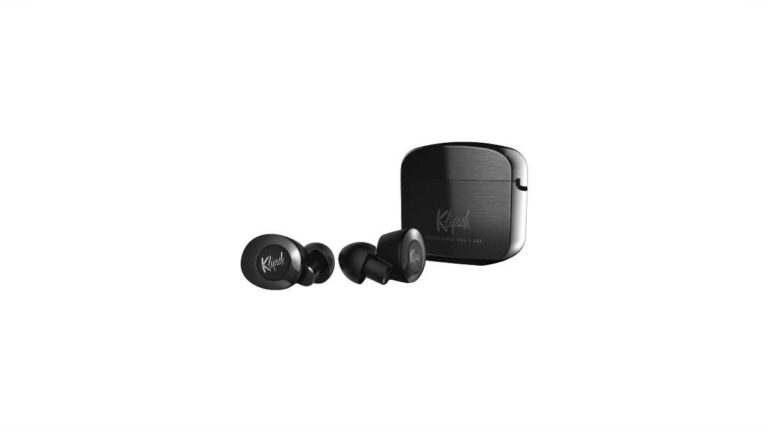 The Klipsch T5 II True Wireless Sport in-ear headphones are completely wireless and come with a charging case. They have a more robust in-ear fit than the previous Klipsch T5 True Wireless, so they shouldn't slip out of your ears even at the gym, and they're more comfortable. Their warm, bass-heavy sound adds an extra punch to music, keeping you motivated even during the hardest workouts. Although their control scheme isn't very clicky or comfortable to use, they do come with a variety of ear tip sizes to help you find the best match.
Price
Klipsch T5 II True Wireless Sport Earphones Black
11 new from $99.99
1 used from $124.77
Free shipping
as of October 2, 2023 3:55 pm ⓘ
Features
LEGENDARY KLIPSCH SOUND - The same advanced acoustic engineering and industrial design from our legendary home theater speakers provide the performance, voice and design for the T5 II Series earphones. They are engineered for pure performance and designed to be the best sounding most comfortable earphones on Earth and the embodiment of legendary Klipsch sound.
PATENTED OVAL EAR TIPS – Our earphones include 6 sizes of soft, oval, silicon, patented contour ear tips that are designed to reduce ear fatigue, provide the ultimate comfort and an excellent seal for noise isolation and superior bass. They fit better, they feel better, and only Klipsch has them.
HIGH CLARITY DYNAMIC DRIVER – Engineered to deliver powerful performances from the smallest package, our dynamic driver combines high output, neutral sound and deep bass extension.
BATTERY LIFE + CHARGING CASE- Featuring NuCurrent wireless charging capability, your case will charge twice as fast as anything on the market. The earphones provide 8 hours of battery life on a single charge and up to 24 additional hours with the charging case. The rugged, outdoor/sport battery case not only charges your earphones but protects them when not in use. You can also expect over an hour of playback from a quick charge of 15 minutes. The case charges via USB-C.
TRANSPARENCY MODE- This mode is designed to allow sound from the outside world into your ears, so you know what's going on around you.
Style
The Klipsch T5 II are basic true wireless in-ears that are similar to the Klipsch T5 True Wireless in terms of design. Some users can find that they protrude a little too far from their ears. They come in three colours: black, silver, and green.
Check Out: Best In-Ear Headphones
Comfort
These in-ears provide a good amount of comfort. Although they don't sit as deep in your ears as the Klipsch T5 True Wireless, you may feel some pressure on your ears when using their controls. They do, however, come with a variety of silicone ear tips and stability fins in various sizes to help you find the best match.
Controls
The controls on these headphones are adequate. – earbud controls a different function; however, you can still monitor all of the features if you only have one earbud attached. Most call-related functions are controlled by the right earbud, and clarity is controlled by the left earbud. Many of the controls provide audible feedback, which is convenient. However, since the buttons aren't quite clicky and seem flimsy, it's difficult to say when you've pressed.
Portability
These headphones are extremely lightweight. Their genuinely wireless nature is extremely compact, fitting comfortably into your pocket. They have a charging case that should fit comfortably into your bag or pocket.
Case
The evidence is compelling. It has a hard plastic shell that feels sturdy and long-lasting, and it also has a moisture-removal device built in. It has a locking mechanism to hold it closed safely, as well as wireless charging. Three LED light indicators are located within the case to indicate the battery level. We don't test for dust and water resistance because it's classified IP67.
Build Quality
The Klipsch T5 II is made of good materials. While both the earbuds and the case are mostly made of plastic, the case feels more sturdy and robust. While we don't monitor for dust and water resistance, both the case and the earbuds are classified IP67. The earbuds' controls, on the other hand, feel flimsy and may be a weak point.
Stability
The stability of these headphones is excellent. They have stability fins, which can keep them in the ears during casual listening sessions or gym workouts.
Noise Cancellation
The noise isolation on the Klipsch T5 II is excellent. Bass-heavy sounds, such as bus or plane engines, can be difficult to block out. They will, however, passively isolate against higher-frequency noises such as voices, buzz, or a nearby air conditioner.
Battery
The battery life of the Klipsch T5 II is adequate. On a single charge, they last around 9.5 hours, which should be enough to get you through your workday. Their portable charging case has approximately three additional charges. It's also possible to listen to music on one earbud while the other charges, which is convenient. They do not, however, have any power-saving features to assist you in conserving battery life.
Bluetooth
The Bluetooth communication on the Klipsch T5 II is adequate. They're Bluetooth 5.0 compliant, but don't support multi-device or NFC pairing. Because of their high latency on PCs, they might not be suitable for gaming. On iOS and Android devices, however, their latency is much lower, making them better suited for watching videos on your computer. Some apps, however, compensate for latency, so the actual experience can differ.
Pros and Cons
Verdict
The Klipsch T5 II True Wireless are suitable for a variety of applications. Their lightweight construction makes them comfortable to take with you on the go, and their safe fit is perfect for gym workouts. They can passively isolate against most noises heard in an office environment, but not bass-heavy sounds like engines encountered during your commute. Their humid, bass-heavy sound profile gives your music a little more punch, but it's not ideal for neutral sound. Fortunately, their companion app contains a graphic EQ and presets for fine-tuning their tone.
The Klipsch T5 II True Wireless headphones are great for commuting and travelling. They're easy to take with you on the go thanks to their compact design, and they're also very comfortable. Their 9.5-hour continuous battery life may be sufficient for long international flights. They can, however, have trouble isolating against bass-heavy sounds such as bus or plane engines.
$99.99
$229.00
in stock
11 new from $99.99
1 used from $124.77
Last updated on October 2, 2023 3:55 pm ⓘ