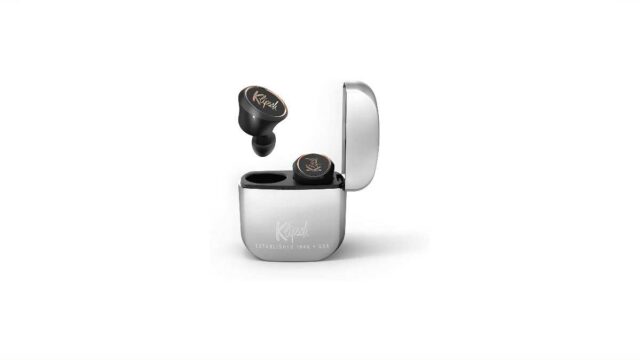 The Klipsch T5 are completely wireless headphones with an exceptionally long stalk that goes into your ear canal. Because of this nature, they might not be the most comfortable headphones, but they're still a good choice for people looking for wireless headphones with a lively, V-shaped sound profile. For truly wireless headphones, the battery life on a single charge is very impressive, and they come with a very comfortable charging case.
Price
$99.00
$199.00
in stock
7 new from $75.00
9 used from $51.42
Last updated on November 29, 2023 10:41 pm ⓘ
Style
The Klipsch T5 headphones have a good design, but they protrude quite a bit out of the ears, which some people might not like. On the plus side, they have a copper accent that gives them a luxurious look.
Check Out: Best In-Ear Headphones
Comfort
The Klipsch T5 are in-ear headphones that go deep into the ear canal. They have a few ideas to help you find a more comfortable and stable fit. However, when they use a tactile control system, pressing the control buttons forces the earbuds further into your ears, which can be uncomfortable. Check out the JBL LIVE 300TWS Truly Wireless or the Google Pixel Buds 2020 Truly Wireless if you want a more stylish pair of truly wireless in-ears.
Controls
The Klipsch T5 True Wireless' control scheme is simple and straightforward. The right bud increases the volume and skips tracks, while the left bud decreases the volume and reverses the tracks. With either bud, you can obviously play/pause music and handle calls. When using the headphones for calls, you can also silence your microphone, which is convenient.
Portability
The Klipsch T5 headphones, like all truly wireless headphones, don't take up a lot of room and have a small footprint. They'll easily fit into the pockets of your pants or a purse. You can store them in their charging case as well.
Case
The Klispch T5 True Wireless headphones come with a durable metal case that keeps them secure. It's small enough to fit in most pockets, but it's a little heavy for a truly wireless case, according to others. The lid is also a little loose, but most people won't mind. Furthermore, when removing the buds from the case, the tips get stuck and turn inside out, which is inconvenient because you must change them every time you remove the buds from the case.
Build Quality
The build quality of the Klipsch T5 True Wireless is excellent. They should be safe from damage if dropped, particularly if they're covered by the metal-feeling, heavy charging case. The buds have a thick feel to them and are rated IPX4 for water resistance, but we haven't put them to the test yet. Since the buttons are loose, you can easily hear them jumping about as you turn your head.
Stability
It's reasonably stable, but it's not the perfect choice for sports. They quickly fall off with head movement if you don't have a strong seal.
Battery
These headphones have an 8-hour continuous playback time, which is excellent for completely wireless headphones and sufficient for a full day at work. They also have three extra fines in their case for when they're on the go. You can't use just one bud at a time while the other is charging, unfortunately.
Verdict
The long stalk shape of these headphones reaches the ear very deeply, making them uncomfortable to wear for long periods of time. If you get a good match, they also have an exciting, V-shaped sound profile, which won't please critical listeners looking for a neutral sound. They are also only IPX4 scored, which isn't ideal for sports. With a good fit, they can provide adequate isolation, and their 8-hour battery life on a single charge sets them apart.
While there are better alternatives available, these headphones can be used for physical activity due to their lightweight and breathable nature. Water resistance is only scored IPX4, which isn't very good for sports headphones.
$99.00
$199.00
in stock
7 new from $75.00
9 used from $51.42
Last updated on November 29, 2023 10:41 pm ⓘ