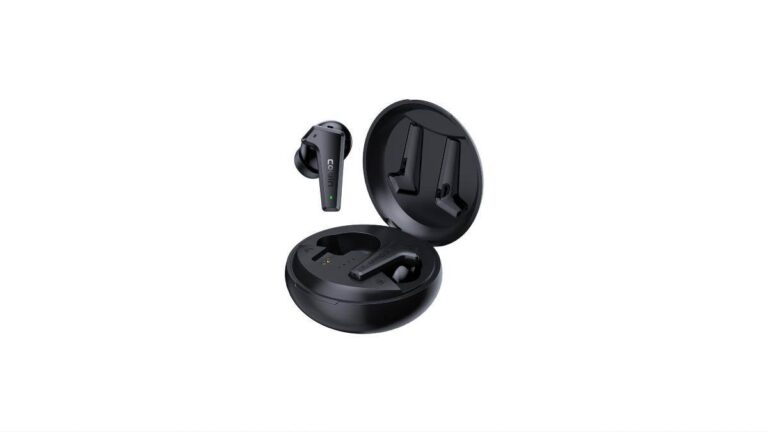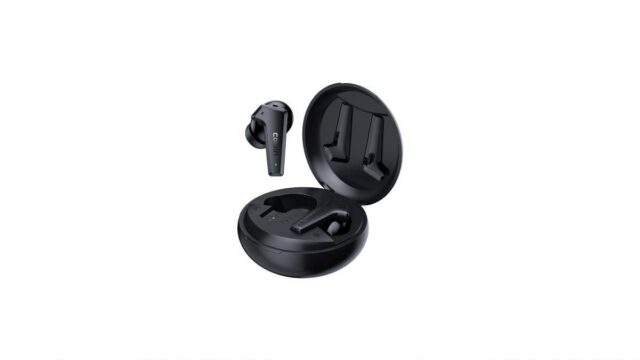 The Cowin Apex Elite Truly Wireless in-ears are lightweight and come with a charging case. Although they include an ANC feature, it performs poorly overall, so you can still hear bass-heavy background noises like bus or jet engines, as well as higher-frequency ambient sound like an AC unit's hum. They also feature a boomy, uneven sound profile that gives your audio a lot of extra punch, which some listeners may find overwhelming. They are, however, solid enough to be worn at the gym, which is a plus.
COWIN Apex Elite Noise Cancelling Earbuds Bluetooth Headphones True Wireless Earbuds with Charging Case Bluetooth Earbuds 5.0 Built in Mic Immersive Sound Deep Bass 27H for Sports/Travel/Work, Black
3 new from $69.99
Free shipping
as of November 28, 2023 12:27 pm ⓘ
Features
30% More Effective than Other Active Noise Cancelling ANC True Wireless Earbuds: Four Built-in noise cancelling microphones and two voice call microphones with the latest digital signal processing and pioneering beam form technology. The mics focus on your voice while isolating the sounds around you. Effectively block out background noise up to 32dB to ensure you always sound crystal clear. Compatible with Siri devices.
Reduced Noise, Better Sound: Active Noise Cancelling ANC blocks out external noise without jeopardizing the sound quality. 10mm large-aperture speaker offers superior premium sound regardless of your mobile device or your surroundings. You can enjoy the amazing clear audio during exercising, traveling, or working so you can focus on YOU.
Lightweight and Comfortable Fit: All day comfort. Every surface that touches your ear is made of soft silicone. Comes with 3 sizes flexible ear tip to help you get the best fit and seal for the finest noise cancellation experience.
Advanced Bluetooth Connection: Bluetooth 5.2 true wireless connection technology keeps your music and calls connected without wire. With these Bluetooth earbuds, you can enjoy a stable connection during conversations and music with no audio dropouts or interruptions. Supports AAC, SBC codec.
3rd GEN Battery Performance: Up to 7 hours playtime on a single charge with additional 20 Hours of battery life with the wireless charging case.18-month warranty & friendly customer service. Our knowledgeable agents focus on putting our customers first to provide a quick and easy solution.
Style
The Cowin Apex Elite in-ears are totally wireless and feature a monochrome style. They feature lengthy stems that extend from the buds, which have the Cowin emblem on them, unlike the Cowin Apex.
Comfort
The Cowin Apex Elite is an extremely comfy pair of shoes. They're little and don't go too far into your ear. It's good that you can utilise their touch-sensitive controls without putting any additional strain on your ear. They should be comfortable enough to listen for long periods of time.
Controls
The controls are satisfactory. To answer/end a call or play/pause your audio, double-tap any bud. You can also reject a call by tapping and holding either bud for two seconds, or cycle between ANC On, Ambient Mode, and ANC Off. You may also turn Game Mode on and off by pressing the right bud three times, or activate the voice assistant by pressing the left bud three times. There's a chime that counts down how many taps you've made, as well as audio instructions for turning Game Mode on and off and cycling among the ANC functions. Unfortunately, these controls do not allow you to change the volume or skip tracks, and the touch panel can be difficult to discover at first.
Breathability
The Cowin Apex Elite, like most in-ear headphones, don't trap a lot of heat inside your ear. They're comfortable to wear throughout exercises and shouldn't make your ears sweat more than usual.
Portability
These headphones are extremely lightweight. They're compact and light, so even when they're in their carrying case, you can simply slip them into your pocket.
Case
The case is in good shape. It's made of plastic, which has a fragile and cheap feel. The lid is also not particularly sturdy, and it moves around a little when closed. There are four LED indicator lights, which are useful for keeping track of the battery level.
Build Quality
The Cowin Apex Elite is made of good materials. They're primarily constructed of plastic, which feels cheap and isn't particularly long-lasting. Their charging case is also made of plastic. On the plus side, they feature an IPX7 water resistant rating, something we don't currently test for.
Stability
The Cowin Apex Elite is a stable machine. During casual listening sessions and gym activities, they should stay in your ears.
Sound Profile
The Cowin Apex Elite has a boomy sound profile that adds a lot of extra punch to your audio, which is great for bass-heavy music genres like EDM but maybe too much for those who prefer a more neutral sound. They're also missing in low-bass, so the deep thump and rumble in your audio aren't really felt. Sibilants like S and T are also a little bright, which some listeners may find too piercing.
Bass Accuracy
The Cowin Apex Elite's bass accuracy is average. Because they lack low-bass, you won't notice the deep thump and rumble in your audio. The rest of the range, on the other hand, is overemphasised, resulting in a boomy sound that some listeners may find overbearing.
Mid Accuracy
The precision in the middle is adequate. The low-mids have an overemphasis that extends from the bass region, which can muddy vocals and lead instruments. The low-mid can make the same sounds sound weak and distant in the mix if the high-mid is underemphasized.
Treble Accuracy
The treble accuracy of the Cowin Apex Elite is unimpressive. Under-emphasizing the low-treble can make voices and lead instruments seem unintelligible, while over-emphasizing the mid-treble can make sibilants like S and T sound sharp and piercing.
Peaks/Dips
The performance of these headphones is average, with some peaks and valleys. The low-bass is underemphasized, so you won't hear the deep thump and rumble in bass-heavy audio, but the peak in the high-bass and low-mids gives your mix a boomy quality. The mid-treble peak makes sibilants like cymbals piercing and loud, while the high-mids and low-treble dip makes vocalists and lead instruments weak, veiled, and distant.
Imaging
The image performance of the Cowin Apex Elite is exceptional. For the entire range, their weighted group delay is below the audibility threshold, ensuring a tight bass and transparent treble. The L/R drivers' amplitude, frequency, and phase responses are also well-matched, allowing items in the stereo image, such as voices or footsteps, to be correctly located and localised. However, these findings are just applicable to our test unit, and your actual experience may differ.
Passive Soundstage
The passive soundstage performance of these headphones is awful. They avoid any connection with the outer ear, which is one of the important components in generating an out-of-body, speaker-like soundscape, thanks to their in-ear construction. As a result, audio appears to come from within your head rather than from speakers all around you.
Noise Isolation
Noise isolation on the Cowin Apex Elite is average. They struggle to filter out bass-heavy background noises like bus and plane engines, even with the ANC feature set on. They do well with mid-range background noises, such as speech, but they suffer with treble-range ambient noise, such as the hum of a neighbouring air conditioner.
Leakage
The leaking performance of these headphones is excellent. They don't leak a lot of noise, and the audio that does escape sounds thin. Unless you're listening to audio at extremely high volumes, it shouldn't be too visible to individuals working around you in an office.
Recording Quality
The recording quality of the built-in microphone is average. Your voice should be audible to the person on the other end of the line, but it sounds weak and muffled.
Noise Handling
The mic's noise management ability is mediocre. Even if you're phoning from a fairly noisy environment, it has trouble distinguishing your voice from the background noise.
Battery
The Cowin Apex Elite has a respectable battery life. They last a little more than seven hours on a single charge, which is sufficient. However, because battery life varies depending on usage, your results may differ. Fortunately, their portable charging case provides up to three more charges, allowing you to recharge while on the road. There's even a five-minute auto-off timer that shuts the buds off if there's no sound, which can help save battery life.
Bluetooth
The Bluetooth connectivity of the Cowin Apex Elite is adequate. While their latency on iOS and Android smartphones is certainly low enough for video viewing, their latency on PCs is significantly higher. We tested latency of 243 ms on PC (SBC), 74 ms on iOS, and 117 ms on Android devices with their Game Mode feature switched on. With Game Mode enabled, these headphones have a higher latency.
Pros and Cons
Verdict
The Cowin Apex Elite are suitable for a variety of applications. It's good that they're comfy and stable enough to wear to the gym. Although they include an ANC feature, it performs poorly, so you might be bothered by background noises while travelling or working in an office. They also lack an EQ and feature an uneven, boomy sound profile that might be overbearing for fans of neutral sound.