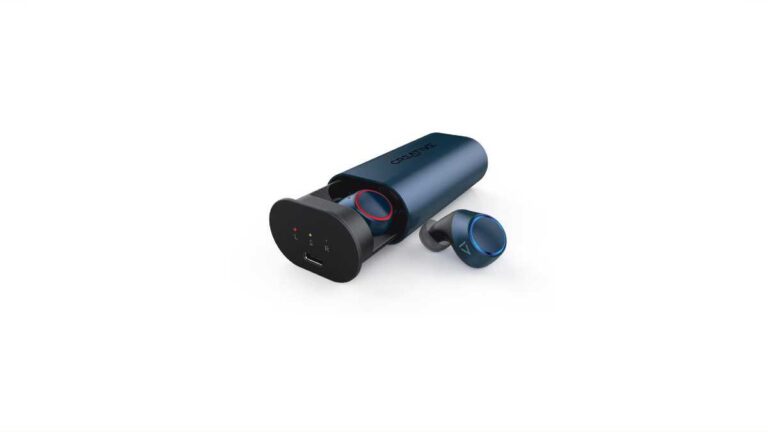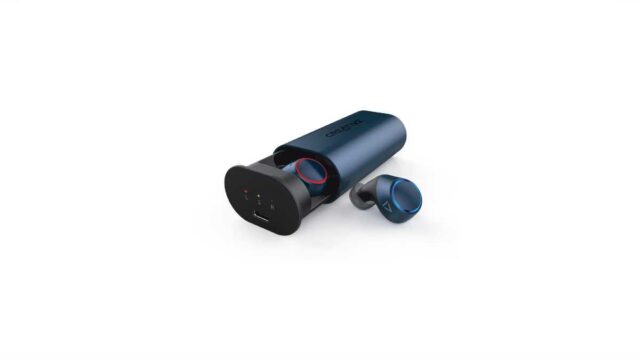 The second generation of the Creative Outlier Air Truly Wireless is the Creative Outlier Air V2 True Wireless. Their ear tips have been significantly improved in contrast to their ancestor, resulting in a stronger seal that helps isolate noise around you. They're also compatible with the SXFI app, which helps you to customize your sound with a graphic EQ. Their Super X-FI head mapping technology is said to create more immersive, studio-quality sound, but we didn't test it.
Creative Outlier Air V2 TWS True Wireless Sweatproof in-Ear Headphones with Touch Controls, Graphene Diaphragm, Bluetooth 5.0, aptX, AAC, 34 hrs Battery Life with 12 hrs per Charge
as of November 29, 2023 10:41 pm ⓘ
Features
UPGRADED WITH INTUITIVE TOUCH CONTROLS | Enjoy effortless control over your music and calls simply by tapping these in-ear wireless earbuds without reaching out for your phone. The Outlier Air V2 now comes with touch controls that react to your commands-simply tap on the earbuds to pause, change tracks, answer a call or even activate smart assistants. In addition, we've provided different ear tip sizes so you can get the optimal seal with maximum comfort
ULTRA-LONG BATTERY LIFE OF UP TO 34 HOURS AND IPX5 CERTIFIED| Boasting a staggering 12-hour per charge with total playtime of up to 34 hours, an improvement from our previous model. To recharge, simply place the earbuds back into the charging case and they will charge automatically. The charging case is also rechargeable via the included USB-C charging cable. Outlier Air V2 is certified IPX5 water-resistant so it can handle sweat, accidental splashes, or even rain without issues
IMPROVED CALL QUALITY AND SMART ASSISTANTS |Featuring built-in microphone with Qualcomm cVc 8.0 technology, the Outlier Air V2 earbuds picks up your voice over the background for improved call quality and clearer voice communication. For added convenience, just tap to activate Siri or Google Assistant for a quick call or get your music started
BLUETOOTH 5.0, APTX AND AAC, AND GRAPHENE-POWERED AUDIO EXCELLENCE | Outlier Air V2 is equipped with the latest Bluetooth 5.0 and aptX / AAC, so you can be sure to experience uncompromised and uninterrupted wireless audio quality wherever you go. It is also fitted with the latest driver technology that produces detailed highs, well-balanced mids, and immersive bass with the 5.6 mm graphene-coated driver diaphragm
SUPER X-FI READY HEADPHONES | Super X-Fi technology recreates a professional, multi-speaker system experience in your headphones that is personalized to your ears. Outlier Air V2 is certified SUPER X-FI READY so you can enjoy a preview of Super X-Fi headphone holography via the SXFI App. It works on local music files downloaded onto your mobile, like an MP3 player; and does not support streaming content like Netflix, YouTube and Spotify
Style
The Creative Outlier Air V2 are big wireless in-ears that stick out a little. They have a dark metallic blue finish and a similar overall design to the Creative Outlier Air Truly Wireless, but with a few more ear tip sizes. The buttons are also surrounded by an LED light circle that flashes different colors to indicate the battery level and pairing detail. The LED lights cannot be customized.
Check Out: Best In-Ear Headphones
Comfort
The Imaginative Outlier Air V2 is a comfortable pair of shoes. These light in-ears don't go too far into your ear and don't put a lot of strain, which is a plus. They have a wider range of ear tip sizes than the Creative Outlier Air Truly Wireless, giving you more choices for finding the best match. In addition, due to their touch-sensitive nature, their control scheme is easier to press than their predecessor, so you don't drive the buds deeper into your ears when inputting commands. They are, however, bulky and protrude from your ear.
Controls
Because of the touch-sensitive nature, the controls are simpler to use than the controls on the Creative Outlier Air Completely Wireless. To play/pause audio or answer/end a call, double-tap either bud. To refuse a call, tap either bud and hold for three seconds. Three taps on the right bud will advance you to the next track, while three taps on the left bud will return you to the previous track. Tap and hold the left bud to turn down the volume, and tap and hold the right bud to turn up the volume. If the audio isn't playing, you can unlock the voice assistant by tapping three times, and then pairing the buds by tapping and holding for six seconds.
Portability
The Creative Outlier Air V2, like most completely wireless in-ears, is amazingly compact. They're lightweight enough to fit in your pocket and carry with you on the go. In addition, their compact case can fit comfortably into your pocket or purse.
Case
The case on the Imaginative Outlier Air V2 is very cool. It's made of sturdy plastic, so it'll shield your buds from cuts and falls. The corresponding LED battery lights on the case and each bud can be used to check the battery level. It also has a handy sliding pocket that magnetically secures the buds as they charge.
Build Quality
The construction standard is excellent. They're made of plastic, but they have a solid feel to them. They also have an IPX5 water resistance rating, which we don't test for. The case, like the buds, is made of plastic with a metallic appearance, but it appears to be robust. Overall, they should be able to withstand a few drops without suffering too much damage.
Stability
The Imaginative Outlier Air V2 is well-fitting. Even during low-intensity workouts, if you get a strong seal, they should stay in your ears. Some high-intensity shakes, on the other hand, can cause them to fall out of your ears.
Noise Cancellation
The noise isolation on the Creative Outlier Air V2 is sufficient. The ear tips on these headphones are smaller and flatter than on the Creative Outlier Air Truly Wireless, allowing for a stronger seal in the ear canal and increased noise isolation. However, they have trouble isolating bass-heavy background noises like bus and plane engines. They do, however, perform better with higher-frequency ambient noise, so you won't hear people talking or the buzz of nearby air conditioners.
Battery
The battery life of the Imaginative Outlier Air V2 is outstanding. While the manufacturer claims a 12-hour continuous battery life, we measured over 10 hours of continuous battery life. When you're on the go, the portable charging case contains about two extra charges, and there's even an auto-off timer to help conserve battery life.
Bluetooth
The Bluetooth connectivity on the Creative Outlier Air V2 is adequate. They don't have NFC or multi-device pairing, which could be a turnoff for some listeners. Even when using the aptX codec, their latency with PCs is likely too high to be ideal for viewing videos or movies. They do, however, work better on Android and iOS devices. Due to the fact that some apps compensate for latency, the experience can differ.
Pros and Cons
Verdict
The Creative Outlier Air V2 are ideal for a range of applications. They're sturdy enough to wear to the gym, and the integrated microphone records sound well enough for phone calls. They're also quick to carry on your commute thanks to their compact style. Although their V-shaped sound profile may not be suitable for fans of neutral sound, they do offer sound customization options, which is handy.
For sports, the Creative Outlier Air V2 is impressive. These headphones have a secure and comfortable fit, so they won't fall out during low-intensity workouts. Their compact nature makes them easy to take with you on the go, and they have an IPX5 water resistance rating, though we didn't test it. If you enjoy high-intensity workouts, however, they might come out of your ears during the more extreme shakes.