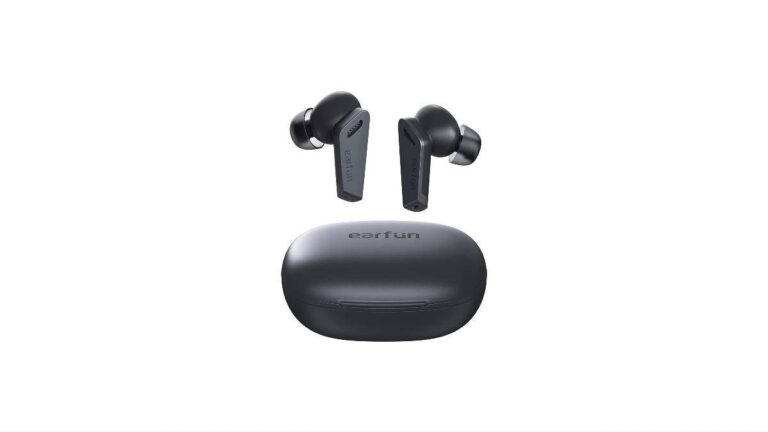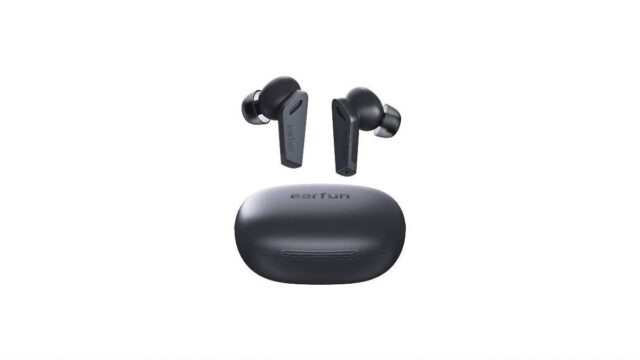 The EarFun Air Pro True Wireless in-ears are really wireless and include an outstanding noise cancellation capability. They're lightweight, stable, and have a long battery life of more than nine hours on a single charge. Their sound is v-shaped and should work with a wide range of audio materials and genres. Unfortunately, they don't have an app with an EQ or presets, and its touch controls aren't the most user-friendly either.
EarFun Air Pro Wireless Earbuds, Hybrid Active Noise Cancelling, Bluetooth 5.0 Earbuds with 6 Mics ENC, Stereo Deep Bass, 32H Play Time with USB-C Charge, in-Ear Detection Headphones
2 used from $65.82
Free shipping
as of November 28, 2023 1:36 pm ⓘ
Features
CNET review EarFun Air Pro as "The best noise-canceling true wireless earbuds for 2021": The EarFun Air Pro distinguishes itself with a comfortable fit, decent noise-canceling and nicely balanced sound with good clarity and well-defined bass. They're smooth-sounding earbuds.
[Immersive Sound Powered By Composite Drivers] The wireless earbuds adopts dual 10mm low-distortion composite dynamic drivers, with high resolution decoder built-in and AAC/SBC audio coding technology, it provide you crystal clear sound and strong bass with authentic treble to match.
[Crystal Clear Hands-Free Calls] With Customized Noise Cancellation Algorithm and Dual-Mic Environment Noise Cancellation Technology, the Bluetooth earbuds can effectively block out 80% of background noise and make your voice 3 times clearer, you will be clearly heard on the other side even in the noise environment like subway station.
[32-hour Playtime with Fast Charge] A single charge gives you a full 9 hours of listening time, and 7 hours if the ANC mode is on. The USB-C charging cable included in the package provide rapid charging for the charging case, which can extends the platime to 32 hours.
[Tap control with Smart Pause] EarFun Air Pro wireless earbuds has built-in accelerometer sensor for tap to control the earbuds, now you can adjust songs, pick up the call without reaching your smartphone. The In-ear Detection makes your music pause the second you remove an earbud, then starts again the second you put them back in.
Check Out: Best Earbuds to buy
Style
Small spherical earbuds and flat angular stems that fall down from your ears characterise these headphones. They don't stick out too much from your ears, but the stems make them stand out a little more than the EarFun Free Truly Wireless.
Comfort
The EarFun Air Pro True Wireless headphones are lightweight and comfy. They have a light feel to them and don't go too far into your ear. The touch controls on each bud can be used without causing any discomfort to your ears.
Controls
The controls on the EarFun Air Pro are average. To play/pause, double-tap the right bud, and to skip to the next track, triple-tap it. The voice assistant may be accessed by double-tapping the left earbud, while triple-tapping cycles through ANC, Talk-Through, and Normal modes. An incoming call can be accepted or rejected by double-tapping either bud. For powering on/off, changing modes, and pairing the headphones, there are audio prompts. Unfortunately, tapping the right spot might be difficult, and the controls aren't the most snappy. They also lack volume control and the ability to skip backward, which is a disappointment.
Breathability
The EarFun Air Pro, like most in-ear headphones, is extremely breathable. They don't trap a lot of heat on your ear, and if you wear them during a workout, you shouldn't sweat much more than usual.
Portability
These headphones, like most all truly wireless in-ears, are extremely portable. They're small, so they should fit into most pockets and bags.
Case
A good case is included with the EarFun Air Pro. It's composed of strong plastic, but it doesn't feel particularly high-end. A small light on the rear of the case reveals the case's remaining battery life, and a light inside the buds reveals the buds' remaining battery life when they're inside. Although some really wireless earbuds, such as the TOZO NC2 Truly Wireless and the Samsung Galaxy Buds+ Truly Wireless, come with smaller covers, the case is tiny enough to fit inside most pockets.
Build Quality
The EarFun Air Pro is made of high-quality materials. The case's plastic feels a little flimsy, but the earphones are made of a more durable material. They're also not too hefty and have an IPX5 water resistant rating, but we haven't tested it yet.
Stability
The EarFun Air Pro is quite stable. During casual listening or workouts, they should easily stay in your ears. Consider the JBL Live Free NC+ TWS True Wireless if you want more stable in-ears with stability fins.
Noise Isolation
The noise isolation on the EarFun Air Pro is excellent. When compared to passive noise isolation, its ANC feature blocks out a lot of bass-range noise, reducing noises like rumbling bus and airline engines. It doesn't do as well at blocking out office noises, but it does a good job of isolating you from background noise and the hum of air conditioners.
Battery
The battery life of the EarFun Air Pro is excellent. They last more than nine hours on a single charge, which is good, though battery life varies with real-world use, so your mileage may vary. Their case holds around two and a half more charges, and you can charge one earphone while listening to music on the other. When they aren't in use, they have a standby mode to save electricity.
Bluetooth
The Bluetooth connectivity of the EarFun Air Pro is adequate. Their latency on iOS and Android should be low enough for watching movies and playing games, but they have a larger latency on PCs, making them unsuitable for computer gaming. However, other programmes appear to adjust for latency, so your experience may be different.
Wired
These are truly wireless headphones that cannot be connected to a power source. For charging the case, they include a USB-C to USB-A cable.
Pros and Cons
Verdict
The EarFun Air Pro are suitable for a variety of applications. They're lightweight, come with a charging case, and feature a nine-hour continuous battery life that should last you all day. They have a good noise cancellation feature and don't leak much audio, so they're good for travelling on a noisy train or listening to music at work. Their sound profile should work with a wide range of audio files. They do, however, have a high latency when used with PCs and are not recommended for gaming. They also don't have the best microphone performance, making them unsuitable for phone calls.