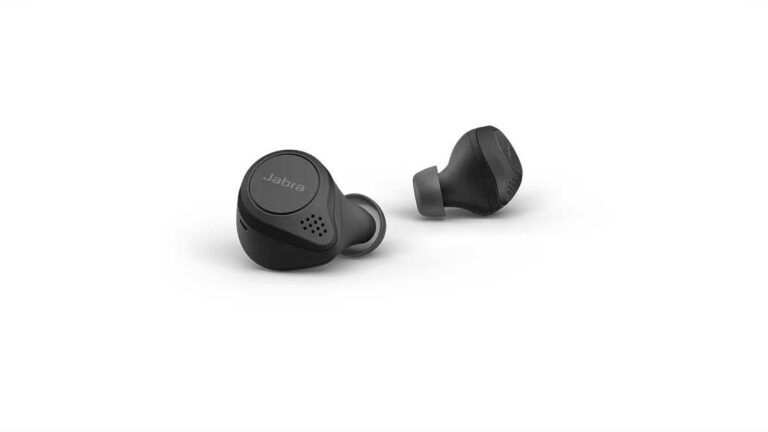 The Jabra Elite 75t Truly Wireless is a good upgrade to the famous Jabra Elite Active 65t Truly Wireless in-ear earbuds. Although the Elite 75t's earbuds are slightly smaller, which makes them more comfortable, they have a similar well-built design. Their smaller case also provides three extra charges, resulting in a cumulative battery life of 27 hours. Jabra has introduced an active noise canceling ANC function, which can help reduce some noise around you, thanks to a firmware update. They also have a louder, more resonant bass than previous models.
Price
Jabra Elite Active 75t True Wireless Bluetooth Earbuds, Copper Black – Wireless Earbuds for Running and Sport, Charging Case Included, 24 Hour Battery, Active Noise Cancelling Sport Earbuds
3 new from $179.99
40 used from $71.99
Free shipping
as of November 29, 2023 11:47 am ⓘ
Features
SECURE ACTIVE FIT – We scanned thousands of ears to create the best-fitting earbuds for a sport that we've ever created, with a special grip coating to make sure they stay in while you move; Plus, they're sweat proof and waterproof with IP57-rated protection
ACTIVE NOISE CANCELLATION: With these noise cancelling earbuds, you can filter out the world and focus on your music; Use the Jabra Sound plus App to activate ANC the first time you use it and enable toggling between ANC and Hear Through via your Earbud button
CRYSTAL-CLEAR CALLS – 4 microphones, the latest digital signal processing and pioneering beam form technology mean these Jabra earbuds offer great call quality wherever you are; Plus, they're compatible with Siri, Google, and Alexa
LONG BATTERY LIFE – With Jabra Elite Active 75t wireless Bluetooth earbuds, you get up to 24 hours of battery time (ANC on) with the pocket-friendly charging case, the Elite 75t earphones let you take calls and play music while staying connected
MY SOUND IS YOUR SOUND – Our latest pioneering technology tests your hearing in the Jabra Sound plus app, and tailors your music to suit your individual hearing profile; My Sound makes the music you love even better
Style
The Jabra Elite Elite 75t Earbuds resemble the Jabra Elite Active 65t Truly Wireless, but without the small stem that protrudes from the ear. Their matte black finish is unobtrusive, and they don't protrude too far from the ear. They're much more portable than the bulk of genuinely wireless in-ears.
Check Out: Best In-Ear Headphones
Comfort
The Jabra Elite 75t headphones are lightweight and comfortable. They're more secure than the Sennheiser CX 400BT True Wireless because they don't place as much strain on the ear as the Sennheiser CX 400BT True Wireless. They even come with three different ear-tip sizes so you can find the perfect match. They do, however, fit deeply into the ear canal, and some users can experience a plunger-like sensation as a result of the fit.
Controls
The physical controls on these headphones are a step up from previous versions. They're simple to operate and provide clicky feedback. The HearThrough feature, which allows you to hear ambient sound around you, also has a voice prompt. These keys, on the other hand, aren't the most user-friendly. The left earbud is used to control audio, while the right earbud is used to control calls. Lowering the volume is regulated by the left ear, while increasing the volume is controlled by the right ear.
Portability
The Jabra Elite 75t Truly Wireless in-ears are extremely compact, fitting comfortably into most pockets and being slightly smaller than the Jabra Elite Active 65t Truly Wireless in-ears. These earbuds have magnets that cause them to stay together, making it more difficult to lose one if you throw them both into your pocket at the same time. Their case is also smaller than previous ones, slipping into most pockets with ease.
Case
The Jabra Elite 75t Truly Wireless comes with a better case than the Jabra Elite Active 65t. It's noticeably shorter and has a flat bottom, allowing it to stand up on a desk without tipping. It's also a lot easier to open and can be done with only one hand, but it still closes tightly and shouldn't open by mistake in a bag. It's cool that the case now charges via USB-C rather than micro-USB.
Build Quality
The Jabra Elite 75t is made of high-quality materials. The earbuds and carrying case are both made of dense plastic and appear to be durable enough to withstand a few bumps or drops. Magnets are also included to prevent the earbuds from spilling out of the case. While we don't currently monitor for dust and water resistance, the earbuds have an IP55 mark. Consider the Jabra Elite Active 75t Truly Wireless, which are rated IP57, if you're looking for a pair of identical in-ears with a higher IP ranking.
Stability
The stability of these headphones is excellent. They come with three different tip sizes to make it easier to find the right match. They remain in your ear and should be safe enough for mild physical activity even if they don't have stability fins. Consider the Beats Powerbeats Pro Truly Wireless, which use ear hooks, or the Jaybird Vista Truly Wireless, which use stability fins, if you're looking for even more reliable truly wireless headphones.
Noise Cancellation
The noise isolation on the Jabra Elite 75t is excellent. Jabra introduced active noise cancellation (ANC) to these headphones in firmware update 2.00. However, it just outperforms their passive noise isolation capabilities by a small margin. Even with the ANC turned on, they have trouble blocking out low-frequency noise like bus or plane engines. However, they do a great job of reducing background speech and high-pitched humming from an air conditioner.
Battery
The battery life of these headphones is adequate. On a single charge, they last just under seven hours, which is perfect for a long commute. However, since they come with three additional charges in the case, they have a longer overall battery life than the Jabra Elite Active 65t Truly Wireless. The Sony WF-XB700 Genuinely Wireless in-ear headphones are truly wireless in-ears that last longer on a single charge.
Bluetooth
The Bluetooth connectivity on the Jabra Elite 75t is excellent. Although they don't support NFC pairing, they can connect to up to two devices at once, making it simple to switch between your phone and computer for audio. When streaming video on Android, they have a decently low audio latency, and it's even lower on iOS, but it's still not suitable for watching a lot of videos. On a PC, latency is also higher. However, since different apps and devices compensate for latency in different ways, your results can vary.
Pros and Cons
Verdicts
The Jabra Elite 75t are suitable for a variety of applications. They're cosy, and their 6.8-hour battery life will get you through the bulk of your 9-to-5 workday. Although their active noise cancelling feature struggles to reduce noise like bus or plane engines, it is much more effective at reducing office chatter. They're still very secure, making them a good option for working out. However, their sound is thumpy and enthusiastic, which might be too thumpy for fans of neutral sound. Fortunately, you can change their sound profile using the graphic EQ or presets on the unit.
The Jabra Elite 75t is an outstanding commuting and travel headset. They're extremely comfortable and last just over seven hours on a single charge, making them ideal for longer commutes or international flights. If you run out of battery life, they can be completely charged in just over an hour. However, their successful noise cancellation feature has a hard time reducing low-frequency noise like bus engine rumbles.
$179.99
in stock
3 new from $179.99
40 used from $71.99
Last updated on November 29, 2023 11:47 am ⓘ