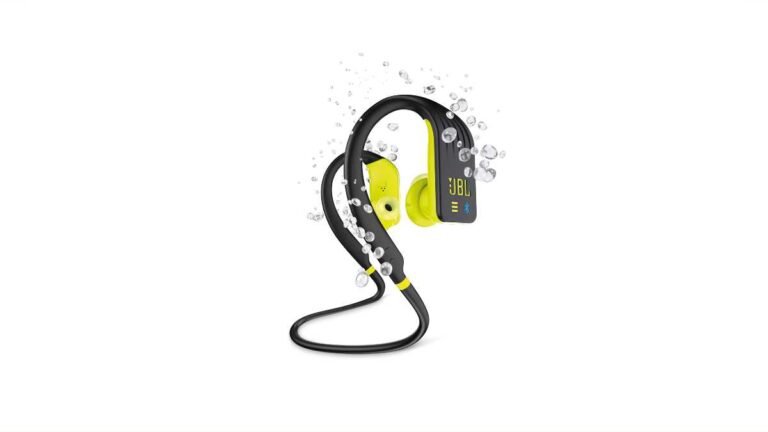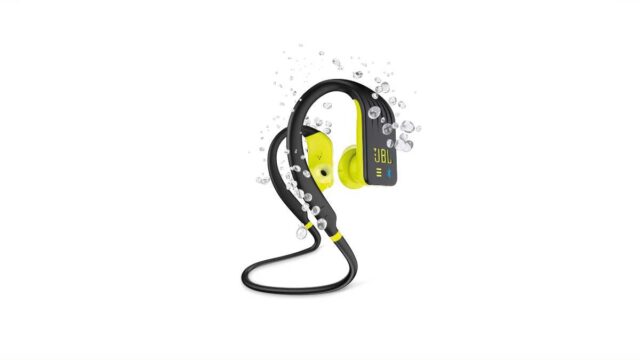 The JBL Endurance Dive are excellent sports headphones with decent sound quality. Because of the IPX7 ranking, these headphones are said to be waterproof enough for swimming. They also have 1GB of internal storage, which is good for swimmers who can't use Bluetooth in the water or for working out without their phone. They're also great for other daily activities like driving because their fit filters out a lot of noise. Unfortunately, their build is bulky, and their battery life is inferior to the JBL Endurance Sprint, which is comparable but sounds better.
Price
JBL Endurance DIVE - Waterproof Wireless In-Ear Sport Headphones with MP3 Player - Black
1 used from $118.99

as of November 29, 2023 9:26 pm ⓘ
Features
WATERPROOF: The IPX7 Waterproof rating and sweat proof material, the JBL Endurance DIVE wireless headphones are designed to be used while swimming and in all weather conditions. Durable and made to last, no matter the elements.
NEVER HURT. NEVER FALL OUT. PowerHook: The flexible and secure ear hook design automatically turns the power on/off when putting on or taking off the bluetooth headphones. Thanks to TwistLock and FlexSoft technologies, these wireless headphones are lightweight and ergonomically built to ensure comfort and stability no matter the workout.
BUILT-IN MP3 PLAYER. Thanks to the on-board 1GB memory, you can easily store and access more than 200 music tracks directly from your headphones.
BLUETOOTH HANDS-FREE CALLS: Bluetooth wireless heaphone microphone technology enables hands-free calling, so you don't have to stop working out when receiving a call. Bluetooth wireless allows you to stream high quality music through your headphones without the worry of messy wires interfering with your workout.
TOUCH CONTROLS: Allows you to easily manage your music and calls controlling play, pause, volume and tracks order with a simple touch for extra convenience, so that you can keep going.
Style
The JBL Endurance Dive has a cable that is significantly shorter and thicker than the JBL Endurance Sprint and Endurance Peak. The ear-hook and vivid, flashy color designs give these headphones a sporty look. The buds are very wide because the right earbud has a touch-sensitive surface where you can record commands. These headphones have a bulky design that protrudes very far from your ears.
Check Out: Best In-Ear Headphones
Comfort
The Endurance Dive aren't the most comfortable in-ears we've tried, and they'll feel the same because their bud style is similar to the Endurance Sprint and Peak. These headphones go deep into your ear canal, creating an airtight seal. The earbuds have a "twist-to-lock" fitting technique that can be finicky and doesn't always result in the best fit in the ears. Their ear-hooks are somewhat heavy, but they are easy to wear for an extended period of time without feeling the weight of the big buds. On the plus side, since their cable is shorter and less slack than Sprint's, it sits comfortably on the back of your head and won't wiggle around during physical exercise.
Controls
These headphones have a touch-sensitive control scheme on the ear-hooks that is a little difficult to use because it is extremely sensitive and easy to register unwanted commands. On the plus side, if you don't have the headphones on and the magnetic ear-hooks are snapped to the bud, it locks them off, so it won't record commands as it did on the Endurance Sprint, which seemed to irritate users. The touch-sensitive surface is slightly more responsive and easier to use, but the pairing mode was problematic for us.
With tapping commands, you can access popular features like play/pause, call management, and track skipping. You may also adjust the volume of your music by swiping up or down. To access their internal storage, press and hold the right bud for three seconds, after which the three LEDs next to the Bluetooth logo will begin to flash. Since Bluetooth does not work in the water, this is useful for swimmers or for working out without your phone.
Portability
These headphones are extremely lightweight. Even though they're a little bulkier than most wireless in-ears, they'll fit comfortably into pockets or a purse. If you don't want to suffocate the cable in your pockets, they can also be worn around the neck. They're lightweight and quick to transport to the gym.
Case
The JBL Endurance Dive is bundled in a small rubber pouch that looks similar to the BeatsX case. It guards the headphones against scratches and minor physical damage caused by falls. The case does not fully close, making it difficult to fit the headphones, charging cable, and tip choices inside.
Build Quality
The JBL Endurance Dive are well-made headphones that, due to their shorter and thicker cord, feel more robust than the Endurance Sprint. The headphones are also marketed as being IPX7-rated and ideal for swimming, but we have yet to verify this. The ear-hooks are thick and rubberized, and they feel solid. The Endurance Sprint's biggest weakness was its thin cable, which JBL seems to have discussed in the Dive.
Stability
The JBL Endurance Dive is extremely safe, making it ideal for most sports, hiking, and working out. Even if you pull on the cord, the headphones do not slip out of your ears thanks to their ear-hook design. The earbuds also have a sleeve that keeps them from jumping around within the ear during physical exercise. Although the enhancer attachment that goes around the tip of the buds helps by adding more points of contact with your inner ear, they will pop out of your ears if you don't get the twist-to-lock wearing technique correct.
Noise Cancellation
The noise isolation efficiency of the JBL Endurance Dive is excellent. Despite the lack of active noise cancellation (ANC), the in-ear nature of these headphones offers strong passive isolation. They have more than 11dB of isolation in the bass range, where the rumble of aeroplane and bus engines can be heard, which is very good for passive isolation. They isolate by around 22dB in the mid-range, which is very good for blocking out expression. They gain 36dB of separation in the treble range, which is dominated by sharp sounds like S and Ts and A/C noise.
Battery
The Dive has about 7 hours of continuous playback, which should be enough for a few workouts but not for extended listening sessions or use during the day. They often take 2 hours to completely charge, which some users can find unreasonable for 7 hours of playback time. On the plus hand, they have an auto-off feature to save power while they are idle, but it is set to 5 minutes, which is extremely short and frustrating at times, particularly because it is not adjustable. They also switch off automatically when you remove the right earbud, and the ear-hook magnetically snaps into place with the earbud.
Bluetooth
Bluetooth is assisted by the JBL Endurance Dive. Unfortunately, they can only bind to one device at a time and do not support NFC for faster and easier pairing, which would have been good given how difficult it was to pair them with new devices.
These headphones have an average latency of 200-220ms, which is typical for Bluetooth headphones. This means that these headphones aren't ideal for watching video content, but not everyone will notice the lag, particularly because some apps and devices compensate for it. This, though, is far too big for gaming.
Pros and Cons
Verdict
It's suitable for a variety of applications. The JBL Endurance Dive have a good sound profile that is reasonably flexible, but they are best suited to bass-heavy music genres. Their snug fit can also produce an airtight seal, preventing ambient noise from infiltrating your audio, making them ideal for use on public transportation and at the workplace. Because of the latency problems, these headphones aren't suitable for watching TV or gaming, but they are made for sports. They have a comfortable fit, are incredibly breathable, and are built to keep swimmers dry.
It's perfect for commuting. The snug fit of these headphones provides an airtight seal that filters out a lot of background noise, such as the deep rumbles of a bud or a plane engine. This means they'll be perfect for public transportation, and since they don't leak, you'll be able to block out even more noise by turning up the volume without disrupting anyone. Additionally, their battery life is sufficient for your daily commute but may not be sufficient for longer trips. These in-ears won't be comfortable to wear for long periods of time if you can't find a good match.
$118.99
in stock
1 used from $118.99
Last updated on November 29, 2023 9:26 pm ⓘ