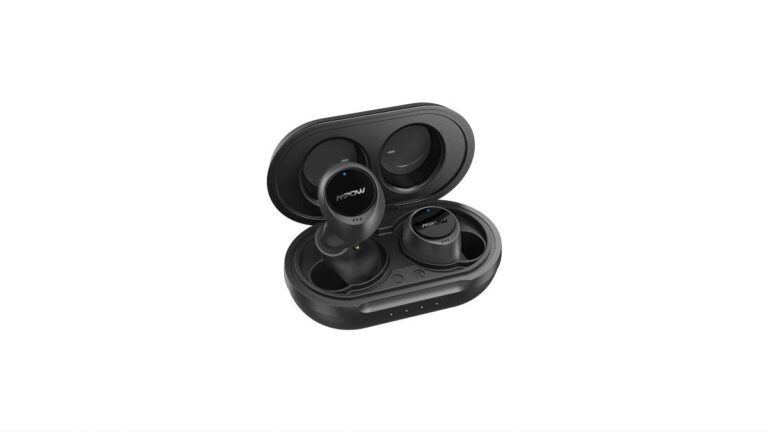 The Mpow X5 in-ear headphones are Truly wireless and feature active noise cancellation (ANC). They're lightweight, comfortable to wear, and effectively block out ambient sounds. They also have a solid build quality and a lengthy continuous battery life. They don't have any sound tuning options to change their boomy sound profile, and its microphone has poor noise management capabilities.
Style
The Mpow X5 completely wireless in-ears have a traditional appearance. They resemble the TaoTronics SoundLiberty 94 in appearance. Truly Wireless, with a low-profile, compact design made entirely of black plastic that should blend in with any setting.
Comfort
These headphones are quite comfy to wear. They don't put too much pressure on your ear canal, and they don't have a very deep or obtrusive fit. You can make inputs without driving them deeper into your ears because their control system is touch-sensitive. Unfortunately, compared to alternatives like the Mpow M30 Truly Wireless, they don't have as many fitting options for the ear tips.
Controls
The control scheme on these in-ears is excellent. Once you've gotten used to the fact that it relies on multi-touch inputs, it's incredibly responsive and simple to use. The right earbud may be tapped once to boost volume, three times to skip forward, and two seconds to activate your phone's voice assistant. By touching the left earbud once, you can lower the media volume, while a triple-tap skips your track backward and a two-second hold cycles between the ANC on/talk-through/ANC off settings. A double-tap on each bud stops and starts media playback. Because altering the level in many increments could be construed as a double or triple tap, the reliance on single taps for volume adjustment is a little aggravating. For ANC and talk-through activation, power on and off, and Bluetooth pairing, there are voice prompts. Unfortunately, you can't pair the headphones until you unplug them from the previous device to which they were attached.
Breathability
Because they retain very little heat and allow for lots of ventilation, the Mpow X5, like most truly wireless headphones, is extremely breathable. You should be able to wear them without sweating or feeling a significant temperature change in your ears.
Portability
These in-ears are extremely lightweight. They take up very little space and come with a little charging case that may fit in your pocket or backpack.
Case
The charging case on the Mpow X5 Hybrid is excellent. It's a little smaller than the Mpow M30 Truly Wireless and seems a little more solid overall, though the cover is still a little flimsy. The casing has four lights that indicate how much battery life is left.
Build Quality
The Mpow X5 is a well-made device. Overall, they appear to be extremely durable, with a strong plastic build that should withstand a few drops and bumps. We don't currently test for water resistance because the buds are rated IPX5. There aren't many obvious flaws, though the silicone buds do seem like they may easily tear.
Stability
These headphones have a solid foundation. Even with fairly vigorous head motions, they shouldn't fall out of your ears, though repeated high-intensity shaking may lead them to loosen slightly.
Sound Profile
The sound profile of the Mpow X5 is a little boomy. This should appeal to fans of EDM and hip-hop who prefer a little more thud and rumble, but some listeners may find it overbearing and murky. If you want even more thud and rumble, the Mpow X6 Truly Wireless, which features a severely overemphasized low-bass response, is a good option. Unfortunately, there are no sound customization options available, such as audio presets or a graphic EQ.
Bass Accuracy
The bass accuracy on these in-ears is adequate. Overemphasis in the mid-to-high-bass range can give EDM and hip-hop music more punch and boominess, but it can muddle other mixes.
Mid Accuracy
The Mpow X5 has excellent mid-range accuracy. The high-bass overemphasis spills over into the low-mids, which can muddle lead instruments and voices. The rest of the spectrum is reasonably well-balanced, albeit a tiny dip in the mid-mids can push voices and lead instruments to the rear of the mix.
Treble Accuracy
The treble precision of the Mpow X5 is quite good. A tiny boost in the low-treble range can give vocalists and lead instruments a slightly harsh character, while a minor dip in the mid-treble can reduce sibilants and make them sound slightly lispy.
Peaks/Dips
The performance of the peaks and dips is satisfactory. A dip in the mid-mids can push vocals and lead instruments to the back of the mix, while a bump from the high-bass to low-mid range can provide a muddy quality to some mixes and clutter vocals and lead instruments. Some vocalists and lead instruments can sound harsh when the low-treble is boosted, whereas some sibilants might sound lispy when the mid-treble is lowered.
Passive Soundstage
The Mpow X5 have a horrible passive soundstage because they are closed-back in-ears. It's tiny, and because they don't interact with the outer ear, sound is experienced as coming from inside your brain rather than from all around you.
Noise Isolation
The noise isolation performance of the Mpow X5 is excellent. When they activate the ANC feature, they are able to block out a significant amount of ambient noise across the frequency spectrum, from the deep rumbling of bus and plane engines to the high-pitched hum of a nearby AC unit, not to mention the conversation of other passengers.
Leakage
The audio leaking performance of these in-ears is good. People around should not be irritated by escaping audio, even when listening to content at high volumes.
Recording Quality
The recording quality of the microphone is adequate. Your voice should be natural and clear, but it should also be a touch thin.
Noise Handling
The noise management capability of the inbuilt microphone is weak. If you make a call from a somewhat noisy setting, such as a metro station or a busy street, people may struggle to understand you.
Battery
The battery life of the Mpow X5 is adequate. With ANC activated, they provide over seven hours of continuous playback time, which should be more than plenty for a day at work. Unfortunately, their charging case only provides two more charges, so their total battery life is significantly less than the Anker Soundcore Life Dot 2 Truly Wireless's near 100 hours. You can listen to one bud while the other charges in its case, but no power-saving features, such as an auto-off timer, are available.
Bluetooth
The Bluetooth connectivity on the Mpow X5 is adequate. They support Bluetooth 5.0, but neither NFC or multi-device pairing, so you won't be able to listen to music on your phone while connected to your computer. On a PC, their latency is rather high, but they function slightly better on mobile iOS and Android devices, however you may still notice some audio lag while streaming movies or videos. It's worth mentioning that apps and devices handle latency in different ways, so your results may change.
Pros and Cons
Verdict
The Mpow X5 are suitable for a variety of applications. They're a good choice for sports and exercise because of their small size and secure fit, and their remarkable ANC feature should filter out the noise and rumbling of your daily commute. Their booming sound should appeal to fans of EDM and hip-hop, but it may come across as muddy and overbearing to others. If you call from a fairly noisy setting, their integrated mic may struggle to isolate speech from background noise, making it difficult for others on the other end of the line to understand you.