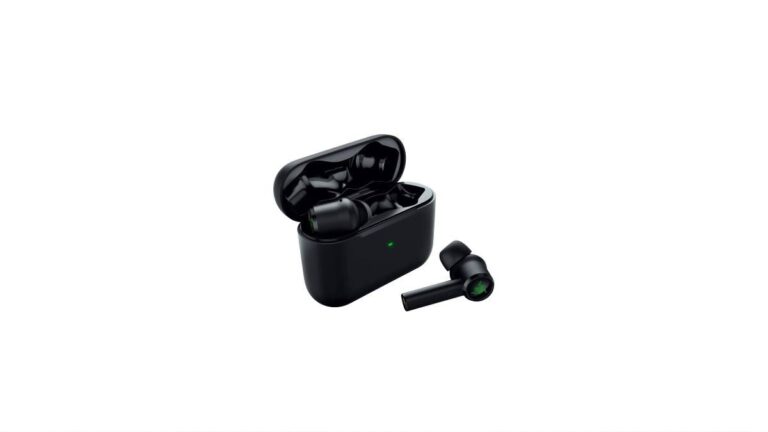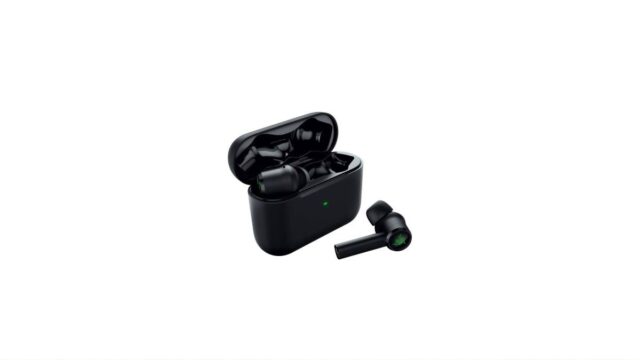 The Razer Hammerhead True Wireless Pro in-ear headphones offer active noise cancellation (ANC). However, this functionality performs poorly in terms of noise reduction. It's disheartening that turning on the ANC doesn't make much of a difference because they passively isolate a comparable little amount of noise. Their sound profile is bass-heavy, which some users may find boomy and muddy. Fortunately, their companion app has a graphic EQ and presets, allowing you to fine-tune their sound to your preferences. They have about five hours of continuous playback time, but their carrying case has four more batteries if you need more.
Razer Hammerhead True Wireless Pro Bluetooth Gaming Earbuds: THX Certified - Advanced Hybrid Active Noise Cancellation - 60ms Low-Latency - Touch Enabled - <20 Hr Battery Life - Classic Black
17 used from $146.07
Free shipping
as of June 4, 2023 1:27 pm ⓘ
Features
Advanced Hybrid Active Noise Cancellation (ANC): By producing anti-noise to counter any noise it detects from outside and inside your earbuds, our cutting-edge design is able to shut out all distractions and keep you focused on what matters.
THX Certified Earbuds: Tested and optimized by experts in cinematic audio immersion at THX Ltd., the earbuds present a rich, balanced soundstage for all your movies, music and gaming.
In-Ear Design: Get a comfortable, secure, in-ear fit and enhanced noise isolation with Comply foam tips. For even more customized levels of comfort or acoustic options, take your pick from 6 additional silicon tips sizes.
60ms Low Latency Connection: Activate Gaming Mode to boost the earbuds' wireless performance during competitive games and be quicker to aim or react with audio and video that's more in sync.
Quick Attention Mode: You can let outside sound in to increase awareness of your surroundings—useful when crossing the road or conversing with other people.
Style
The Razer Hammerhead True Wireless Pro and the Razer Hammerhead True Wireless are quite similar in appearance. They're matte black with similar-sized stems and a green Razer logo on the rounded backs of both earbuds.
Comfort
The Razer Hammerhead True Wireless Pro headphones are reasonably comfy. Because they're in-ears with silicone ear tips, they're comfier than the Razer Hammerhead True Wireless. They also come in a range of ear tip sizes, allowing you to find a comfortable fit. They also don't go too far into your ear. They are, however, a touch hefty and protrude a little.
Controls
The controls on the Razer Hammerhead Pro are average. All of the functions are accessible through either bud, and the touch surfaces are extremely responsive. You may answer/end calls and play/pause audio by tapping once. You can also press and hold for two seconds to toggle between active noise cancellation on and off, as well as 'Ambient' mode, which allows you to hear sounds around you without shutting off your audio. You can go to the next track by double-tapping, and you can go back to the previous track by triple-tapping. You can also toggle its low-latency 'Gaming Mode' on and off by triple-tapping and holding for two seconds. Unfortunately, using voice assistance isn't always easy, and you can up up accidently changing your ANC settings.
Portability
Like most truly wireless earbuds, these headphones are exceptionally portable. They can fit into most pockets, and their carrying case is quite small too.
Case
The carrying case for the Razer Hammerhead True Wireless Pro is adequate. It's composed of plastic and features an LED light that indicates whether it's fully charged or in the process of charging. It should guard your headphones against minor bumps and scratches.
Build Quality
The construction quality is excellent. They're composed of plastic, yet they have a sturdy feel about them. They also have an IPX4 water resistance rating, something we don't test for right now. They come with a variety of ear tips in various sizes, and the casing has a solid-feeling top, especially when compared to the Razer Hammerhead True Wireless.
Stability
The Razer Hammerhead True Wireless Pro earphones have a good amount of stability. They should stay in your ears during moderate physical activity, even if they don't have stabilising fins. Higher-intensity shaking, on the other hand, may cause them to fall out.
Battery
The battery life of the Razer Hammerhead True Wireless Pro is adequate. They're supposed to last four hours on a single charge, but we only got five hours out of them, which is still rather short. However, battery life varies depending on usage, thus your results may vary. Fortunately, the carrying case has roughly four more charges to let you extend your listening time. It's also possible to charge one earbud while using the other, which is convenient.
Bluetooth
The Bluetooth connectivity on the Razer Hammerhead Pro is adequate. They can't be paired with more than one device at a time, and they don't allow NFC connection, which may make Bluetooth pairing easier. Although they have a lesser latency on Android, they have a high latency on PC and iOS, which could interfere with video streaming. They also feature a 'Game Mode' that reduces latency to 91 milliseconds on PC, 60 milliseconds on iOS, and 32 milliseconds on Android. However, some programmes compensate for latency in different ways, so your actual experience may differ.
Pros and Cons
Verdict
The Razer Hammerhead True Wireless Pro are suitable for a variety of applications. They're suitable for sports and exercise because they're comfy, stable, and well-built. Even with their ANC on, they don't actually lower noise around you, whether you're on a rumbly bus or in a crowded office. Because of their 5-hour continuous battery life, they may need to be recharged during the day. Fortunately, they can be EQ'd to your preferences using the companion app, and they offer a lower latency mode if you want to play games wirelessly on your PC.