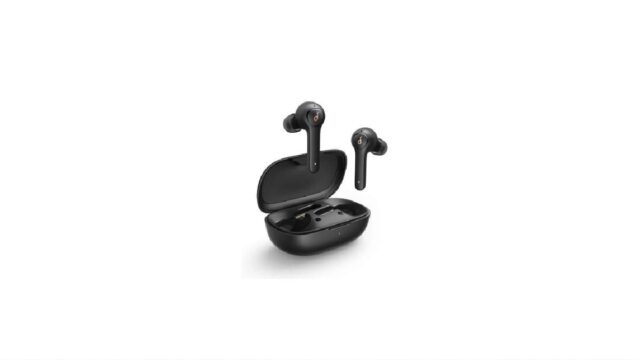 The Anker SoundCore Life P2 in-ear headphones are decent fully wireless in-ear headphones with a good price-to-performance ratio. They're nearly comparable in terms of shape, fit, and sound reproduction to the Anker SoundCore Liberty Air 2, but they're a less expensive version that lacks some of the more premium features, such as a dedicated app and wireless charging. Their sound profile is adaptable to a wide range of musical genres, with a great little extra thump and punch in the bass register. Their in-ear design may not be for everyone, but they are stable and are even rated IPX7 (though we haven't tested this), making them a suitable choice for working out at the gym.
Anker Soundcore Life P2 True Wireless Earbuds with 4 Microphones, cVc 8.0 Noise Reduction, Graphene Driver, Clear Sound, USB C, 40H Playtime, IPX7 Waterproof, Wireless Earphones for Work, Home Office
2 new from $35.99
Free shipping
as of June 4, 2023 1:27 pm ⓘ
Features
Incredible Sound Loved by 20 Million+ People
Perfect for Home Offices: Each earbud has two microphones with beamforming noise reduction as well as cVc 8.0 technology for superior vocal enhancement and background-noise suppression.
Incredible Sound Powered By Graphene Drivers: Delivers music with a wider soundstage and exceptional accuracy and clarity. BassUp technology enhances bass by up to 43% and aptX audio offers lossless transmission between your device and the wireless earbuds.
40-Hour Playtime* with Fast Charge: A single charge gives you a full 7 hours of listening, while the charging case extends that to 40 hours. When you're in a rush and need power fast, simply charge for 10 minutes and get up to 1 hour of playtime.
IPX7 Waterproof: Life P2 wireless earbuds boast IPX7-rated protection that defends against liquids in any weather conditions.
Style
The Anker SoundCore Life P2 has a similar design as the Anker SoundCore Liberty Air 2, but with a bronze logo instead of silver and no red flash. The headphones and case are both matte black, giving them a slightly more quality appearance than comparable options in this price range.
Comfort
The Anker SoundCore Life P2 are reasonably comfortable, however their in-ear design gives the impression of a plunger in the ear. They come with five different sizes of silicone tips, just as the Anker SoundCore Liberty Air 2.
Controls
The controls on the Anker SoundCore Life P2 are poor. Unfortunately, there is no volume control, and the controls cannot be adjusted because there is no accompanying software. On the plus side, they're simple to use, and their physical, clicky buttons provide better feedback than touch-controlled earbuds like the JLab Audio JBuds Air Executive Truly Wireless.
Breathability
The Anker SoundCore Life P2, like most in-ear headphones, don't retain heat within your ear, so you shouldn't notice a difference in temperature while using them. As a result, they're an excellent choice for sports because you won't sweat as much as normal.
Build Quality
The build quality of the Anker SoundCore Life P2 is excellent. The earbuds themselves are equally as well-made as the Anker SoundCore Liberty Air 2, but instead of a touch-sensitive surface, they have physical buttons. With a little unstable hinge and a thin lid, the case feels a little flimsy. On the plus side, the headphones are waterproofed to IPX7, though we haven't tested this yet.
Stability
Once you've found the right fit with the provided tips, the Anker SoundCore Life P2 are extremely stable in the ear. Even though they don't have stability fins, they should be able to stay in your ear during light workouts or runs. Check out the Mpow X3 Truly Wireless in-ears if you're seeking for a more reliable pair of in-ears.
Noise Isolation
The Anker SoundCore Life P2 has good noise isolation. These headphones only block ambient sound passively because they lack active noise cancellation (ANC). Unfortunately, they don't prevent the low rumble of motors as well as they do in the mid-range, where speech is heard. Fortunately, they effectively block the high frequencies of A/C units, making them a viable solution for staying focused at the office. Consider the Anker Soundcore Liberty Air 2 Pro Fully Wireless if you're seeking a similar pair of truly wireless headphones with ANC.
Battery
The Anker SoundCore Life P2's battery life isn't great, but it's excellent for fully wireless headphones. While their 6-hour battery won't last you through a full day of work, their case comes with an extra five charges, allowing you to charge them up during your lunch break or wherever you are. Their total battery life of over 35 hours is one of the best we've seen in fully wireless headphones.
Bluetooth
The Anker SoundCore Life P2 are fully wireless Bluetooth headphones. While they support aptX, they do not support aptX(LL), thus thus are not recommended for watching videos or playing games due to their high latency.
Pros and Cons
Verdict
The Anker SoundCore Life P2 headphones are good for a variety of uses. They have an excellent overall battery life for completely wireless headphones, and they have a pretty comfortable fit for in-ears. They have a superb price-to-performance ratio and a well-balanced sound profile that should be suitable for a wide range of genres. They can help block out noisy coworkers at the office and are even stable enough in your ear to go to the gym, making them a terrific all-around pair of headphones.