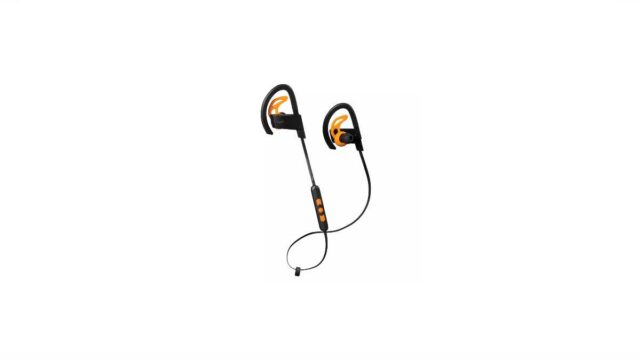 The V-MODA BassFit are very good sports headphones, but won't be versatile for everyday casual use since their isolation performance isn't the best. Also, they aren't the most comfortable in-ears, and their overall feel isn't on par with the quality of previous V-MODA headphones we've tested. On the other hand, they have a unique design with fins and ear-hooks for great stability during physical activity. Their battery life will also last you for a full workday, and they have lower latency than average Bluetooth headphones.
V-MODA BassFit in-Ear Wireless Sport Headphones - Black
4 new from $129.98
Free shipping
as of November 29, 2023 11:37 am ⓘ
Features
10mm dynamic drivers featuring extra bass - specially tuned full spectrum acoustics with Deep bass balanced with supreme clarity for maxing out your workouts
Trait ergonomics + XS/S/M/L fittings - find your fit using memory metal ear hooks or ear fins or both for max support and stability during Sport; bliss 3. 0 fittings ensure comfort and noise-isolation
Magnetic closure + adjustable cable stopper - secure the earbuds around the neck when not in use for easy access; tailor the length of the cable to sit comfortably around the back of the neck
All-weather durability - resistant to sweat, weather, high and low temperatures, humidity and UV exposure thanks to a 2-layer Nano coating technology
11+ hour battery life & 3-button remote - up to 11+ hours of music, entertainment and calls; 15mins fast charge = 2. 5hrs playback; 3-button remote controls playback, volume, calls and voice-assistants
Style
The BassFit Wireless have a distinctive style that appears to be sporty. These headphones can be worn in three different ways: with the ear-hooks, the stability fins, or both. This is referred to as the TriFit Design by V-MODA. The housing for the earbuds is very wide and elongated. The white model has grey highlights and is less colourful than the black model, which has orange accent buttons and fins. The earbuds are also magnetic and form a V-shape, which is typical of the V-MODA brand.
Check Out: Best In-Ear Headphones
Comfort
These in-ears aren't the most convenient. The ear-hooks are malleable, but they have a rigid plastic feel to them, which puts pressure on the top of your ear, unlike the Anker SoundBuds Curve, which is softer and more comfortable. They even go deep into the ear canal, which can be painful for users. On the plus hand, they come with a variety of color-coded tip choices as well as various stability fin sizes to help you find the right match.
Controls
The BassFit Wireless' control scheme appears simple at first glance, but it can take some time to get used to. Although the in-line remote has a similar design, the commands aren't as simple as they should be. "Hold volume up to skip tracks" is a common order, but on the BassFit, you must double tap the middle button to register the command. These kinds of commands also don't always seem to register, and we had a few issues getting them to function correctly. Pausing and playing was fairly smooth, but when several presses or multi-button commands were needed, they were a little more difficult to use.
Portability
The BassFit Wireless headphones are extremely compact. Even though they're larger than most in-ears, they're still small enough to fit in your pocket or purse. They even come with a small pouch that won't take up too much space in your pocket and can fit inside.
Case
The BassFit Wireless headphones come with a tiny mesh pouch that can shield the headphones from scratches, but it won't keep them safe from water or impacts. On the plus side, it's not too big and will be easy to transport.
Build Quality
The V-MODA BassFit Wireless seem to be more comfortable than they are. They're made of plastic, and the hooks have a stiff, plasticky feel to them. In addition, the in-line remote feels thin and flimsy. On the plus side, they have a flat cable and magnetic buds, making cable management simpler. The buds often seem to be thick enough to withstand a few knocks. They don't seem to have an official IP ranking, which is disappointing for a pair of sports headphones.
Stability
The TriFit Design of the V-MODA BassFit is very stable when used with the ear-hooks and stability fins, and you'll be able to use them for physical activity without issue. They don't travel much and don't protrude from your head. Their cable is also hidden behind your back, so it won't get in the way, and you can change the fit with a cable cinch.
Noise Cancellation
The BassFit performs poorly in terms of noise isolation. They reach around 2dB of separation in the bass range, where the rumble of bus and aeroplane engines can be heard, which is barely audible. They isolate by around 15dB in the mid-range, which is good for cutting out expression. They isolate by around 28dB in the treble range, which is occupied by sharp S and T sounds and fan noises like A/C systems.
Battery
The BassFit have a continuous playback time of around 11 hours, which is pretty decent for wireless in-ears. With continuous listening, this can last you more than a full workday, with some battery left over for your commute. V-MODA also claims a 15-minute charge for 2.5 hours of battery life, which is ideal for last-minute workouts or leaving the office. They don't have any power-saving features, so make sure you turn them off when you're not using them.
Bluetooth
We couldn't confirm that these headphones are Bluetooth version 4.1 since they are Bluetooth-only. On the plus side, they can attach to two computers at once, which is convenient if you often switch between your phone and your work machine. Unfortunately, they do not help NFC, which will make pairing faster and easier.
Although the latency of the BassFit is a little high for watching videos, it is still better than the average Bluetooth headphones, which have a delay of about 200-220ms. Furthermore, some devices and applications provide compensation, so you might not mind the delay as much. They also support the aptX codec, which has a lower latency and overall better performance. On iOS computers, you can also use the AAC codec.
Pros and Cons
Verdict
For mixed-use, it's fine. While the V-MODA BassFit provides decent audio reproduction for critical listening, their isolation output isn't ideal for commuting because they don't block out lower-frequency engine rumbles. These headphones, on the other hand, are excellent sports headphones, as they were made to be. They're stable, breathable, and simple to transport. Unfortunately, they are not particularly comfortable and would not be suitable for use in the workplace.
Thankfully, they do a good job of filtering out background noise, and their battery life is sufficient for an entire workday. Because of their high latency, they won't be ideal for watching TV or gaming like other Bluetooth headphones. They do, however, work better than the typical Bluetooth headset, so the delay might not be as noticeable.