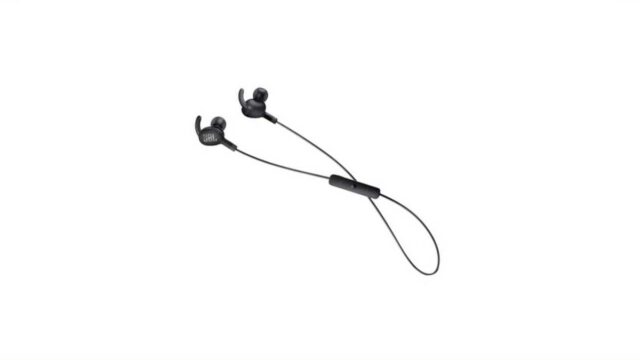 The JBL Everest 110 are good wireless in-ears in general. They're suitable for a wide range of applications, but they're not perfect for gaming or watching video content. On the plus side, their sound is passable, but it'll be best suited to bass-heavy music. They're relatively relaxed, and their fins offer stability; they're perfect for sports. The JBL Everest 110 is a good choice if you're looking for a single pair of portable headphones that can do a great job at pretty much anything.
JBL Everest 110 in-Ear Wireless Headphones (Blue)
2 new from $64.99

as of November 29, 2023 10:41 pm ⓘ
Features
Wirelessly enjoy all of your music with bluetooth connectivity
Experience the same elevated experience and incredible sound JBL has been delivering to concert halls, studios and living rooms for 70 years
Built in microphone with echo cancellation technology for crystal clear, hands-free calls
8 Hour Battery, Quick Recharge In 2 Hours
Style
The Everest 110 are a pair of wireless in-ears with a simple design. Because of the small earbuds, they have a low-profile and a very bland look overall. The stability fins give them a sporty appearance, but that's about it. As compared to the rest of the headphones, the cable is thin and the in-line remote is a bit wide. Gunmetal, blue, and silver are the three colours available for these headphones.
Check Out: Best In-Ear Headphones
Comfort
The Everest 110 in-ears are very comfortable. They don't go too far into your ear canal and are comfortable to wear. Because of the stability fins, they feel stable, and the rubber coating doesn't put too much pressure on your inner ear. They even come in a variety of tip and fin sleeve sizes so you can find the best match for you. When wearing in-ear headphones like these, however, some people can experience soreness after a while.
Controls
The in-line remote on these headphones allows you to access the most popular functions, such as play/pause, volume control, and track skipping. The remote, on the other hand, has a cheap feel to it, and the middle button is mushy. Multi-press commands are difficult to record, and unintended single-press commands, such as pausing music, may be triggered instead, which is inconvenient.
Portability
The Everest 110, like most in-ears, are extremely compact. They're small enough to fit into jeans pockets or a purse. They are lightweight and comfortable to wear around your neck. They do not, however, come with a case to cover them while you are not using them.
Build Quality
The JBL Everest 110 headphones are well-made. The buds appear to be thick enough to withstand a few accidental drops without too much damage. The cable, on the other hand, is small, and the in-line remote is plasticky. In contrast to the similarly built Jaybird Tarah, which is rated IPX7, they have no official water or dust resistance rating.
Stability
The Everest 110 are a pair of stable headphones that should be suitable for jogging or other athletic activities. They do not pop out of your ears thanks to the stability fins that hold them in place. Their wireless nature also eliminates the need for a cable, which is beneficial since a strong tug on the cable will pull the earbuds out of your ears, even with the fin sleeves on.
Noise Cancellation
Isolation output is satisfactory. They reached 11dB of isolation in the bass range, where aeroplane and bus engines rumble, which is good and impressive for passive in-ear isolation. They minimise outside noise by around 25dB in the mid-range, which is very good for blocking out speech. They isolate by more than 36dB in the treble range, which is occupied by sharp S and T sounds and A/C machine noises.
Battery
The battery life was marginally longer than 9 hours. This gives you an hour more than the advertised 8 hours. They also take just under 2 hours to completely charge, which isn't too long and in line with most wireless in-ears. They do not, however, have a power-saving mode, so you must remember to switch them off if you are not using them, or the battery will drain over time.
Bluetooth
These headphones are Bluetooth compliant, but they can only connect to one device at a time, which would have been helpful at work if you switched between your computer and phone often. They also don't support NFC for a simpler and faster pairing process, which would have been good given how long it takes to pair them.
The Everest 110, like most Bluetooth headphones, may not be suitable for watching videos. Some users can experience a delay in audio and video, which can be aggravating. Some applications and gadgets, on the other hand, tend to have some form of compensation, so you may not notice it as much.
Pros and Cons
Verdict
It's suitable for a variety of uses. The JBL Everest 110 has a good audio reproduction, but bass-heavy genres can sound better. On the positive hand, they shape a good seal and provide excellent isolation, which is perfect for commuting and the workplace. The small buds won't make you sweat more when you're active, and their style with stability fins is perfect for sports. However, their latency, like that of most Bluetooth headphones, may be too high for watching TV and gaming.
Their in-ear fit filters out a lot of background noise, and the passive isolation is adequate for commuting. They effectively block a surprising amount of low-frequency sounds such as engine rumbles, which is a positive thing. Their 9-hour battery life is ideal for long rides or flights, and they are reasonably comfortable to wear for extended periods of time.