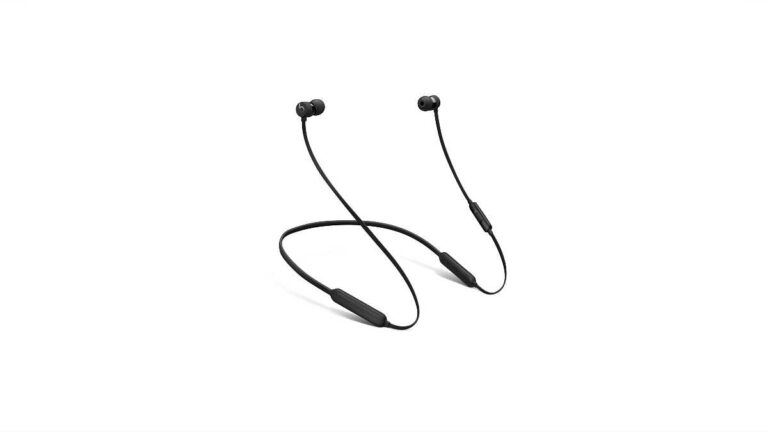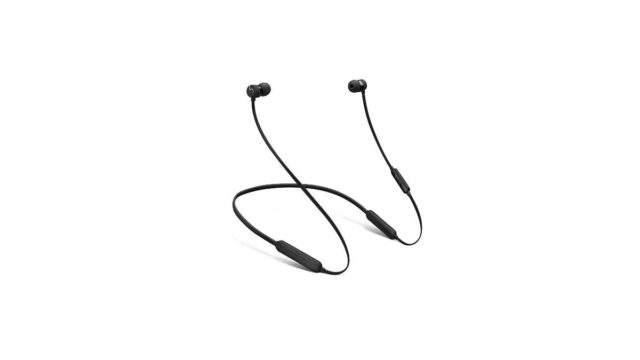 The Beats BeatsX Wireless are sports-oriented neckband headphones. Their rubberized construction is light and flexible, making them easy to store on the go, whether worn around your neck or folded in your pockets. They also have a pretty well-balanced sound, with a touch of bass that will appeal to EDM and hip-hop fans alike. However, since these headphones are designed for iOS devices, Android users can feel left out. While their battery life isn't particularly good, they do have a quick charging time of just under an hour, so you won't be without headphones for long.
Last updated on November 29, 2023 10:31 pm ⓘ
Style
The BeatsX has a rubberized neckband that is slightly thicker than the flat audio cables. In comparison to other, bulkier neckband headphones like the Bose QuietControl 30/QC30 Wireless or the Samsung Level U Pro Wireless, they're very minimalistic. They even come in a variety of colors to match your personal style and preferences.
The Beats BeatsX Wireless is a pair of headphones that are reasonably comfortable. They're more compact and lighter than versions like the Bose QuietControl 30/QC30 Wireless. They also come with four different ear tip sizes to ensure a comfortable fit. Some users may not find the neckband design comfortable because the rubber may pull or tug at their neck hair. Check out the JBL Reflect Mini 2 Wireless or the Jaybird Tarah Pro Wireless if you don't like the feeling of your headphones around your neck.
Controls
On the left ear cable, the BeatsX have a basic control scheme. Although their centre physical button controls play/pause, track skipping, phone call control, and Siri voice control, it may not be intuitive for all users because you must press and hold the correct number of times to register the right order. On the plus side, there are different physical buttons for adjusting playback volume on both sides of the centre button.
Portability
The Flex-Form cable on the Beats BeatsX allows for easy portability. They're more compact than other neckband-style headphones, so they can fold up and fit in most pockets, though they can get tangled in the process. When you're not listening to your favourite audio material, you can wear them around your neck. The earbuds' backs magnetically lock together, which is useful if you lose your earbuds often.
Case
The rubber pouch case for the Beats BeatsX is adequate. Its opening is similar to the Beats urBeats in nature, but it does not have a stable closing. Although it will shield your headphones from cuts and slight water exposure, it is not a hard case, so it will not have any protection against accidental drops or impacts.
Build Quality
The Beats BeatsX are well-made headphones. The earbuds and in-line remote have a plasticky feel to them, but the rubberized elements are versatile. Although not as thick as Jaybird X3 Wireless' cables, the flat cables sound sturdy. Even if these headphones aren't used on a regular basis, the rubber coating on our test device seems to be fading over time and feels sticky. Your unit, however, can behave differently.
Stability
The Beats BeatsX headphones are incredibly stable, making them perfect for everything from park runs to gym workouts. With four different ear tip sizes and three different stability fins, you'll be able to find a secure fit that stays in your ears. Their wireless nature also decreases the risk of snagging your headphones, which is particularly crucial when you're on the move.
Noise Cancellation
The Beats BeatsX headphones have excellent passive noise isolation. Although they aren't the best at reducing low-frequency sounds like bus and plane engines, they are much better at reducing mid-frequency sounds like voice, which is ideal in an office or cafe environment. Higher-pitched sounds, such as an air conditioner's buzz, are also significantly reduced.
Check Out: Best Noise Cancelling Headphones
Battery
The battery life of Beats BeatsX is disappointing. They have a 6.5-hour continuous battery life, which might not be enough to get you through the day without stopping to recharge. There are no power-saving features or extra charges on these headphones. On the plus side, they can be completely charged in under an hour, which is ideal if you're low on time or only have time during your lunch break to charge them. They also have a Quick Fuel charging mode that allows you to get more listening time from a short charge. Check out the Beats Flex Wireless or the Beats Powerbeats Pro Truly Wireless if you're looking for a pair of wireless Beats headphones with longer battery life.
Bluetooth
The Bluetooth compatibility of the Beats BeatsX is adequate. Although they don't support multi-device or NFC pairing, the W1 chip makes connecting these headphones to your Apple devices easy. They also have a good line of sight range, which comes in handy if you want to walk about when listening to music. On the negative side, they have enough lag to affect your gaming or video-watching experience. Some apps, however, seem to compensate for this lag, so your mileage can differ in daily usage.
Pros and Cons
Verdict
The Beats BeatsX Wireless is suitable for a variety of uses. These headphones have a versatile neckband that makes them comfortable to carry around in your pocket or around your neck. They are much better at shutting out the chatter in offices or cafes than they are at reducing low noises like vehicle engines. These headphones are also suitable for use when exercising. They'll produce a well-balanced sound that even casual listeners can appreciate. However, when compared to open-back headphones, critical listeners would find the soundstage to be too shallow and thin.
The BeatsX Wireless headphones are ideal for sports and fitness. Their lightweight, rubberized construction makes them easy to transport, and their wireless design eliminates the risk of snagging your cords while exercising. They even come with a range of ear tips and stability fins so you can find a snug fit that won't fall out. When worn during vigorous movements such as sprinting, however, the neckband design may become an annoyance.