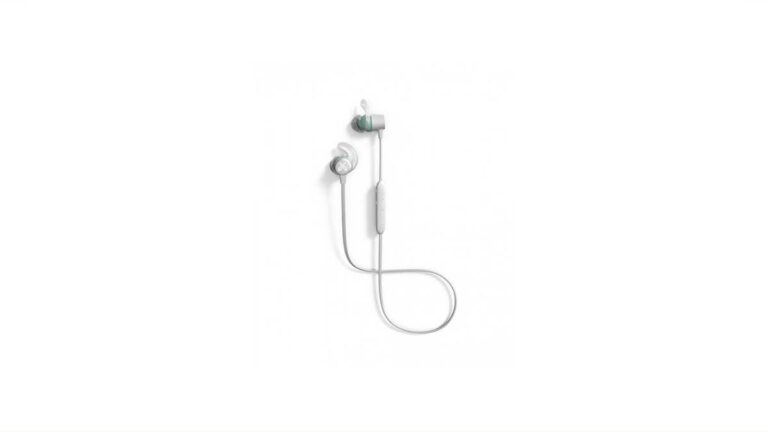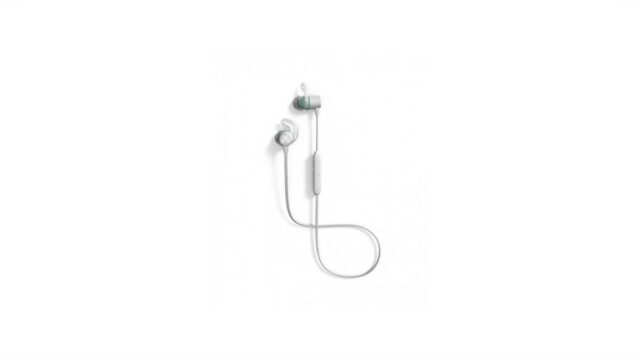 The Jaybird Tarah are outstanding sports-oriented wireless in-ears that can also be used on a regular basis. They are noise-isolating and have a sound signature that is similar to the Jaybird X4 Wireless, but with a slightly less emphasized bass. They're gentle and stable enough to stay in your ears even during intensive workouts. Their ear tips and stability fins are unfortunately fused into one assembly, resulting in a less adjustable fit than if the components were separate parts. On the plus side, they're compatible with the MySound app, which gives you a variety of options for customizing your listening experience.
Jaybird Tarah Bluetooth Wireless Sport Headphones for Gym Training, Workouts, Fitness and Running Performance: Sweatproof and Waterproof – Solstice Blue/Glacier
4 new from $80.96

as of November 29, 2023 10:41 pm ⓘ
Features
6 HOURS OF PLAYTIME: Rechargeable battery provides 6 hours of bluetooth wireless play time on a single charge. 10 minutes of fast charging provides a full hour of play time
SWEAT & WATERPROOF: Sweatproof and waterproof (IPX7) protection for gym and fitness workouts and running in all weather conditions
SPORT FIT: The Jaybird Tarah includes ultra-soft and flexible silicone ear gels, which provide incredible comfort and a secure fit, permitting you to enjoy your music without distractions from your earbuds
PREMIUM SOUND WITH CUSTOM EQ: Uncompromising sound quality with customizable EQ through the Jaybird iOS and Android app (Google Fast Pair enabled)
MUSIC & CALLS: Integrated microphone allows users to manage phone calls and control and listen to music, without interrupting gym workout or run
Style
The Jaybird Tarah headphones have a style that is identical to the Jaybird X-series headphones but with a few minor variations. The in-line remote is smaller than the flat-button Jaybird X4 Wireless and Jaybird X3 Wireless. Their overall style is sporty yet understated, with black or bright grey as the only color options, while flashy highlights on the earbuds add a pop of color.
Check Out: Best In-Ear Headphones
Comfort
These headphones are reasonably comfortable. The earbud-like tips don't go all the way into the ear canal, so they're a little more natural than other in-ears. The ear tips and stabilisation fins, on the other hand, are fused into a single unit known as "eargels." Since you can't mix and match various tip and fin sizes, they have a narrower range of adjustability than if the two pieces were kept separate. Check out the Creative Outlier Air V2 True Wireless in-ears for a more comfortable fit.
Controls
The in-line remote on the Jaybird Tarah is simple to use. It has the same features as the previous Jaybird X4 Wireless and Jaybird X3 Wireless models, but it has a slightly different design. The remote is slimmer, and the buttons are wider but less protruding. Although the buttons offer less input, the remote is still simple to use.
Portability
The Jaybird Tarah are amazing wireless headphones that can be worn on the go. They're tiny enough to fit in your pockets or a purse. They don't come with a soft case like the Plantronics BackBeat Fit Wireless or a tiny pouch like the Jaybird X4 Wireless.
Build Quality
The Jaybird Tarah has a decent build quality. The headphones are dense and should be able to handle a few slight bumps and drops. Their in-line remote, on the other hand, feels less expensive than the Jaybird X4 Wireless and Jaybird Tarah Pro Wireless. They're also IPX7 water-resistant, but we don't search for that right now.
Stability
These headphones have a lot of stability. Even during vigorous exercise sessions, their in-ear fit is shallow but comfortable enough to keep the buds in place. Since the ear tips and stability fins are combined into one unit, there are only three fit options available. Their wireless architecture also removes the possibility of a long audio cord being tangled and yanking the headphones from your ears. The cable cinch can also be used to tighten the fit behind your back.
Noise Cancellation
These in-ears do a decent job of blocking out ambient noise passively. They can reduce the volume of ambient speech quite a bit but struggle when it comes to lower-pitched sounds like bus engines and construction equipment. Thankfully, they're also reasonably effective at isolating you from noise in the treble range, like AC units.
Know more about: Noise Cancellation
Battery
The Jaybird Tarah's battery life is average. On a two-hour fee, they have six hours of continuous playback. They also have a quick-charge feature that gives you an hour of playback after just 10 minutes of charging, but we didn't test it. On the downside, having to use the proprietary charging cradle every time you want to charge your headphones instead of using a more universal and normal charging cable can be inconvenient.
Bluetooth
The Jaybird Tarah has excellent Bluetooth capabilities. They can be combined with two devices and support Bluetooth version 5.0, which is useful if you regularly switch between your computer and your phone. While they lack NFC for simpler and faster pairing, their Bluetooth pairing procedure is fairly straightforward. Unfortunately, their latency is slightly too high to be deemed appropriate for watching movies or playing video games across all platforms. However, it should be noted that apps compensate for this lag in varying degrees of effectiveness, so the real-world experience can differ.
Check Out: Best Wireless Headphones
Pros and Cons
Verdict
The Jaybird Tarah Wireless sports headphones are excellent. They have a shallow fit that allows the ears to breathe and are very stable. Their control scheme is somewhat lacking in flexibility, but it compensates for this with ease of use, allowing you to make adjustments without disturbing your speed. Their wireless nature also eliminates the possibility of a wire tangling and pulling the headphones out of your ears. Their all-in-one stability hook and ear tips, however, aren't as customizable as some other Jaybird models.